Trump Says the Black Lives Matter Movement Is 'Destroying Many Black Lives'
At a "Blacks for Trump" rally in Atlanta, Georgia on Friday, Republican President Donald Trump said that the Black Lives Matter (BLM) movement is part of a "mob rule" that is "destroying many Black lives."
While Trump never specified how BLM is "destroying many Black lives," the comment was just the latest against the group most associated with nationwide racial justice protests against anti-Black police brutality and systemic racism.
Trump made a number of other claims about Black Lives Matter without evidence. First, Trump claimed that the national BLM movement's "first phrase" was "Pigs in a blanket, fry 'em like bacon."
Though the phrase was uttered during a 2015 protest march held by a BLM group in St. Paul, Minnesota, the group was not affiliated with the national BLM organization. The national BLM organization has never used the phrase, nor have any other BLM groups, and it was never said again by the St. Paul group, according to CNN.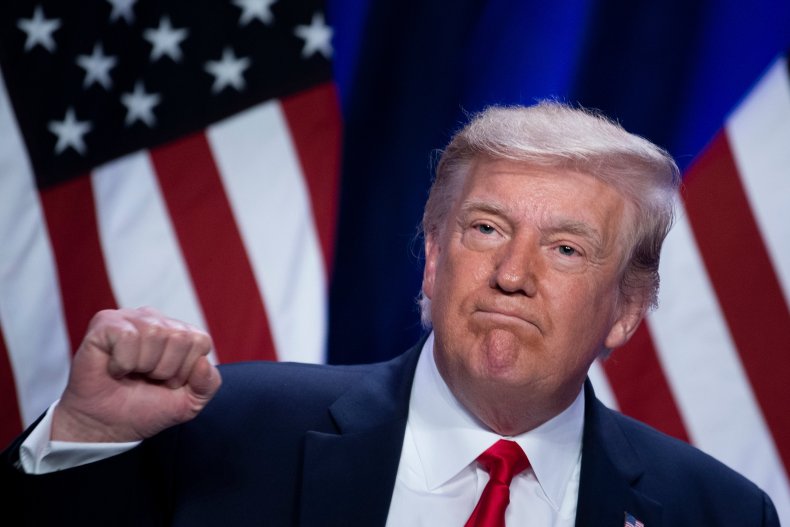 Trump then said, "The stated goal of BLM organization, people, is to achieve the destruction of the nuclear family, abolish the police, abolish prisons, abolish border security, abolish capitalism, and abolish school choice—that's what their stated goals are."
None of those things are among the goals stated on the BLM national organization's website. The website's recently deleted "What We Believe" page, which is still accessible via archive.org, doesn't contain the words "abolish," "police," "prisons," "border," "capitalism" or "school."
The site's only mention of "nuclear family" was a stated desire to "disrupt" single-family structures by "supporting each other as extended families and 'villages' that collectively care for one another, especially our children."
Among the goals stated on the "What We Believe" page were aims to unite Black communities worldwide in opposition to state-sanctioned violence and anti-Black racism while creating healing, empathetic communities free from prejudice.
During his Friday speech, Trump also unveiled the Black Economic Empowerment "Platinum Plan." The plan's aims include designating the Ku Klux Klan and Antifa as terrorist organizations, establishing lynching as a federal hate crime and other initiatives to boost Black economic success. The plan also would make Juneteenth a federal holiday. Juneteenth, celebrated on June 19, commemorates the arrival of Union General Gordon Granger's in Galveston end of the Civil War. Granger delivered the federal order advising that all slaves were free in accordance with President Abraham Lincoln's issuance of the Emancipation Proclamation in 1863.
On September 8, Trump suggested that BLM activists are "anarchists, not protesters" and referred to them as "thugs" via Twitter. On June 30, Trump called a BLM street painting on New York City's Fifth Avenue a "symbol of hate."
Newsweek contacted the Trump campaign for comment.