Trump Says COVID-19 Victims Have Not 'Died in Vain' in Video on Economy
President Donald Trump said Friday in a video released on his Twitter feed that people who died during the coronavirus pandemic did not die "in vain" as he espoused the U.S. economic rebound.
State and local governments shut down non-essential businesses in an attempt to curb the spread of the coronavirus. That move sent the economy into a spiral, with millions of Americans filing for unemployment. Trump repeatedly pushed for U.S. businesses to reopen quickly despite the fact that the coronavirus had not been eradicated.
Trump praised the country's economic turnaround in Friday's video.
The jobs numbers from two weeks ago were record-setting, record-setting increase," Trump said. We've never had anything like it. Record from day one. Nobody's ever beaten it. And now, retail sales numbers are incredible."
Trump said the closing and reopening of the U.S. had "been an interesting period of time."
"It's been terrible," Trump continued. "So many lives have been lost. We'll never forget those incredible people but they will not have died in vain. Our country will go on, and we're going to be stronger than ever before."
Some have expressed the opinion that reopening U.S businesses to keep the economy going was more important than the number of people who died as a result of the virus.
In March, Texas Lieutenant Governor Dan Patrick told Tucker Carlson during an interview on Fox News that senior citizens, who are at greater risk of dying from the coronavirus than younger people, should be willing to trade their survival for a strong American economy for the sake of their descendants. "If that's the exchange, I'm all in," Patrick said.
"My message is let's get back to work," Patrick added. "Let's get back to living. Let's be smart about it and those of us who are 70-plus, we'll take care of ourselves. But don't sacrifice the country, don't do that. Don't ruin this great America."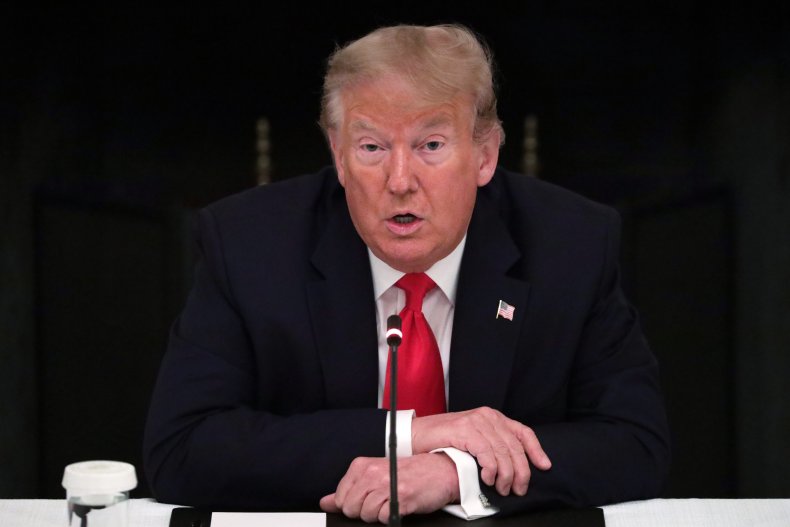 New York, one of the states hit hardest by the coronavirus, has been slowly reopening its economy. In May, Governor Andrew Cuomo said that opening too quickly could be mean more people would die from the coronavirus.
"There's a cost of staying closed," Cuomo said at a news conference. "There's also a cost of reopening quickly. The question comes down to how much is a human life worth? What the government does today will literally determine how many people live, and how many people die. That is not hyperbolic."
Cuomo announced Friday that New York City would enter the second phase of the state's reopening plan on Monday. "We reopened the economy and we saved lives—because it was never a choice between one or the other," Cuomo said during a news briefing. "It was always right to do both."
Newsweek reached out to Governor Cuomo's office for comment. This story will be updated with any response.