GOP Lieutenant Governor Faces Backlash for Saying Grandparents Don't Want to Sacrifice the Economy for Coronavirus Isolation
The lieutenant governor of Texas has said that he would rather get back to work and risk dying than see coronavirus restrictions damage the U.S. economy and he believes that many of his generation would be prepared to do the same.
Amid a rising death toll and closed businesses across the U.S., Dan Patrick, who turns 70 next month, told Fox News that he was less afraid of COVID-19 and more "in fear of what's happening to this country."
President Donald Trump said Monday that he wanted to re-open the U.S. economy within weeks rather than months. At the same media briefing, the White House administration's coronavirus response coordinator, Deborah Birx, said data suggested 99 percent of the coronavirus deaths were those over the age of 50, and that many had pre-existing conditions.
Patrick told Fox anchor Tucker Carlson that his age made him more vulnerable but that people of his age were willing to take a risk.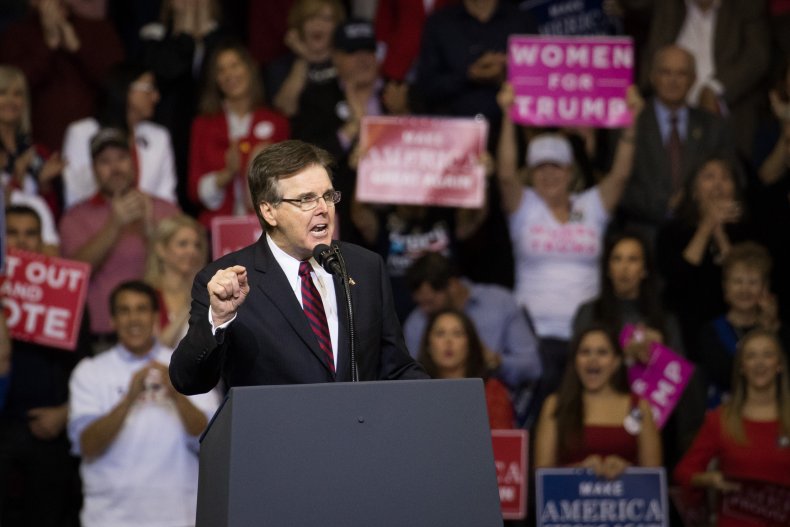 "No one reached out to me and said 'as a senior citizen, are you willing to take a chance on your survival in exchange for keeping the America that all America loves for your children and grandchildren?' And if that's the exchange, I'm all in."
The grandfather-of-six said that "there are lots of grandparents out there in this country, like me," and that he wanted to "live smart and see through this, but I don't want the whole country to be sacrificed."
He said he had talked to "hundreds of people" over the last week and that "everyone says pretty much the same thing, that we can't lose our whole country."
"So my message is that, let's get back to work, let's get back to living, let's be smart about it and those of us who are 70 plus, we will take care of ourselves but don't sacrifice the country. Don't do that. Don't ruin this great American dream."
His comments on Tucker Carlson Tonight sparked much debate on Twitter, with Dan Patrick trending on Monday night and Tuesday morning.
Social media users made references to the TV show Logan's Run, in which no one is allowed to live over the age of 30, and the dystopian film Soylent Green.
Qasim Rashid, a Virginia Democrat who is running for Congress tweeted: "Texas Lt Gov Dan Patrick literally says grandparents should die to save our economy for our kids. Not only would millions of young people 'also' die, but imagine the sociopathy of preferring mass death to bailing out working Americans."
Former presidential candidate Beto O'Rourke tweeted: "This kind of numbnuttery will kill people in Texas. Young as well as old. We need a state-wide shelter in place order to stop the spread of coronavirus and save hundreds of thousands of lives."
The author John Pavlovitz tweeted to his 216,000 followers: "Call me strange, but I don't think the sick or the elderly are expendable just so Republicans can hold the presidency or so some already wealthy people can become even wealthier.
"Maybe I'm not a "pro-life" Christian—just a decent human being. I'll be okay with that," he added.
The journalist Alex Cole tweeted to his 47,000 followers: "I remember when Republicans like Dan Patrick were screaming about Death Panels and now the very same people are saying sacrifice the elderly for the sake of our economy."
The author Kevin Kruse tweeted: "I've been studying the history of American conservatism for a few decades now, but I never once thought I'd see them embracing the Carousel from "Logan's Run.""
Newsweek has contacted Patrick's office for a response to the social media criticism. The graph below provided by Statista shows the number of confirmed COVID-19 cases in the U.S. as of March 23.