Trump Says He 'Wouldn't Mind Running Against' Andrew Cuomo, Says N.Y. Governor Would Be 'Better Candidate' Than Joe Biden
President Donald Trump claimed that New York Governor Andrew Cuomo would be a "better" Democratic rival than former Vice President Joe Biden, saying he "wouldn't mind running against" the state leader.
Trump's remarks came during a Monday interview with the Fox News morning show Fox & Friends. The president was asked about Cuomo's surging approval rating amid the coronavirus pandemic, as well as speculation that the governor could be selected as the Democratic presidential nominee, even though he has not launched a campaign or competed in any primaries.
"Well, one of the reasons he's successful is because we've helped make him successful," Trump said, claiming that Cuomo's surge in the polls is due to support New York has received from the federal government.
"Now, if he's going to run that's fine. I wouldn't mind running against Andrew. I've known Andrew for a long time," the president said. "I wouldn't mind that, but I'll be honest, I think he'd be a better candidate than Sleepy Joe [Biden]."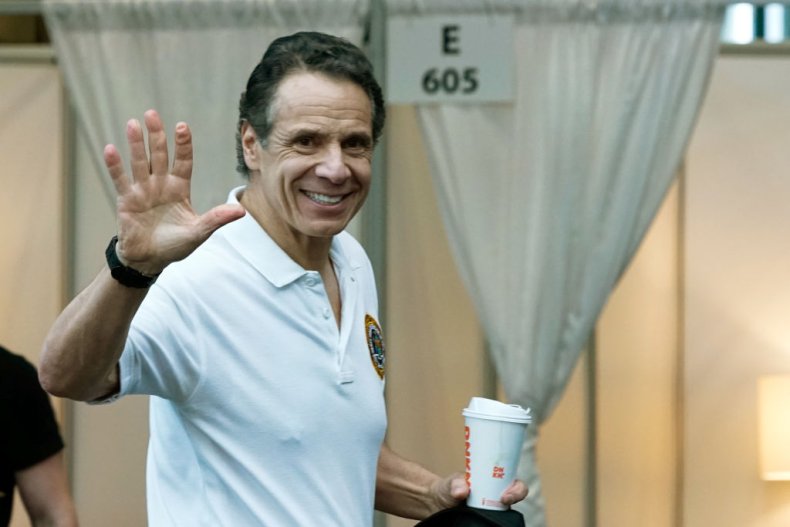 Trump added: "I wouldn't mind running against Andrew. I don't mind running against Joe Biden."
Newsweek reached out to the governor's press office for comment but did not hear back before publication.
A Siena College poll released on Monday showed that 87 percent of registered voters in New York approve of the governor's handling of the coronavirus crisis. In addition, his overall approval rating rose to a seven-year high of 71 percent. That's a 27-point jump from where it stood just one month ago.
While Biden remains the Democratic front-runner, progressive Senator Bernie Sanders of Vermont remains in the race. But some pundits have suggested that Cuomo should receive the party's nomination, particularly with the attention he has gained in his response to the virus' outbreak.
"I see Cuomo as the Democratic nominee this year," HBO host Bill Maher predicted. "If we could switch Biden out for him, that's the winner."
Although Biden is expected to secure the necessary pledged delegates to win the Democratic nomination, it is possible for a different candidate to be selected at the Democratic Convention in July. Pledged delegates are technically allowed to vote for whomever they want, but a scenario where Cuomo gets chosen over Biden currently seems unlikely.
That hasn't stopped the speculation, and many gamblers have started placing their bets on the New York governor. An average of current betting odds compiled by Real Clear Politics shows Cuomo with a 7 percent chance of securing the nomination, ahead of Sanders at 5.6 percent. But Biden is still the clear favorite, with average odds of 82.5 percent.