Trump Says He's Mailing $200 to 33 Million Seniors Before Election Day As He Gains in Polls
President Donald Trump on Thursday announced that he will be sending out $200 in the mail to 33 million Medicare beneficiaries in the coming weeks.
During an address on his health care policies in Charlotte, North Carolina, Trump revealed a "historic provision to benefit our great seniors" in his America First Healthcare Plan.
"Under my plan, 33 million Medicare beneficiaries will soon receive a card in the mail containing $200 that they can use to help pay for prescription drugs," the president said. "Nobody's seen this before. The cards will be mailed out in the coming weeks. I will always take care of our wonderful senior citizens. Joe Biden won't be doing this."
The pledge, part of Trump's latest health care push, will assist senior citizens in prescription drug copays. The effort would be executed without consent from Congress through a Medicare demonstration program.
Newsweek reached out to the White House for additional information.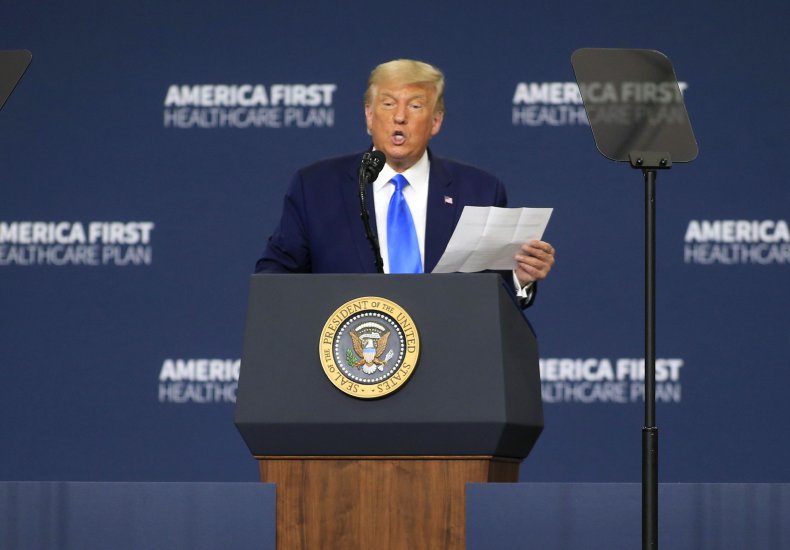 With 40 days until Election Day, the president on Thursday also signed two executive orders implementing his health care plan. "Under the America First Health Care Plan, we will ensure the highest standard of care anywhere in the world, cutting edge treatment, state of the art medicine, groundbreaking cures, and true health security for you and your loved ones," he said of the program. "And we will do it rapidly, and it's in very good order, and some of it has already been implemented."
The first order would help retain health care coverage for those with pre-existing conditions. Health and Human Services Secretary Alex Azar told reporters that the second order directs him to pass legislation with lawmakers in Congress to ban surprise medical bills by 2021.
Trump's critics and some lawyers have said the president's health care push will carry little weight. Democratic House Speaker Nancy Pelosi called the orders "bogus" and has encouraged the president to "drop his lawsuit to overturn the Affordable Care Act in the middle of a pandemic."
Recent poll data has shown Trump gaining on Democratic presidential candidate Joe Biden ahead of their first presidential debate on Tuesday.
A Yahoo News/YouGov poll, released Thursday afternoon, showed Biden leading Trump by 5 percentage points nationwide, with 45 percent of support from registered voters compared to the president's 40 percent. When voters were surveyed earlier this month by the same pollsters, Biden was leading Trump by 10 percent.
Biden is also leading Trump on health care. The latest KFF-Cook Political Report poll showed Biden with a 7-9 lead on health and 7-11 lead on the coronavirus with swing voters in Arizona, Florida and North Carolina.