Trump Says Kim Jong Un 'Tells Me Everything,' Shared Story About Having His Uncle Killed, Woodward Book Reveals
President Donald Trump revealed to journalist Bob Woodward that North Korean dictator Kim Jong Un "tells me everything" according to excerpts from Woodward's forthcoming book.
In Rage, Woodward's sequel to his 2018 book Fear: Trump in the White House, the journalist included the first-reported excerpts of letters Trump has exchanged with Kim, as well as interviews between Trump and Woodward in which the president defends his relationship with the dictator, The Washington Post reported.
The letters exchanged between the two leaders seem to detail a cozy relationship, with Kim addressing Trump as "Excellency" and reflecting on their personal meetings as a "precious memory" that has showed how the "deep and special friendship between us will work as a magical force."
Trump described these letters to Woodward with a sense of pride, the journalist writes, adding that Trump was awestruck after meeting Kim for the first time in 2018 in Singapore. Trump thought to himself "Holy s--t," and found Kim to be "far beyond smart," Woodward writes.
Kim "tells me everything," including a graphic account of Kim having killed his uncle, the president told Woodward. Kim ordered his uncle, senior government official Jang Song Thaek, to be executed in 2013, The New York Times previously reported.
Last year, Trump privately told supporters about the execution, describing how Kim displayed Jang's head after his death for others to see, according to the Post. Jang was reportedly killed for suspected disloyalty to Kim's regime.
Kim and Trump have held three summits since Trump took office in 2017. The most recent was on June 30, 2019, when Trump became the first American commander in chief to step onto North Korean soil.
Trump spent around a minute on officially hostile territory, shaking hands with the dictator as they agreed to resume negotiations on a nuclear agreement, the Times reported.
In one of the letters excerpted in Woodward's book, Kim reflected on "that moment of history when I firmly held Your Excellency's hand at the beautiful and sacred location as the whole world watched with great interest and hope to relieve and honor of that day."
Talks between the two leaders have been a consistent feature of Trump's effort to secure North Korean denuclearization in exchange for sanctions relief—an effort that has so far been unsuccessful.
Nevertheless, Trump told Woodward he is determined to continue pushing for a nuclear agreement and said that U.S. intelligence departments like the CIA have "no idea" how to handle North Korea.
Kim and his nuclear arsenal is like a real estate target, Trump told Woodward. "It's really like, you know, somebody that's in love with a house and they just can't sell it," the president said.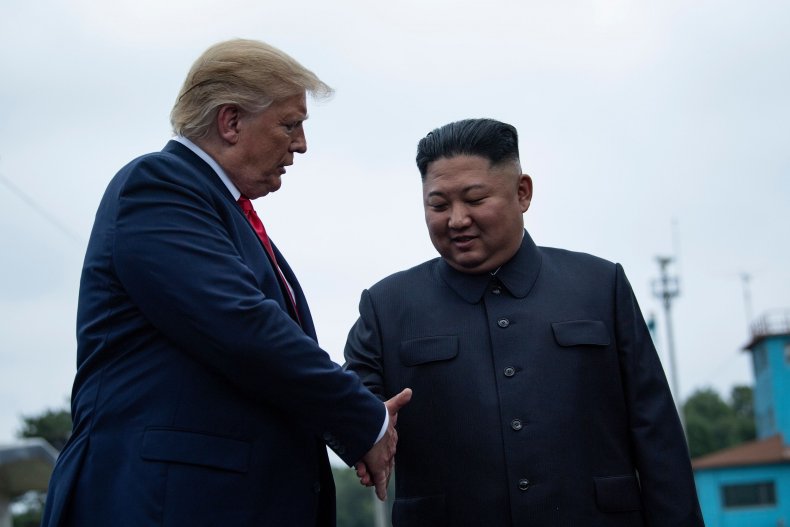 Rage is set to be published on September 15 by Simon & Schuster. The book will include details of 25 "personal letters" exchanged between Kim and Trump, according to a description of the book posted on Amazon. In the letters, "Kim describes the bond between the two leaders as out of a 'fantasy film,' as the two leaders engage in an extraordinary diplomatic minuet," the description says.
Speaking at a news conference Wednesday, White House press secretary Kayleigh McEnany told reporters that Trump agreed to sit with Woodward for 18 interviews for his book "because [Trump's] the most transparent president in history."
Newsweek asked the White House for comment on Woodward's portrayal of Trump and Kim's relationship. A spokesman referred Newsweek to comments made by McEnany during the news conference, but the press secretary did not address this aspect of Woodward's book.
This story has been updated to include more background information.