Trump Says North Korea Plans to Close Missile Site 'Very Exciting' as Kim Jong Un Promises 'Land of Peace'
North Korean leader Kim Jong Un has agreed to permanently close one of his vital ballistic missile sites under the supervision of foreign experts, prompting praise from President Donald Trump.
At a summit with South Korean President Moon Jae-in in Pyongyang Wednesday, Kim also said he was willing to close his main nuclear complex if the U.S. took "reciprocal action," though he did not specify exactly what he meant.
At a joint press conference, the two leaders said they hoped to turn the Korean Peninsula into a "land of peace without nuclear weapons and nuclear threats," promising "prompt steps" to achieve this goal, Reuters reported.
Moon told reporters the meeting had "agreed on a way to achieve denuclearization," while Kim described the summit as a "leap forward" toward long-term peace between the two neighbors. According to South Korea's Seoul Broadcasting System, the two sides also agreed to declare an official end to the Korean War, for which a peace treaty was never signed.
Kim agreed to close the Tongchang-ri missile engine test site and missile launch facility in the northwestern town of Dongchang-ri, and he pledged to invite international experts to verify its destruction.
Though the hermit state is now nuclear, experts are unsure if it has the capability to load the weapons onto ballistic missiles that can reach the U.S. mainland. Stopping Kim from further improving his arsenal is a vital security consideration for American leaders.
Kim also said he would like to "visit Seoul in the near future," the BBC reported, which would make him the first North Korean leader to do so.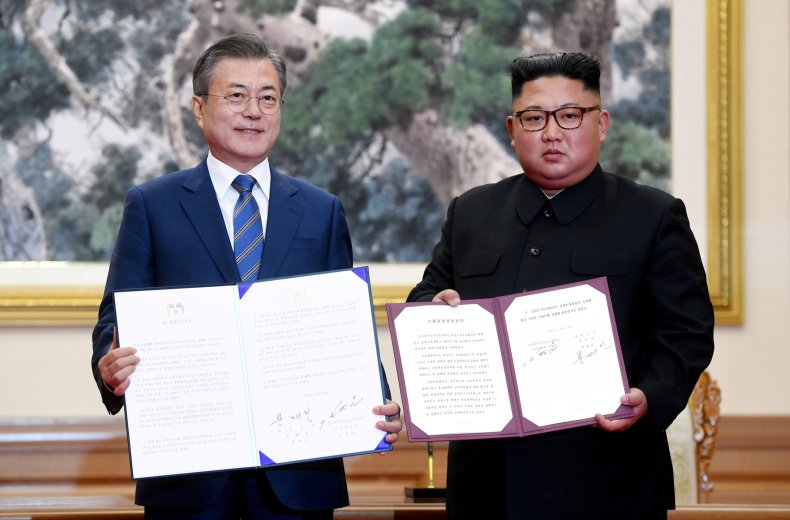 The announcement drew immediate praise from Trump, who took to Twitter to announce details of the agreement, which he called "very exciting."
"Kim Jong Un has agreed to allow Nuclear inspections, subject to final negotiations, and to permanently dismantle a test site and launch pad in the presence of international experts," he wrote. "In the meantime there will be no Rocket or Nuclear testing."
Trump has presided over a striking thaw in relations between North Korea and the U.S.-South Korean alliance. Trump's supporters—and the president himself—have lauded his June summit with Kim in Singapore as one of his greatest foreign policy achievements, though he secured few concrete commitments from the North Korean leader and talks on denuclearization have stalled in recent months.
All sides will be hoping the Pyongyang meeting re-energizes these talks, though experts remain skeptical that Kim will ultimately be willing to denuclearize.
Kim has now said he is willing to close the Yongbyon nuclear facility if the U.S. takes reciprocal action, though did not explain what this meant. North Korea destroyed its main nuclear test site at Punggye-ri ahead of the Singapore summit, but no international inspectors were allowed to attend the event. This raised fears the facility could be put back into operation at a later date if talks failed.
U.S. leaders will be wary of giving too much ground following the Singapore summit, where Trump agreed to halt "provocative" U.S.-South Korean military exercises on the Korean Peninsula without winning any concrete concessions in return.
Though Kim said he was committed to denuclearization, recent satellite photos and intelligence reports suggest North Korea is continuing its nuclear program, albeit with less fanfare than before.
The Pyongyang meeting also allowed the two Koreas to make progress on other issues. The leaders said they would link their railway systems, permit more reunions for families split by the war and work together on health care, the BBC reported. They will also submit a joint bid to host the 2023 Summer Olympics.
Along the heavily defended border, the two countries' militaries agreed to establish a new buffer zone to prevent accidental incursions and clashes that could increase tensions.
Moon's trip to Pyongyang is the first trip north for a South Korean leader in a decade. It is the third time the two leaders have met since their historic summit at the border in April.