Trump Says Teachers Shouldn't Be Allowed To 'Teach Transgender' to Children
Former President Donald Trump has said that teachers should not be allowed "to teach transgender to our children" without permission from their parents, in his latest comments about transgender people.
Trump made the remarks during his keynote speech at the Faith & Freedom Coalition's Road to Majority Policy Conference in Nashville, Tennessee on Friday and also criticized what he described as "gender ideology."
The former president is weighing in on an issue that has rapidly become a major point of contention for Republicans: discussions of gender and sexual identity in the classroom.
"Pushing woke gender ideology, think of it, on young people, is nothing less than child abuse," Trump said.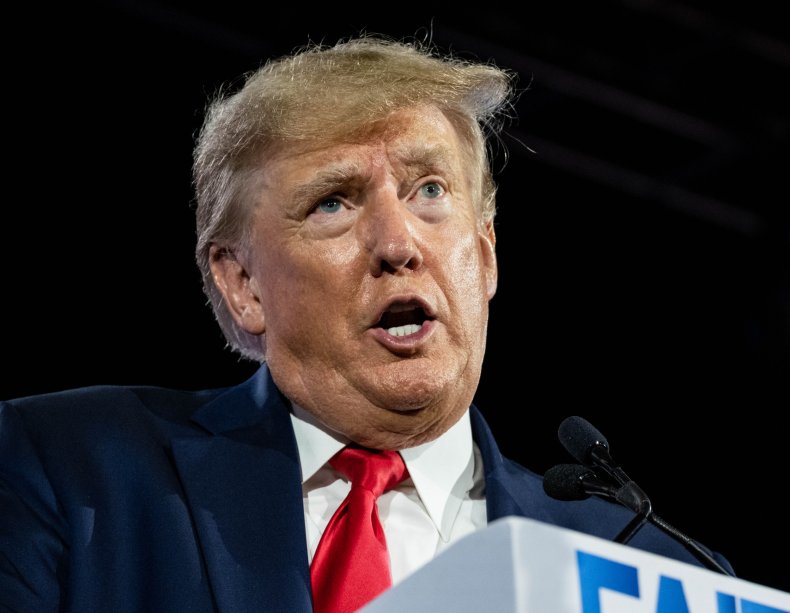 "No teacher should ever be allowed to teach transgender to our children without the parents' consent, and I don't think too many people are gonna be giving that consent. Not too many," the former president said.
During his speech in Nashville, Trump also said that politics had become a "religion" for "the radical left" and that it "has warped their sense of right and wrong. They don't have a sense of right and wrong. True and false. Good and evil."
This isn't the first time in recent weeks that Trump has made direct reference to discussions of gender identity in schools. He made very similar remarks at a rally in Wyoming on May 28.
"No teacher should ever be allowed to teach transgender to our children without parental consent," Trump said at the time. "Can you imagine?"
"We will save our kids and we will also keep men the hell out of women's sports. Is that OK?" Trump went on, touching on the issue of transgender female athletes competing in women's sports.
That issue has became a major point of discussion among conservatives, with a recent Ohio bill designed to prohibit transgender girls competing in girls' sports causing outrage because of a clause that would have allowed for genital inspection for those suspected of being transgender.
That portion of the legislation will now be removed following the backlash it has received, but the issue of transgender women in sport and classroom discussions of gender identity are likely to remain a focus heading into this year's midterm elections.
President Joe Biden signed an executive order on LGBTQI+ rights this month to coincide with Pride Month. The order will aim to tackle discrimination and conversion therapy, among other issues.
The White House statement announcing the executive order highlighted over 300 "anti-LGBTQI+ laws" that have been brought forward at a state level, some of which "specifically target transgender children and their parents by banning access to medical care and support at school."
"President Biden is addressing these harmful, hateful, and discriminatory attacks head-on—not only by speaking up for America's families, but taking action to stand up to the bullies targeting LGBTQI+ people," the White House said.