Trump Says U.S. 'Laughingstock,' Addresses Border Wall, Terrorism Threat, Afghanistan Exit
Former President Donald Trump said in a statement released Sunday that the U.S. is now a "laughingstock all over the world!" as he addressed the Afghanistan withdrawal and terrorism threat, among other issues.
"Our country is dying from within and nobody is doing anything to stop it," he said as he also reiterated his demand of building a border wall, claiming that the country is being "poisoned with the millions of people that are illegally flooding through our borders."
"In most cases, [they] are not even questioned or stopped. Many are criminals from the emptied prisons of other countries, most of these are very dangerous people," he said in the statement posted on Twitter by his spokesperson Liz Harrington. "The first thing that should be done and it can be done quickly, is FINISH THE WALL."
He added that a deal should be reached with Mexico in which the country would serve as a "barrier" and not a "launching pad for the illegals that are coming in."
In his remarks about immigration, Trump pointed out that many Afghans who fled their country after the Taliban takeover shouldn't be in the United States. He noted that: "97 percent of people that came in from Afghanistan rushed the planes and shouldn't be here. Those people must be checked very carefully because many of them will turn out to be strongly-related to high-level terrorism."
The former president recalled that some issues were handled differently when he was in the Oval Office, including the economy.
"How stupid our country has become. So sad to watch when just 10 months ago we had none of these problems, and none either with bad economy, inflation, [and] fuel prices going through the roof," he said.
Towards the end of his statement, Trump pointed that the U.S. troop withdrawal from Afghanistan should have been executed differently, referring to the 13 U.S. service members who were "needlessly killed" during a bombing outside the Kabul airport in August.
"We would have been out but we would have been out with dignity," he said.
Newsweek contacted Trump's office and the White House but didn't hear back in time for publishing.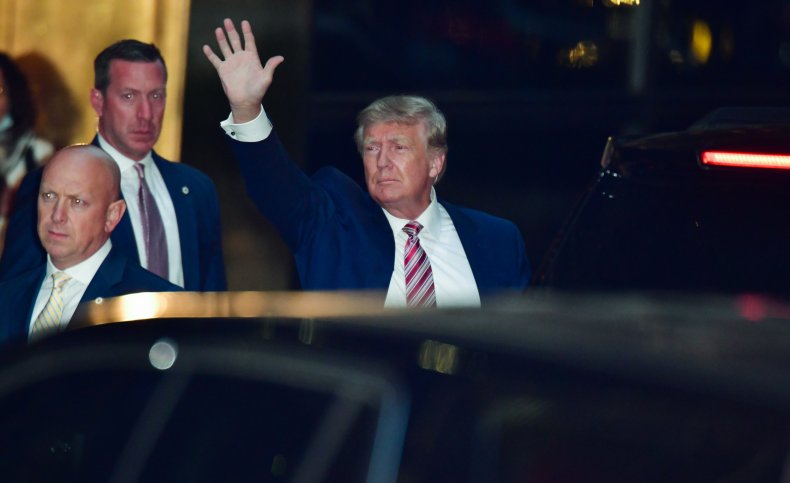 The former president has previously been vocal about the border crisis and the U.S. handling of the U.S. withdrawal from Afghanistan. In September, Trump said that the increase in migrants crossing the U.S. border "will be perhaps the greatest crisis in the history of our country."
"The largest number of illegal aliens in the history of our country are pouring in by the millions. Our country is rapidly becoming a cesspool of humanity," he said. "Murderers, drug dealers, and criminals of all shapes and sizes are a big part of this massive migration. Tens of thousands of people are coming from Haiti, and many now from countries in Africa, even more so now than South America."
In August, the former president criticized the Afghanistan exit, saying that it was "handled so badly or incompetently" by the Biden administration.
He also said that $85 billion worth of military equipment was left behind during the evacuation process, a claim that he repeated in his Sunday statement. However, this amount of money was not only spent on equipment for security purposes in Afghanistan, according to a July 30 report by the Special Inspector General for Afghanistan Reconstruction (SIGAR). The funds financed both equipment and transportation between 2005 and 2016.