Trump Says U.S. Is 'Rapidly Becoming a Cesspool' as Migrants Gather in Texas
Former President Donald Trump on Sunday said the surge of migrants the U.S. is facing "will be perhaps the greatest Crisis in the history of our Country."
"The largest number of illegal aliens in the history of our country are pouring in by the millions," Trump said in a statement released by his Save America PAC.
"They are totally unchecked and unvetted, can do whatever they they want, and go wherever they want. Our country is rapidly becoming a cesspool of humanity. Murderers, drug dealers, and criminals of all shapes and sizes are a big part of this massive migration. Tens of thousands of people are coming from Haiti, and many now from countries in Africa, even more so now than South America," Trump added.
His comments come as thousands of migrants have gathered around a bridge in the small border city of Del Rio, Texas, waiting to be processed by U.S. officials. On Saturday there were reportedly more than 14,000 migrants, primarily from Haiti, under the Del Rio International Bridge.
President Joe Biden's administration has ramped up deportation efforts as the migrants have gathered.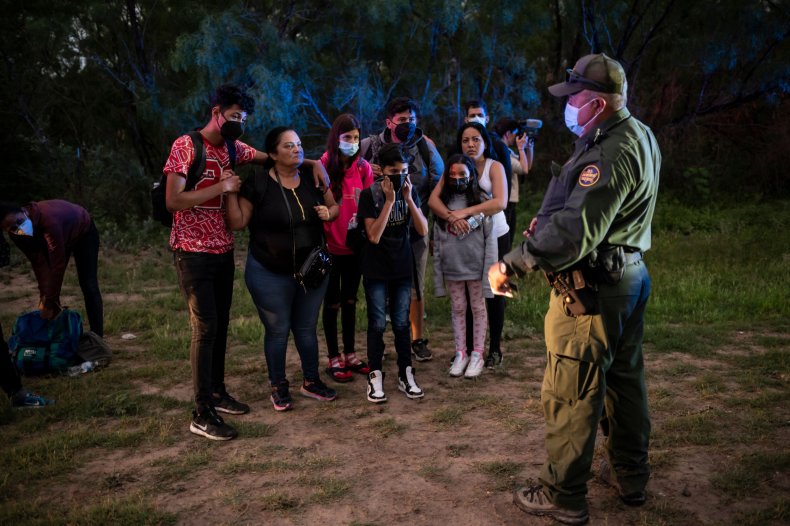 The Department of Homeland Security announced Saturday that it would send 400 agents "to the Del Rio sector to improve control of the area." It added that it would "secure additional transportation to accelerate the pace and increase the capacity of removal flights to Haiti and other destinations in the hemisphere within the next 72 hours."
In a statement, the department said that "the Biden Administration has reiterated that our borders are not open, and people should not make the dangerous journey."
"Individuals and families are subject to border restrictions, including expulsion. Irregular migration poses a significant threat to the health and welfare of border communities and to the lives of migrants themselves, and should not be attempted," it added.
In July, U.S. Customs and Border Patrol encounters with migrants at the U.S. border with Mexico reached a 21-year high, according to the Pew Research Center. That month, the officials reported nearly 200,000 encounters with migrants.
"The July figure is the highest monthly total since March 2000 and far surpasses the peak during the last major wave of migration at the U.S.-Mexico border, which occurred in May 2019," the Pew Research Center said.
In his Sunday statement, Trump said: "Nothing is done and the corrupt Mainstream Media is giving almost no attention to what will be perhaps the greatest Crisis in the history of our Country. This is not just a Border Crisis, this is a Crisis Crisis."
Newsweek has reached out to the White House for comment.