Though the Supreme Court ruled Thursday against the Trump's administration's attempt to phase out the Obama-era Deferred Action for Childhood Arrivals (DACA) program, President Donald Trump told the crowd at his Tulsa, Oklahoma rally Saturday, "We actually won on DACA."
"People don't understand, but we actually won on DACA yesterday. We actually won, because they basically said 'You won, but you have to come back and redo it.' It's almost like, 'Gee, come on back, your paperwork was no good.' But we're gonna be refiling. Don't let it get you, everything's going to work out really good. Everything's gonna work out OK."
"I mean, it woulda been nice if we'd won it. Everybody said, 'Oh, you're gonna win DACA. You're gonna win DACA. That's easy, you're gonna win DACA. That's easy.' They all said it, and they came back and they said, 'We don't like what you did with the paperwork,' essentially. So we're refiling it. Most people would say that we lost. We didn't lose, we're gonna refile it. And everything is going to work out for the young people—most of whom aren't so young, by the way—but we're gonna work it out for everybody," Trump added.
The Supreme Court ruled 5-4 that the attempt to end the DACA program was "arbitrary and capricious," according to the majority opinion written by Chief Justice John Roberts.
Trump's comment about "paperwork" is likely referring to part of Roberts' decision, where he said that the Department of Homeland Security (DHS) had not "complied with the procedural requirement that it provide a reasoned explanation for its action."
"Here the agency failed to consider the conspicuous issues of whether to retain forbearance and what if anything to do about the hardship to DACA recipients. That dual failure raises doubts about whether the agency appreciated the scope of its discretion or exercised that discretion in a reasonable manner," Roberts said. "The appropriate recourse is therefore to remand to DHS so that it may consider the problem anew."
The DHS does have the ability to try again and offer a more detailed explanation for its attempt to shut down DACA. However, according to a Pew Research poll, a majority of Americans support giving permanent legal status to DACA beneficiaries.
Newsweek reached out to the DHS for comment. This article will be updated with any response.
Following the ruling, Trump condemned the decision on Twitter.
"These horrible & politically charged decisions coming out of the Supreme Court are shotgun blasts into the face of people that are proud to call themselves Republicans or Conservatives," Trump wrote Thursday.
"Do you get the impression that the Supreme Court doesn't like me?" he added.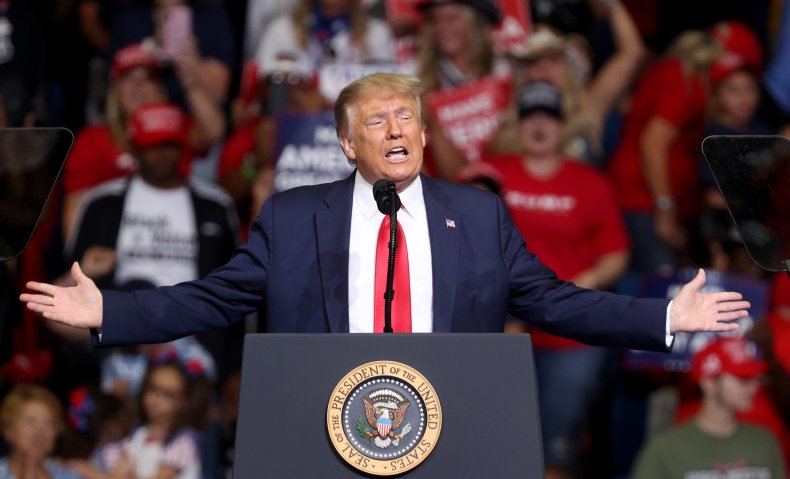 Prior to the rally, the Trump campaign said Saturday that six staffers on the advance team in Tulsa had tested positive for coronavirus, and had been immediately quarantined.
"No COVID-positive staffers or anyone in immediate contact will be at today's rally or near attendees and elected officials," Tim Murtaugh, the Trump campaign's communications director, said in a statement.
On Friday, Trump said he would not wear a mask at the rally. Though masks will be available for everyone in the audience, Trump has not urged people to wear them.
"If people want to wear masks I think that's great. I won't be. Not as a protest but I don't feel that I'm in danger," Trump said. "I recommend people do what they want."
Before Saturday's rally, Tulsa County has set three daily records in a row for new coronavirus cases. The Oklahoma State Department of Health said that since March, the number of cases in the state passed 10,000 as of this weekend, with an additional 331 new cases reported since Friday. In Tulsa County alone, 136 new cases and one additional death have been reported.
Trump supporters have been waiting for at least 24 hours before the rally at the BOK Center, which holds up to 19,000 people. However, turnout was lower than expected, with a number of seats shown empty on live streams of the event. Plans for Trump to speak outside the BOK Center to the overflow crowd were canceled.
Trump campaign manager Brad Parscale blamed protesters and the media for the low turnout.
"Radical protestors, fueled by a week of apocalyptic media coverage, interfered with @realDonaldTrump supporters at the rally. They even blocked access to the metal detectors, preventing people from entering. Thanks to the 1,000s who made it anyway!" Pascale tweeted.
Murtaugh agreed in a statement, writing, "Radical protestors, coupled with a relentless onslaught from the media, attempted to frighten off the President's supporters. We are proud of the thousands who stuck it out."
The president initially scheduled Saturday's rally for June 19, or Juneteenth, which commemorates the day when Union General Gordon Granger told Texas slaves they were free. After a backlash, Trump postponed the rally by a day.