Trump Calling Adam Schiff 'Deranged' Is a Projection of What the President Thinks of Himself, Says Psychiatrist
Donald Trump's description of Chair of the House Intelligence Committee Adam Schiff as a "deranged human being" is simply the president projecting onto others what is true about himself, a prominent psychiatrist has said.
On the sidelines of the NATO summit in the U.K., Trump said on Tuesday that Schiff's handling of the impeachment process showed that he "grew up with a complex for lots of reasons that are obvious," adding, "I think he's a very sick man, and he lies."
The former assistant clinical professor of Harvard Medical School, Lance Dodes, who first sounded the alarm about the president's mental state two years ago, said Trump could just as easily have been talking about himself.
Dodes told MSNBC: "He tells other people that they are what he is. It's a common enough mechanism in early childhood, but as an adult using it all the time, it is what we would call primitive.
"If Donald Trump were capable of giving a reasonable discussion of something he didn't agree with, he would make some sort of logical case, but he is unable to do that. He runs a kind of a simple program in that way, so he tells you that other people are what he is being accused of and what he actually is.
"Everything is about him...He doesn't have actual knowledge, so he just says what feels right to him and especially what is for him, what he thinks is in his personal interest," Dodes said.
Newsweek has contacted the White House for comment.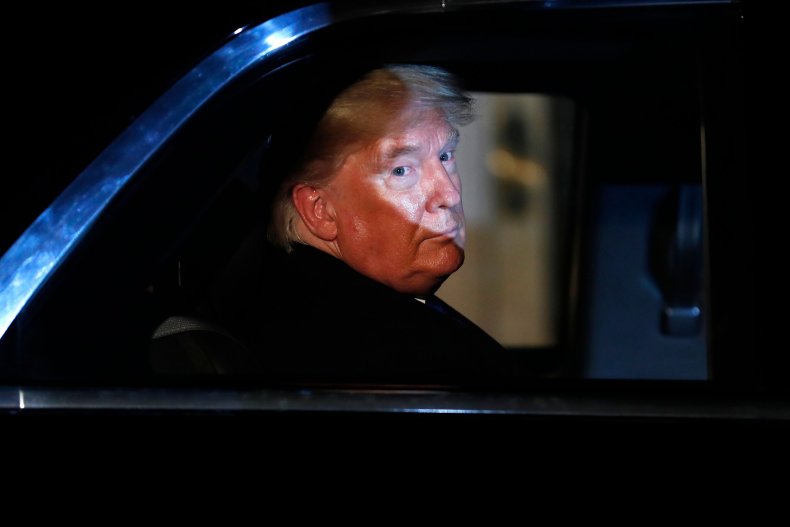 Dodes contributed to the best-selling book The Dangerous Case of Donald Trump, in which he joins over three dozen other mental health experts in assessing the president.
He has made frequent warnings about what he fears is the deteriorating cognitive abilities of Trump since he has been in office, but his latest comments suggest that he believes the president suffers from deep-rooted psychological problems, stemming from childhood.
Host Lawrence O'Donnell played out a clip in which Trump insisted he would not comment about a trade deal with China, but then in the next sentence, said "he would wait until after the election."
Dodes said: "This is a man who is running a simple program. I don't say that as an insult, he can only do what he does and he is limited by the limited capacity of a person with early emotional development—he doesn't have much complexity to him.
"He says what he thinks and it doesn't matter if it's true, truth means nothing to him, other people mean nothing to him. Once you get that concept that nothing matters, that no conscience, no morality, then everything else falls into place."
Dodes said that Trump has no empathy which must have been due to something that happened "very early" because "almost all people don't have this problem."
There is an ongoing ethical debate over assessing the president's mental health. The psychiatric establishment's "Goldwater rule," states psychiatrists should not give opinions on those they have not personally examined.
It is named after 1964 Republican presidential candidate Barry Goldwater who successfully sued the magazine Fact after it polled psychiatrists about his mental fitness for office. Since then the Goldwater Rule has been adopted as a principle of medical ethics.
However, last month H. Steven Moffic wrote in the Psychiatric Times there may be an ethical case for psychiatrists to "speak up as citizens" and not as professionals about public figures like Trump.
"Today, our leadership targets mostly immigrants and Hispanic minorities. Does that pose a challenge to psychiatrists of that background to speak up in some helpful way? Silence generally supports the status quo," the article said.