Trump's 'Chosen One' Comment and Spat with Denmark Shows His 'Psychotic-Like State' Says Doctor Who First Warned About President's Mental Condition
One of the first psychiatrists who sounded the alarm over Donald Trump's state of mind has expressed renewed concern that the president's recent pronouncements show his cognitive abilities are deteriorating.
This week, Trump canceled a planned state visit to Denmark after the country's prime minister refused to countenance his idea of the U.S. purchasing Greenland, the European nation's autonomous territory. He later described Mette Frederiksen's statement as "nasty."
In addition, under fire for saying Jewish-Americans who vote for Democrats showed a "total lack of knowledge or great disloyalty," a comment criticized as an anti-Semitic trope, Trump shared a message from conspiracy theorist Wayne Allyn Root, who said Israeli Jews love the president like he is "the second coming of God."
Later on Wednesday, Trump appeared to repeat the theme on the south lawn of the White House, where he said he was the "chosen one" in his trade spat with China.
Dr. Lance Dodes, former assistant psychiatry professor at Harvard Medical School, contributed to the book The Dangerous Case of Donald Trump.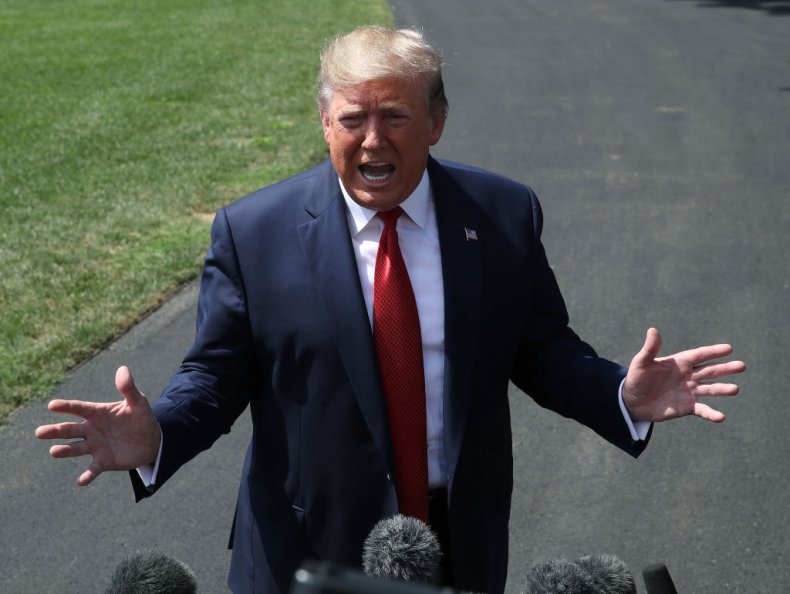 He had warned in 2017 that Trump's mental condition would worsen and he said that his statements over the last few days have proven him right.
He told MSNBC that Trump had "a fundamental need to be all-powerful and all loved and can't stand challenges."
"He can't stand anything that disagrees with him, and the more you challenge him, the more unhinged he becomes, the more paranoid, and the more violent, potentially," Dodes said
"He doesn't really love anyone except himself. That's not a slur, that's a psychological fact. People like him are about him. If he's not useful to him, he stops loving him. That's part of the essential emptiness of Donald Trump. He doesn't have real relationships with people."
When Trump looked toward the heavens and bragged about being "the chosen one," Dodes said it was another example of Trump's grandiosity.
"There's something fundamentally different about him from normal people. It's a psychotic-like state. The more you press him, the more you see how disorganized and empty he is. The more he flies into a disorganized rage.
"He thinks of himself as a dictator, and it's all him and no one else really matters," Dodes told MSNBC host Lawrence O'Donnell.
Assessing the president's mental health has been the subject of an ethical debate in the psychiatric establishment whose 'Goldwater rule,' states psychiatrists should not give opinions on those they have not personally examined.
Among those questioning Trump's fitness for office is his former communications chief Anthony Scaramucci. In a TV interview with Sinclair Broadcast's "America This Week" he said of his former boss: "He's mentally declining," according to The Washington Post. He also called on his fellow Republicans to turn against Trump for the good of the country.