Trump Scrambles to Undo Awkward Comments on Theresa May Hours After Slamming Brexit Deal
President Donald Trump has reiterated that the relationship between the U.S. and the U.K. remains strong, despite suggesting that Prime Minister Theresa May's Brexit White Paper could "end a major trade relationship with the U.S."
Trump and May had dinner together at Blenheim Palace on Thursday night. On arriving at Chequers, the PM's Buckinghamshire country residence, on Friday morning, Trump said: "I think we probably never developed a better relationship than last night… It was really something."
This despite his interview with British tabloid The Sun in which he made scathing remarks about May's Brexit plan, appearing hours earlier .
Live Updates: President Donald Trump in the U.K. To Meet Prime Minister May and the Queen
The leaders are now set to hold talks before a press conference that will take place later on Friday, after which Trump travels to Windsor Castle to meet with Queen Elizabeth II.
May's plan, which was revealed on Wednesday, "will definitely affect trade with the United States, unfortunately in a negative way," Trump told The Sun.
"We have enough difficulty with the European Union. We are cracking down right now on the European Union because they have not treated the United States fairly on trading. No, if they do that I would say that that would probably end a major trade relationship with the United States," Trump said.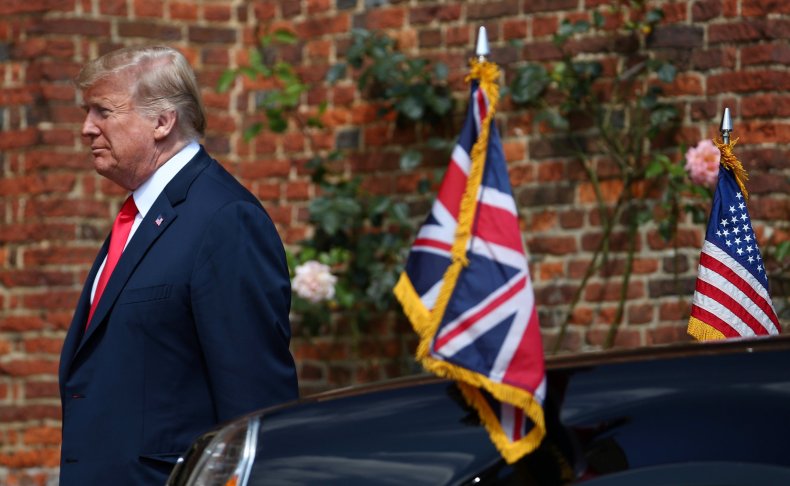 The newspaper revealed that the president had said several weeks previously that he had advised May on how to conduct the Brexit deal, but that his advice had been ignored.
The president's comments were dismissed by a number of British politicians as rude, The Independent reported, despite Foreign Office minister Sir Alan Duncan insisting Trump had not been rude in the interview.
"Donald Trump is in many ways a controversialist, that's his style, that's the color he brings to the world stage," Duncan said in an interview with BBC Radio 4's Today Programme. "He is in that sense very unconventional. I don't think we see it as rude."
Trump's visit to the U.K. has been marked by protests, with a giant "Trump baby" flying in London. Trump has reportedly avoided the capital, spending much of his time hidden away from the protest action.