Trump Sets Up U.N. Battle with Russia, China Over Widely Dismissed Iran Demand
President Donald Trump has insisted on the restoration of international sanctions against Iran in a move widely dismissed by other nations and outright rejected by fellow United Nations Security Council members Russia and China.
Trump announced Wednesday that he was sending Secretary of State Mike Pompeo to New York City on Thursday in order to seek a "snapback" of U.N.-imposed economic restrictions lifted from Iran in the wake of a 2015 nuclear deal the White House abandoned in 2018. The Trump administration has claimed it still has the right to trigger this mechanism as an original participant in the deal but the argument has found little support among even allies.
"Iran will never have a nuclear weapon, mark it down, Iran will never have a nuclear weapon," Trump told reporters.
But Tehran has always denied seeking a nuclear weapon and even European signatories France, Germany and the United Kingdom have broken with the U.S. on extending a conventional arms embargo set to expire this October against the Islamic Republic. Moscow and Beijing have been especially proactive in voicing their support for the nuclear agreement.
Russia and China vetoed a U.S. proposal to renew restrictions on Iran's ability to buy and sell military equipment. Only one other country, the Dominican Republic, backed the move, while European parties to the agreement and eight other nations abstained. The Kremlin instead proposed a virtual meeting among the original deal signatories in a move welcomed by China—which, like Russia, has shored up economic and security ties with Iran in recent years—but rejected by the U.S.
Kremlin spokesperson Dmitry Peskov said on Wednesday that Washington's refusal made the meeting "impossible," according to the state-run Tass Russian News Agency. "It does not mean that the dialogue with the other states is halted on the Iranian issue," he added. "This dialogue for the sake of viability of the JCPOA and for the sake of settlement will definitely be continued."
Iranian government spokesperson Ali Rabiee acknowledged "Mr. Putin's good intentions to reduce tensions" and touted robust ties between Tehran and Moscow but saw the meeting proposal as futile without a change in U.S. attitude. "The U.S. president is unlikely to have the courage to attend a meeting in which he is confident of once again being isolated," he added.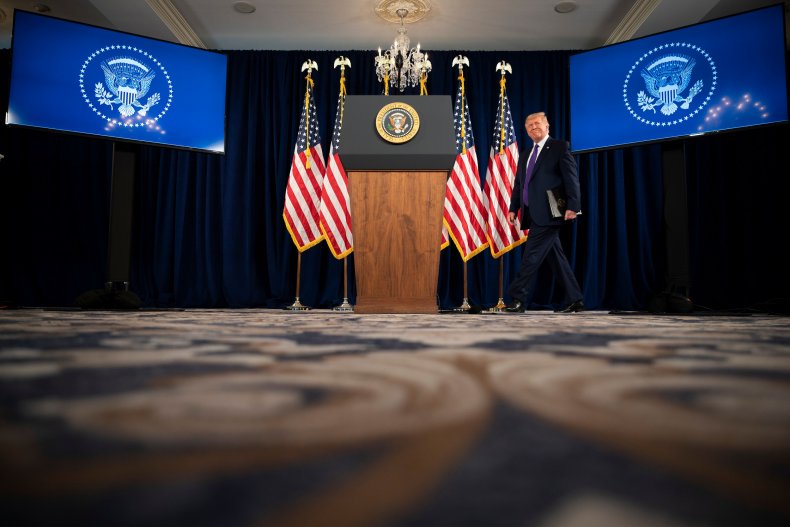 Trump and Pompeo have vowed to go after the agreement after lashing out at the results of the U.N. Security Council vote in a move that the European Union too has deemed inadmissible. A spokesperson for EU foreign policy chief Josep Borrell told Germany's Deutsche Presse-Agentur said, however, that the U.S. was not qualified to make such a decision "given that the U.S. unilaterally withdrew from the JCPOA in May 2018 and has not participated in any JCPOA structures or activities subsequently."
That same day, Iranian Foreign Minister Mohammad Javad Zarif highlighted how even former national security adviser John Bolton, a longtime Iran hawk, expressed the opinion that the U.S. could not feasibly activate this clause after having left the agreement.
"At least he is consistent—a trait notably absent in this US administration," Zarif tweeted Sunday. "US recourse to Dispute Resolution Mechanism in 2231 has NO LEG TO STAND ON."
The National Security and Foreign Policy Commission of Iran's Islamic Consultative Assembly echoed this view in a statement Tuesday but voiced support for a return to full-scale nuclear production including the development of nuclear-powered submarine engines to deter the U.S. military in the Persian Gulf should the agreement collapse.
Iranian President Hassan Rouhani too predicted a U.S diplomatic defeat. He told his cabinet on Wednesday that the U.S. would once again fail to convince the international community of its unilateral view and that the sanctions wreaking havoc of Iran's trade ties amid an economic crisis would eventually be defeated.
"We know that these sanctions are causing problems and harassing the people," Rouhani said. "We are standing up to these sanctions, which are coming to an end. If anyone in Iran thinks that this tyrannical government of the White House and this oppressive sanctions are permanent, they are wrong, because both the tyranny of the White House and the sanctions will not last forever."
Rouhani's chief of staff, Mahmoud Vaezi, asserted on the sidelines of the meeting that "this will be another defeat for the United States," tying Trump's strategy to him being "in a very weak position in the election and much lower than his rival in the opinion polls."
Still, the State Department appeared confident in its approach, with spokesperson Morgan Ortagus outlining the anticipated next steps after Pompeo informed the U.N. Security Council of the U.S. decision.
"Thirty days after Secretary Pompeo's notification, a range of UN sanctions will be restored, including the requirement that Iran suspend all enrichment-related activities. This will also extend the 13-year arms embargo on Iran," Ortagus said in a statement. "Secretary Pompeo's notification to the Council follows its inexcusable failure last week to extend the arms embargo on the world's leading state sponsor of terrorism and anti-Semitism."
Pompeo was also set to meet with U.N. Secretary-General António Guterres "to discuss Iran and other issues of shared concern."
At a meeting in Washington alongside his Iraqi counterpart, Pompeo too insisted that he anticipated other countries, including the other five major powers in the Iran deal, to follow the U.S.' lead.
"We have every expectation that every country in the world will live up to its obligations, including every member of the P5 and every member of the UN that will take seriously the international commitments to which they have signed up for," he told reporters. "It's the longstanding commitment of the United States to do that."