U.S. Loses U.N. Vote to Extend Iran Arms Trade Ban, Russia Tells Trump It Has Its Own Plan
The United States announced its failure to pass through a United Nations Security Council that would extend an arms embargo against Iran, but Russia appealed directly to President Donald Trump with its own Persian Gulf security plan.
In a statement, Secretary of State Mike Pompeo said Friday that the 15-member council "failed to uphold its fundamental mission set" by not adopting a unilateral U.S. measure that would prevent restrictions disallowing Iran from buying or selling military equipment from expiring in October. He accused the body of having "rejected a reasonable appeal" allowing what he called "the world's leading state sponsor of terror" to deal in conventional weapons for the first time over a decade.
"The Security Council's failure to act decisively in defense of international peace and security is inexcusable," he said, noting support for the extension by Israel and six members of the Arabian Peninsula's Gulf Cooperation Council.
"The United States will never abandon our friends in the region who expected more from the Security Council. We will continue to work to ensure that the theocratic terror regime does not have the freedom to purchase and sell weapons that threaten the heart of Europe, the Middle East and beyond," he added.
The measure was seen as unlikely to succeed with fellow veto-wielding permanent members China and Russia vocally opposed to the effort, Europeans seemingly on the fence and others mostly unconvinced. In the end, it was overwhelmingly defeated with both China and Russia vetoing, only the Dominic Republic backing the U.S. and all 11 other nations—including France, Germany and the United Kingdom—abstaining.
"The result of the vote in #UNSC on arms embargo against Iran shows—once more—the US' isolation," Iranian ambassador to the U.N. Majid Takht-Ravanchi tweeted Friday. "Council's message: NO to UNILATERALISM."
"US must learn from this debacle," he added. "Its attempt to 'snapback' sanctions is illegal, and was rejected by int'l community, as was evident today."
Moscow in particular appeared eager to put forth an alternative plan to ensure security in the region, reaching out directly to Trump himself.
Tagging the president's official account, the Russian Foreign Ministry's Twitter account said Friday, "we've heard you haven't been informed of Russia's proposal. In a nutshell: We propose to ensure security in the #PersianGulf."
The tweet linked to a statement made earlier by Russian President Vladimir Putin on the Kremlin's official website. It urged to "Keep calm and follow" the ministry's Twitter account "to #StayInformed" when Pompeo "is busy," tagging the top U.S. diplomat as well.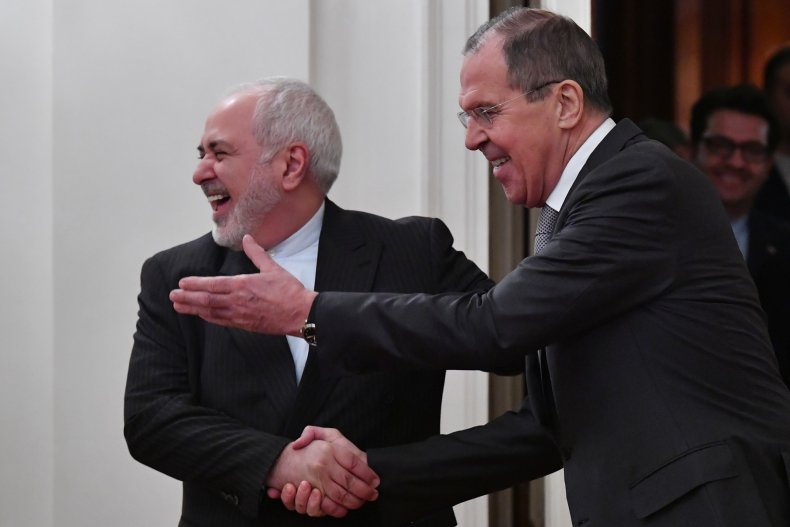 Russia has dismissed the U.S. "maximum pressure" campaign launched against Iran in the wake of the White House's 2018 exit from a nuclear deal signed in 2015 by all five permanent U.N. Security Council members plus Iran and Germany. The Trump administration has since imposed heavy sanctions on Tehran, accusing it of violating the multinational pact by secretly pursuing a nuclear weapon, funding foreign militias and pursuing new missile technology.
"Debates around the Iranian issue within the U.N. Security Council are becoming increasingly strained," Putin said the statement earlier Friday. "Tensions are running high. Iran faces groundless accusations. Resolutions are being drafted with a view to dismantling decisions that had been unanimously adopted by the Security Council."
The Russian leader announced its "unwavering commitment" to the Iran nuclear deal, to which all remaining signatories still support despite arguments over its implementation that have emerged since the U.S. departure. Putin then re-introduced his 2019 Collective Security Concept for the Persian Gulf Region, a roadmap to de-escalating regional tensions that have emerged over the past two years, threatening conflict between the U.S. and Iran.
"We strongly believe that these problems can be overcome if we treat each other's positions with due attention and responsibility, while acting respectfully and in a collective spirit," Putin said.
"Like anywhere else in the world, there is no place for blackmail or dictate in this region, no matter the source. Unilateral approaches will not help bring about solutions," he added. "It is essential that the positive experience gained earlier through intensive effort is maintained when building an inclusive security architecture in the Persian Gulf."
He also proposed a virtual gathering of the nuclear deal parties, including the U.S., in order to resolve the issue. At a video meeting of U.N. Security Council members in late June, U.S. representatives, including Pompeo, found themselves isolated among every other country, each of which voiced support for the Iran nuclear deal.
Iranian Foreign Minister Mohammad Javid Zarif announced last month that he was seeking the renewal of a 20-year deal with Russia, with which his country coordinates in the war in Syria. Moscow has also sold weapons to Tehran in the past and is seen as one of two top potential arms sellers once the embargo expires.
The other is China, which Iran has also set out to strike an ambitious deal, this one spanning some 25 years and involving billions in infrastructure and energy cooperation. Suffocated by U.S. sanctions, Iran has looked toward the East for lucrative opportunities both in the sector of economy and security.
When Zarif first presented Iran's own multinational cooperation framework, known as the "Hormuz Peace Initiative," or "Coalition for HOPE," he emphasized partnership between regional countries and rejected foreign interference in the strategic waters. He did, however, say that Russia and China would be welcome to join.