Trump Is Setting Back LGBT Rights for the Entire World, Hillary Clinton and British Politicians Warn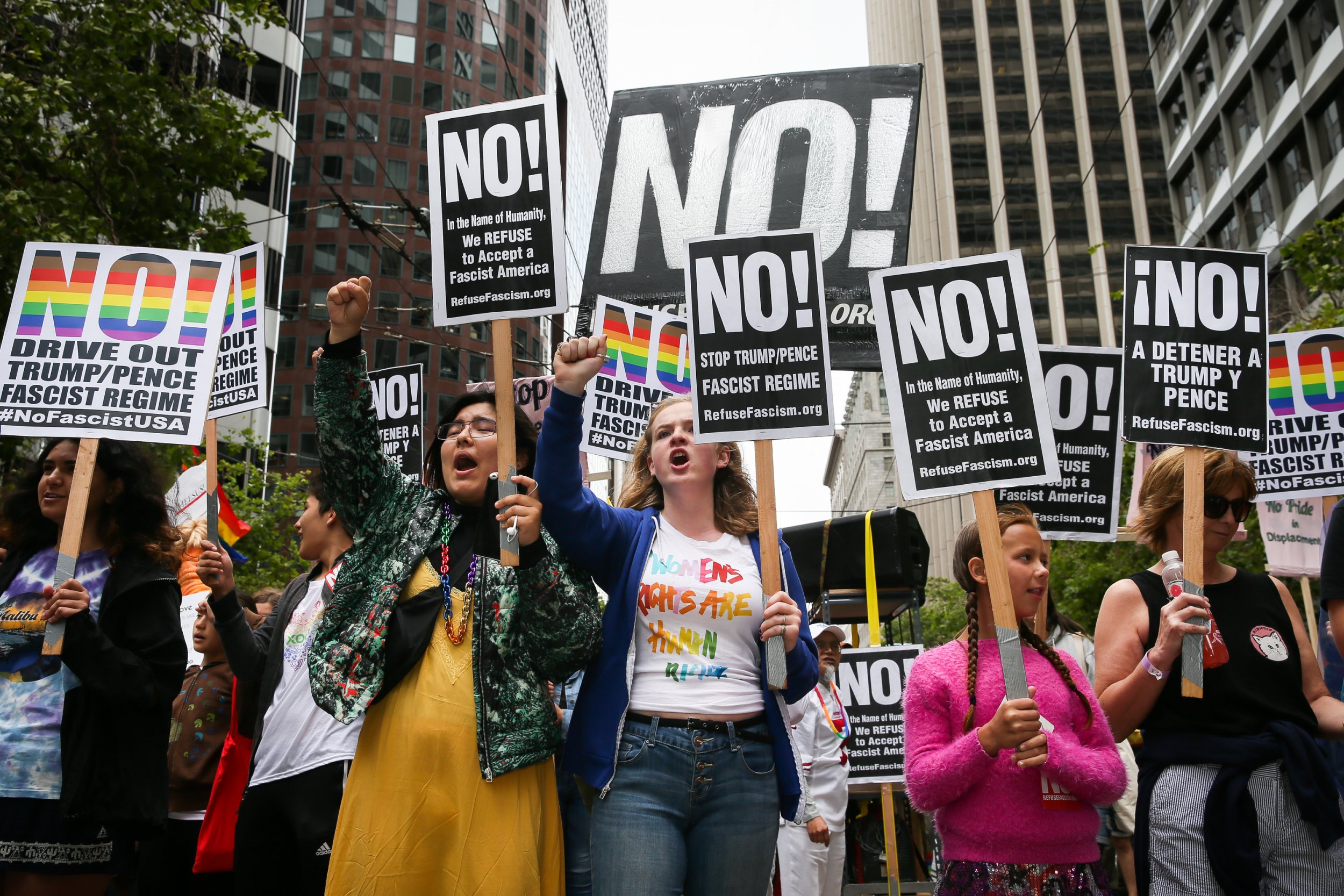 Hillary Clinton on Saturday slammed the Trump administration's record on civil rights for LGBT people, telling advocates in Washington that tough battles lie ahead.
During her remarks at the national dinner of the Human Rights Campaign (HRC), an LGBT rights advocacy group, Clinton particularly took aim at the rollback of the Affordable Care Act, which she says could threaten health care for vulnerable communities and progress toward HIV research and treatment. She also blasted President Donald Trump's attempted ban on transgender service members, and mentioned his silence on international LGBT issues, according to Politico.
Clinton echoes British politicians' concerns, who early this month warned that Trump is setting LGBT rights back not just for the U.S., but for the entire world.
"The attacks on the LGBT community here at home and around the world are striking and scary. I can only imagine what it's like to be in the position that so many people still find themselves in our country," Clinton said. "I do know what it feels like to be torn down and attacked, and I want you to know that I'm with you."
HRC has long backed Clinton, even though she has been chastised for not coming out in favor of LGBT rights earlier in her political career. During the 2016 presidential election in which Clinton was the Democratic nominee, the HRC called Clinton "the champion we can count on in November — and every day she occupies the Oval Office."
Unfortunately for the HRC, Clinton does not occupy the Oval Office. The HRC claims this is detrimental for all LGBT Americans—and a debate in the U.K.'s House of Commons on Thursday shows British politicians are concerned too.
"President Obama left a very positive legacy on LGBT," Labor member of Parliament Stephen Twigg said. "Tragically, President Trump is undoing it."
Twigg said in the House of Commons that Trump's attempted ban on transgender people from the U.S. military is an "enormous shame," before turning his focus toward the U.S.'s vote against a U.N. Human Rights Council resolution that condemned the use of the death penalty against people because they are LGBT.
"That leaves a vacuum in global LGBT rights," Twigg said. "I hope that the United Kingdom, working with like-minded countries around the world, will play a leadership role to ensure we do not slip back, but instead move forward to global LGBT equality."
And it's not just the Labor Party that has expressed concerns about LGBT rights on a national scale. Conservative member of Parliament Luke Graham agreed with Twigg that the U.K. should take responsibility in leading the LGBT rights movement.
"The United States was once a beacon for all kinds of individual rights," Graham said, "and I would like to share with Members my disappointment."