More than six weeks after Election Day, Donald Trump has yet to acknowledge that his loss to President-elect Joe Biden was legitimate. As he continues to allege that voter fraud gave Biden his victory, despite an absence of evidence to support those claims, Trump has routinely referenced a nonspecific Democratic plot to oust him from office when discussing the election's outcome. After posting a series of messages to Twitter that quickly earned fact-checking labels from the social media platform, Trump retweeted a video on Sunday that showcased a number of conspiracy theories related to the election.
Many of the theories in the video Trump has articulated before. In addition to holding media coverage, polling data and voting software responsible for Trump's failure to secure another term in the White House, the video suggests that COVID-19, and its consequences, were engineered to taint his reputation.
The compilation-style clip, which runs slightly longer than one minute, is titled "How to Steal an Election." A voice opens the narration with a string of claims undermining the severity of the pandemic, which has caused at least 317,000 deaths in the U.S. alone since March.
"Start with a virus, import it into America, talk about it nonstop, call some governors...put patients into nursing homes, kill thousands, blame the president, keep blaming, blame some more," the narrator says, while "No Church in the Wild" by Kanye West and Jay-Z plays in the background.
"Lock down small business [sic], kill the economy, push mail-in voting, stoke a race war," the voice continues. The video had received more than 815,000 views on Twitter as of Sunday afternoon.
Reactions shared to the post's comments section were mixed, with some social media users pointing out that unfounded claims like those included in the video create paranoia and fuel hatred, while spreading disinformation. Others praised its contents and commended Trump for adding it to his timeline. Twitter attached a label to the tweet notifying users that its allegations about election fraud are disputed. On Tuesday, Twitter suspended the account that originally shared the video for violating its policies.
Despite the harrowing impacts of COVID-19 felt across the U.S., Trump has repeatedly approached the outbreak with a nonchalant attitude and rarely adhered to mitigation guidance issued by officials within his own administration. He notoriously referred to the pandemic as a "hoax" near the pandemic's onset last spring, held crowded in-person rallies throughout his presidential campaign, and did not wear a face mask in public for several months after the Centers for Disease Control and Prevention initially said doing so likely reduces transmission risks significantly.
Toward the end of his campaign, Trump confidently joked that news coverage involving COVID-19 would dissipate after November 3 in remarks during several election rallies.
"That's all I hear about now. That's all I hear. Turn on television, 'COVID, COVID, COVID, COVID, COVID, COVID,'" he told supporters during an event in North Carolina in October. "By the way, on November 4, you won't hear about it anymore."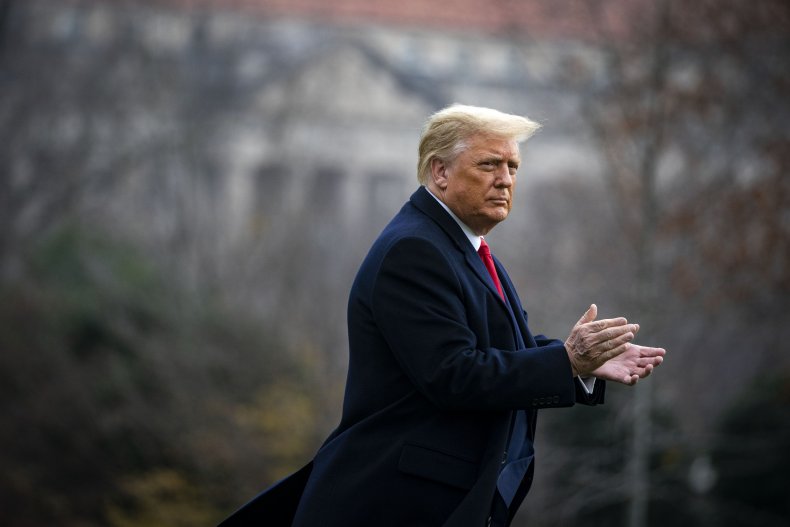 COVID-19 cases were already beginning to spike across the U.S. when Trump made those remarks. Reports about the disease picked up during the month that followed, as the country diagnosed new cases at record-breaking rates and saw hospitalizations and deaths surge in addition.
Newsweek reached out to the Trump campaign and @a17time, the Twitter account that originally posted the "How to Steal an Election" video, for comments but did not receive replies in time for publication.
Updated on December 22 to reflect the Twitter account's suspension.