Trump Wants to Shift Election Debate to SCOTUS Nomination From COVID-19, Says Ex-Bush Aide
The former Bush 43 administration aide Elise Jordan said President Donald Trump would "love nothing more" than to make the 2020 election about the battle for another conservative Supreme Court justice appointment.
Speaking on MSNBC last night, the network's political analyst argued that the commander-in-chief would want to distract from the COVID-19 pandemic death toll in the United States, which stands at almost 200,000 at the time of writing.
The quote
"Donald Trump would love nothing more than for this to be an election about the Supreme Court, because he doesn't want people to focus on how over 200,000 people have died during this horrible pandemic that his administration has failed to contain."
She later added that it would be "fascinating" to see how the Supreme Court battle would play out in 2020 Senate races that are key to Republicans looking to keep their majority in the upper chamber.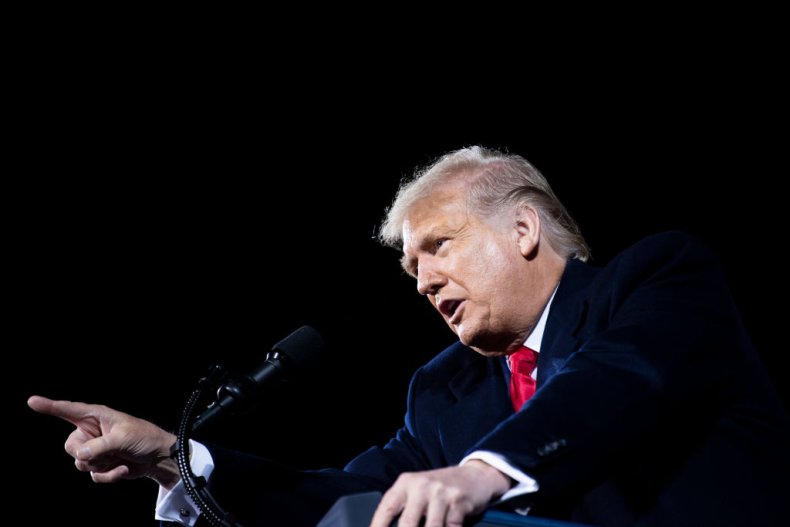 Why it matters
The death of Supreme Court Justice Ruth Bader Ginsburg on Friday night offered President Trump an opportunity to appoint the third conservative justice of his first term, but also sparked anger among Democrats who believe he should hold off on making an appointment until after the 2020 elections.
Democratic presidential candidate Joe Biden argued that he should have the opportunity to appoint a justice to Ginsburg's vacant seat should he win the presidency on November 3.
"If I win this election, President Trump's nominee should be withdrawn and, as the new president, I should be the one to nominate Justice Ginsburg's successor," the former vice president said.
But the Trump re-election campaign and Senate Majority Leader Mitch McConnell (R-KY) have shown an eagerness to push ahead with filling her seat. The president's election team even released new "Fill That Seat" campaign T-shirts on Sunday.
"We were put in this position of power and importance to make decisions for the people who so proudly elected us, the most important of which has long been considered to be the selection of United States Supreme Court Justices," Trump tweeted yesterday. "We have this obligation, without delay!"
Earlier this month, the White House also released a list of possible future Supreme Court nominees—including names such as Sen. Tom Cotton of Arkansas and the Missouri Senator Josh Hawley.
Counterpoint
A new poll released by Reuters and Ipsos on Sunday indicated that a rush to fill Ginsburg's Supreme Court seat with a conservative appointee could actually have a knockback on the Trump re-election campaign.
According to the news wire, a majority of polled Americans said they wanted Ginsburg's successor to be named by the winner of the November 3 presidential election, including five in ten Republican voters.
A sizeable eight in ten Democrats also said they wanted the next lifetime Supreme Court appointment to wait until the election results were in.