Trump Is 'Missing the Boat' With Government Shutdown, Republican Congressman Slams Trump's 'Toddler Logic'
Republican Representative Ryan Costello slammed Donald Trump's forced shutdown of the government, saying that the president is "missing the boat" and arguing that Washington is not currently in "the land of common sense."
In an interview with CNN on Saturday, Costello – who represents Pennsylvania in Congress but will retire after this month – didn't hold back in his criticism of Trump. When asked by host Ana Cabrera who he blames for the government shutdown, which began on Saturday, the GOP congressman pointed fingers directly at the president.
"If it is 'toddler logic' to think the Dems will cave here, who do you blame for this government shutdown we're in?" Cabrera asked, referencing language from a Friday tweet by the congressman.
Costello responded saying: "Well, it's the president." The representative then pointed out that Trump "said it's his shutdown."
"The Senate passed a bill 100-0 funding the government," he explained. "A couple talk show hosts were screaming and yelling, saying we need to get more border money, [then] the president all of a sudden changes his mind and doesn't find the 100-0 vote acceptable, even though he initially did."
"In the land of common sense, we're not in it right now. The shutdown is because the president wanted to shut down," Costello continued. "I don't know why Senate Democrats would vote for a bill right now when they will have even more leverage on January 4th when the Democrats take back the house. This honestly is really, really simple stuff. Really simple," he said. "But for some reason, there are a couple people out there that I think are just missing the boat, and one of them is the president."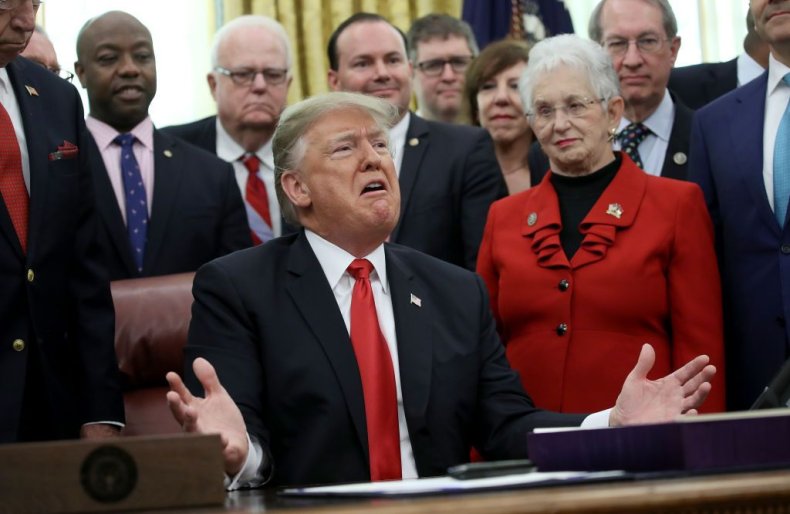 Trump refused to sign a temporary budget package last week that would have kept the government funded into February because it did not included $5 billion in funding for his long touted border wall. Despite Republicans having control of the Senate and the House of Representatives, the Trump administration has been unable to find enough support to pay for the project, which analysts have long pointed out is an ineffective solution and exorbitantly costly.
Hundreds of thousands of federal employees will continue to work regardless of the shutdown, but many will be forced to do so without pay. Among those continuing their duties are the women and men who actually tasked with guarding the country's borders. About 54,000 Customs and Border Protection (CBP) agents, some 53,000 Transportation Security Administration (TSA) employees and 42,000 Coast Guard members and staff are now working without receiving their checks.
Although the president was set to travel to his Mar-a-Lago golf course retreat for the holidays, he announced via Twitter on Saturday evening that he'd remain in Washington due to the shutdown. However, the Senate has adjourned until December 27, meaning the government will definitely remain unfunded through Christmas.