President Donald Trump faced fresh criticism Tuesday for promoting his Florida golf resort Mar-a-Lago as the "Southern White House."
"Very good meeting on the Middle East, the Military, and Trade. Heading back to The Southern White House (Mar-a-Lago!). Updates throughout the day," the president tweeted. Trump is expected to spend the New Year's holiday at the resort in Palm Beach.
The post sparked instant backlash as many took to Twitter to remind the president that his private property—which he still owns and profits from—doesn't qualify as a government building.
Trump resigned from his business when he entered office in 2017, but he still owns it and can profit from it. His sons, Donald Trump Jr. and Eric Trump, currently manage the organization.
Brian Karem, the senior White House reporter at Playboy, responded to Trump by asking the president if he was donating the property to the federal government. If not, he wrote, "it isn't the Southern White House."
Swing Left, a progressive political organization, tweeted: "The 'Southern White House' is the President's private property where he's illegally spent over $100 million of YOUR tax dollars to promote because all he cares about is his money. Next year let's put someone in the White House who will actually respect it."
The liberal political blog "Palmer Report" tweeted: "The fun part is that once Trump is in prison and his assets are seized, the "Southern White House" will actually be government property."
It's not the first time Trump has been condemned for referring to his golf resort as the "Southern White House." Earlier this month, ethics experts asserted that the president was abusing his power as president for promoting his business property.
The president had shared a Trump Organization promotion of the Florida golf resort on his Twitter account with the caption: "I will be there in two weeks, The Southern White House!"
"It's three years into the job and he still hasn't figured out that his business is different than the presidency. It's a disaster" former White House ethics chief Richard Painter told Newsweek at the time. Painter was an ethics lawyer in President George W. Bush's administration in the early 2000s.
Under current federal law, there is almost nothing Congress can do to punish a sitting president for using his official office for personal gain.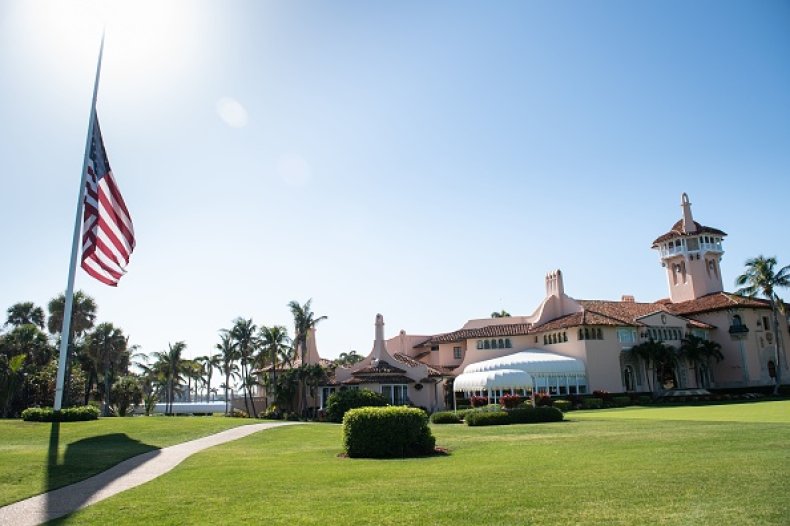 Trump is the only U.S. president in history not to divest from his business entities upon entering office. As a result, he's faced several ethical and legal issues during his presidency. Trump has repeatedly denied using his time in office to personally benefit financially.
The president is currently facing three lawsuits that accuse him of violating the emoluments clause of the Constitution. The clause prohibits federal officials from receiving gifts from foreign or state governments without the consent of Congress. Trump has waved off the constitutional clause as "phony."
A new CNN report published Tuesday calculated exactly how much time Trump has spent at his various properties during his presidency. Thus far, the report found, Trump has spent 1 out of every 5 days as commander-in-chief at a golf club. In total he has spent 250 days at Trump golf clubs and another 333 days at other Trump business properties since his inauguration.