Trump Slams 'Fake' Fox News Poll Showing Biden Leading in Majority of Swing States
President Donald Trump blasted a recent Fox News poll that showed his Democratic opponent Joe Biden leading in a number of swing states, dismissing the data as "fake."
".@FoxNews Polls are totally FAKE, just like they were in 2016. I am leading in all of the states mentioned, which you will soon see," Trump tweeted Thursday morning. "I thought Fox was getting rid of its pollster. Sadly, it never happened!"
Fox, which is typically the president's favorite network, conducted statewide surveys of likely voters in four key battleground states ahead of the November 3 election, finding that Biden received the majority of support in all but one.
However, Trump holds an advantage over Biden only in Ohio by a narrow margin: 48 to 45 percent. This marks a reversal from last month's poll, when Biden was leading the state 50 to 45 percent, Fox found.
In the three other states polled—Michigan, Pennsylvania and Wisconsin—voters prefer Biden in this year's election. The Democratic presidential nominee has the largest lead in Michigan with 52 percent, compared to Trump's 40 percent.
In Pennsylvania, 50 percent of likely voters said they'd cast their ballot for Biden, compared to the 45 percent who chose Trump. The numbers in Wisconsin are similar, with 49 percent preferring Biden and 44 percent backing Trump.
Trump won all four of these states in the 2016 election, helping him secure the Electoral College and thus the presidency.
But in the three states where Biden is currently leading, Trump beat his opponent Hillary Clinton by less than one percentage point in 2016. Trump won Ohio in 2016 by a wider margin—8 percentage points. This is much higher than his current three-point edge in the state, Fox noted.
The network conducted the survey from October 17 through 20, polling at least 1,000 likely voters in each state.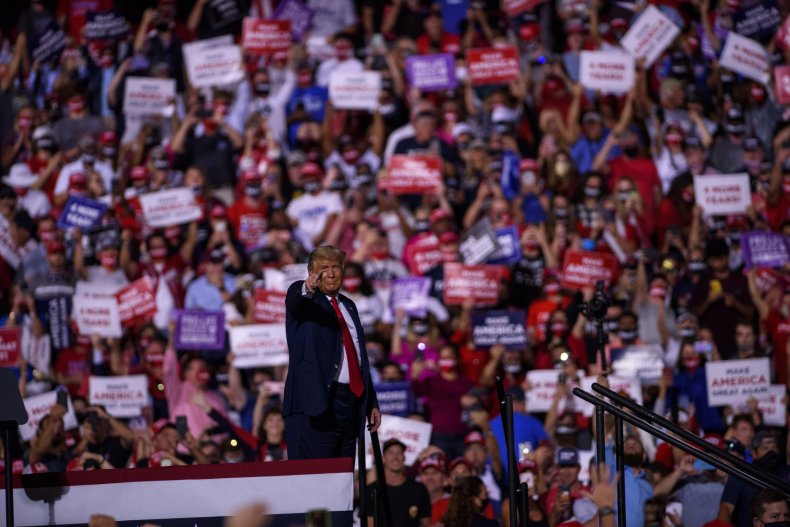 The president's criticism of Fox's polling or its coverage of the 2020 election cycle is nothing new. In September, Trump lashed out at the network for its battleground polling, accusing Fox of being "so ridiculously wrong" in the 2016 election.
"Fox said they were going to change pollsters, but they didn't," he tweeted on September 25. "They totally over sample Democrats to a point that a child could see what is going on."
Weeks earlier, during a September 9 interview with Fox News host Sean Hannity, Trump said: "I must tell you that Fox has among the worst pollsters of all. I think they're terrible."
Pollsters came under fire in 2016 for what many claimed was a massive oversight, as the vast majority of national surveys showed Clinton leading Trump for much of the campaign period.
But Clinton did end up winning the popular vote, suggesting that those national polls weren't necessarily wrong in their predictions. Instead, it was the statewide polling that proved more faulty, as exit surveys showed that most of Trump's voters had remained undecided until the final week before Election Day.
Nonetheless, the president has repeatedly asserted this summer that he would end his favoritism of Fox, tweeting in May ".@FoxNews is no longer the same. We miss the great Roger Ailes. You have more anti-Trump people, by far, than ever before. Looking for a new outlet!"
Ailes, who once served as chairman and CEO of Fox News, resigned in July 2016 after at least 20 women accused him of sexual abuse, according to Vox. He then became an adviser on Trump's first presidential campaign, helping with debate preparation, The New York Times reported. Ailes died in 2017 at the age of 77.
During a July interview with Fox News anchor Chris Wallace, Trump insisted he is "not losing" the presidential race despite several recent polls that had showed him trailing Biden.
"Whoever does your Fox polls, they're among the worst. They got it all wrong in 2016. They've been wrong on every poll I've ever seen," he told Wallace.
In August, Trump once again expressed his disappointment in the network's polling, writing in a series of tweets that he watched the network "heavily promoting the Democrats," saying the "New @FoxNews is letting millions of GREAT people down!"
"We have to start looking for a new News Outlet," he wrote. "Fox isn't working for us anymore!"