Senator Lindsey Graham: Trump in 'Pause Situation' on U.S. Withdrawal From Syria
Senator Lindsey Graham emerged from a meeting with President Donald Trump on Sunday saying he felt "a lot better" about U.S. strategy in Syria. The South Carolina senator told reporters that Trump was committed to defeating the Islamic State militant group (ISIS) in Syria, and the president would slow a planned withdrawal of troops from the country.
"We talked about Syria, and he told me some things I didn't know that made me feel a lot better about where we're headed in Syria," Graham told reporters gathered outside the White House. "We still have some differences, but I will tell you that the president is thinking long and hard about Syria—how to withdraw our forces but at the same time achieve our national security interests."
Read More: Ex-NATO commander asks if Turkey "blackmail" forced Trump Syria withdrawal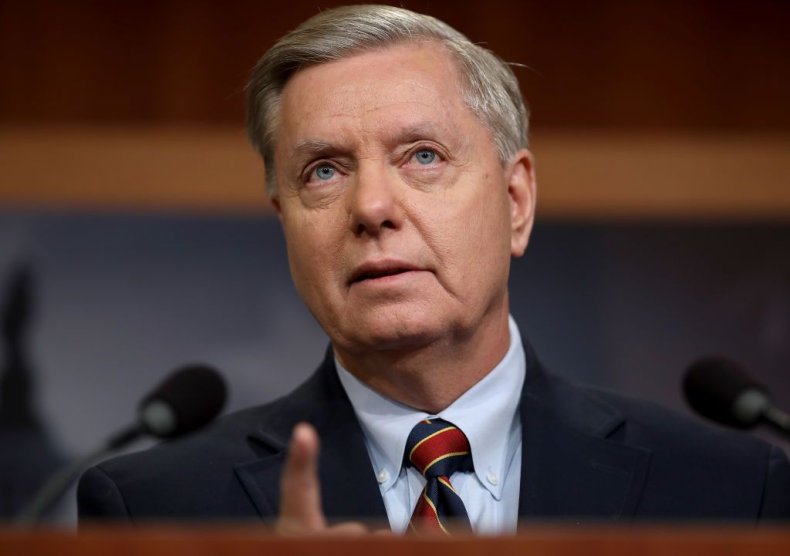 Trump's sudden announcement made earlier in December that he was withdrawing troops from Syria drew widespread criticism from senior members of his party, and led to the resignation of Defense Secretary James Mattis, and of Brett McGurk, the special presidential envoy for the coalition to combat ISIS.
Critics argued that the immediate withdrawal of the 2,000 U.S. troops from Syria would allow ISIS to regain a foothold in the country, and expose Kurdish U.S. allies on the ground to attacks from Turkey.
Trump had argued that the defeat of ISIS meant there was no need to keep U.S. troops in Syria, and Turkey's President Recep Tayyip Erdogan had promised to eliminate what remained of the group.
Among the critics was Graham, a key congressional ally of the president, who said the decision was a "disaster" and "a stain on the honor of the United States."
But his tone changed after Sunday's meeting. "I think we're slowing things down in a smart way," he said. "I think we're in a pause situation where we are re-evaluating what's the best way to achieve the president's objective of having people pay more and do more," Graham said.
"The president assured me he is going to make sure he gets the job done, and I assured him that nobody has done more to defeat ISIS than he has. We are inside the 10-yard line," Graham told reporters, emphasizing that the withdrawal order was still in effect.
"He has not reversed his decision," Graham told CNN. "The pause is to assess the effects of the conditions on the ground."
Graham said that Trump's recent visit to U.S. troops in Iraq had opened his eyes to the fact that ISIS was not "completely destroyed," which he said was an "eye-opening" experience for the president.
In a subsequent tweet, Graham said the president would withdraw U.S. troops from Syria in a manner to ensure U.S. strategic objectives were met.
He said the president would ensure the withdrawal from Syria "will be done in a fashion to ensure: one, ISIS is permanently destroyed; two, Iran doesn't fill in the back end; and three, our Kurdish allies are protected."
In a previous CNN interview, Graham bristled when news anchor Dana Bash questioned his claim that President Barack Obama's strategy in Iraq had allowed ISIS to seize control of swaths of the country.
"ISIS came about as a result of our withdrawal from Iraq. The caliphate was established in Syria because Obama sat on the sidelines and watched the place be dismembered," he said.
A person familair with discussions told Reuters that one option being considered was a 120-day withdrawal period. National Security Adviser John Bolton will head to Turkey and Israel to discuss the withdrawal early in the new year, said the White House.