Trump Social Network Users Won't Feel 'Fact Checkers Are Going to Be All Over Them': Lara Trump
Lara Trump suggested Monday that a new social networking platform former President Donald Trump is rumored to be working on will be a haven for conservatives who feel frustrated by the fact-checking efforts of other social media companies.
Jason Miller, a spokesperson for the former president, said this week that the new platform is expected to launch within the next few months. Miller said that the new platform would "completely redefine the game" and said it likely would attract "tens of millions of people."
When asked about the new platform during an appearance on JusttheNews.com's Water Cooler podcast with host David Brody, the former president's daughter-in-law started by saying popular social networks like Facebook, Twitter and Instagram "have proven to suppress the voices of conservatives."
"I think that we have all felt like, 'Gosh, wouldn't it be nice if there was a platform available that would allow us to say what we want?'" Lara Trump said. "Oh my gosh, the First Amendment—imagine that. Our freedom of speech not being stifled."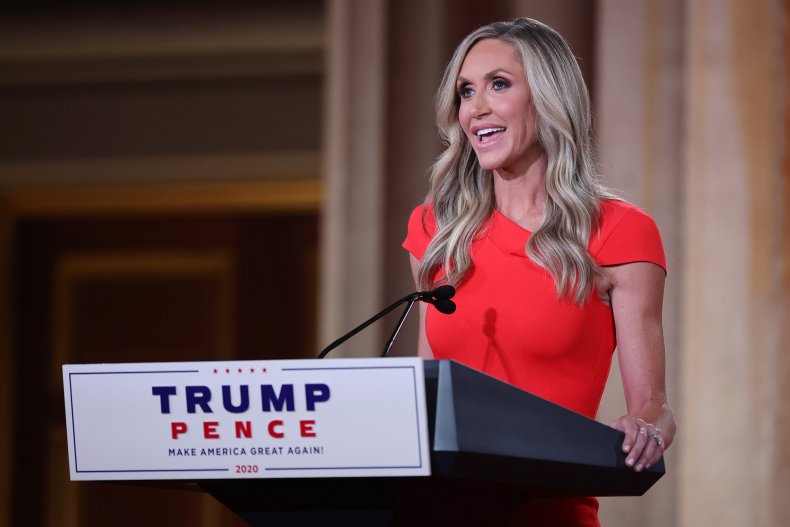 Lara Trump went on to say there are some social networks that are friendlier to conservative users and cited Parler as an example. But creating a platform of his own is something the former president is "really seriously" working on, she added.
"He's taking it really seriously, and he wants a space where everyone can feel welcome, where people don't feel like, you know, the fact checkers are going to be all over them, even though these things are factual, oftentimes, that the fact checkers get on," Lara Trump said. "I think it'll be really exciting to see this next phase for my father-in-law."
News of the former president's intention to launch a social networking platform came fewer than three months after his Twitter account was permanently suspended in the wake of the riot at the U.S. Capitol Building on January 6.
Twitter and Facebook actively alerted users last fall when then-President Trump posted election-related content that was either factually inaccurate or had yet to be been verified. Though the social media companies have said those efforts were aimed at preventing the spread of misinformation, the former president and other top conservatives have criticized the companies' actions and felt they violated Americans' rights to free speech.
Not much is known about Donald Trump's new platform or when exactly it is expected to roll out. Even so, YouGov pollsters found in a recent poll that a majority of Republicans said they were likely to sign up for the former president's new social networking platform once it becomes available.
Newsweek reached out to the former president's communications team for comment but did not receive a response in time for publication.