Trump Sparks Outrage With Plan to Divert Nearly $200 Million From Health Programs to Fund Child Detention
President Donald Trump faced a backlash after his administration announced plans to divert nearly $200 million from health programs to fund the detention of unaccompanied immigrant children caught crossing the U.S. border illegally.
The Department of Health and Human Services notified Congress in a letter Wednesday that it planned to transfer as much as $186 million from its programs to help cover the costs of housing the growing number of children stopped at the U.S.-Mexico border.
The transfer would affect several HHS divisions, including the Centers for Disease Control and Prevention, which would lose $16.7 million, and the Medicare and Medicaid programs, which would see $9.8 million withdrawn from funding for their operations, as well as $87.3 million overall from the National Institutes of Health, according to The Hill.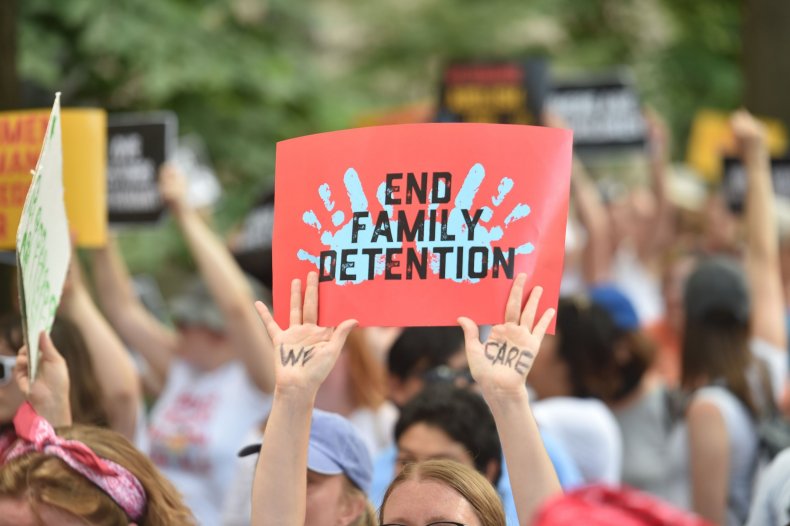 HHS also said it planned to divert up to $80 million from refugee programs, which, with the Trump administration slashing the number of refugees admitted into the country each year, were expected to see less of a need.
In a statement shared online, the Coalition for Health Funding Executive Director Emily Holubowich said that her organization had "long suspected" that "funding to care for children separated from their parents at the border [was] being drawn directly from money appropriated for public health and medical research."
Holubowich said that while the Coalition "recognizes the immediate need to care for these children and families—and the need to help them recover from the trauma they've sustained at the hands of the [Trump] administration...depleting already underfunded public health and research programs is not a solution."
David Harvey, the executive director of the National Coalition of STD Directors said that while HHS's decision to transfer the money is perfectly legal, it could set a "bad precedent."
"We're not faulting the rule, but we think it's a bad precedent to establish, and these funds are desperately needed in the public health system," Harvey said, reported The Hill.
While the funds being transferred had not yet been allocated for the current fiscal year, which ends on September 30, Harvey said they could have been put toward health initiatives.
"We think those funds would have been spent on higher priority items," he said, adding: "These are not dollars to sneeze at."
While Holubowich also said that the HHS's decision was neither against the rules nor unprecedented, she said that the "current situation" was unique in that she believed it was largely of the Trump administration's own making.
"Historically, the HHS secretary has used his or her statutory authority to transfer funding to support new or unexpected priorities, including surges in unaccompanied immigrant children at the border," Holubowich acknowledged.
"What makes the current situation different, however, is it was the administration's own choice to begin its failed family separation policy, necessitating significant transfers for both care and to reunite families as mandated by courts," she stated.
Indeed, the Trump administration has struggled to reunite all of the roughly 2,500 immigrant children it separated from their parents at the U.S.-Mexico border while its widely condemned family separation policy was in place.
As Holubowich noted, there also "may be no end in sight," with the administration proposing policy changes that would allow for the indefinite detention of immigrant families, which she warned could have "significant financial and human costs."
The coalition chief said that rather than drawing from HHS funding, the Trump administration should "request emergency supplemental funding to respond and to recover from this manmade public health crisis."
She also suggested that the Trump administration work with Congress to "ensure that sufficient funding for these activities is included in future appropriation bills."