Trump Started Calling Places 'Hellholes' Because 'They Don't Let You Say "Shithole" Anymore,' Anonymous Book Says
President Donald Trump once joked that he used the phrase "hellhole" to describe places because "they don't let you say 'shithole' anymore," according to a recently released book penned by an anonymous Trump administration senior official.
The official behind the book, A Warning, which was released earlier this week, described how Trump's rhetoric had undermined the "feeling of reverence" they feel when they walk into the Oval Office.
"Whether you are there for a tour, or whether you work for the president, it is hard to shake this quiet feeling of reverence, no matter how many times you enter the room. That is, until the silence is broken," the official writes.
In one of several examples of inflammatory comments Trump has made, the official recounts how Trump once described one place as a "hellhole."
"It's a hellhole, okay?" the U.S. leader is claimed to have said. "They don't let you say 'shithole' anymore. But that place is a hellhole and everybody knows it."
It is unclear which place Trump had been referring to, however the U.S. leader has previously referred to Brussels in Belgium as a "hellhole" after one district in the city, Molenbeek, was linked with radical Islamism.
The U.S. leader's comments on why he decided to refer to a place as a "hellhole" appeared to reference the widespread condemnation he faced after he reportedly described African nations and Haiti as "shithole" countries.
The comments sparked international outcry, with the United Nations condemning the president's words as "racist" and accusing him of inciting xenophobia.
"These are shocking and shameful comments from the president of the United States. There is no other word one can use but 'racist,'" U.N. human rights spokesman Rupert Colville said at a Geneva news briefing at the time.
"You cannot dismiss entire countries and continents as 'shitholes,' whose entire populations, who are not white, are therefore not welcome," Colville said.
"It's about opening the door to humanity's worst side, about validating and encouraging racism and xenophobia that will potentially disrupt and destroy the lives of many people," he asserted.
In addition to Trump's "hellhole" comments, the anonymous author also listed a string of other statements the president is said to have made.
"Watch them start to choke like dogs," was one of them—though it is not clear who the president was allegedly referring to.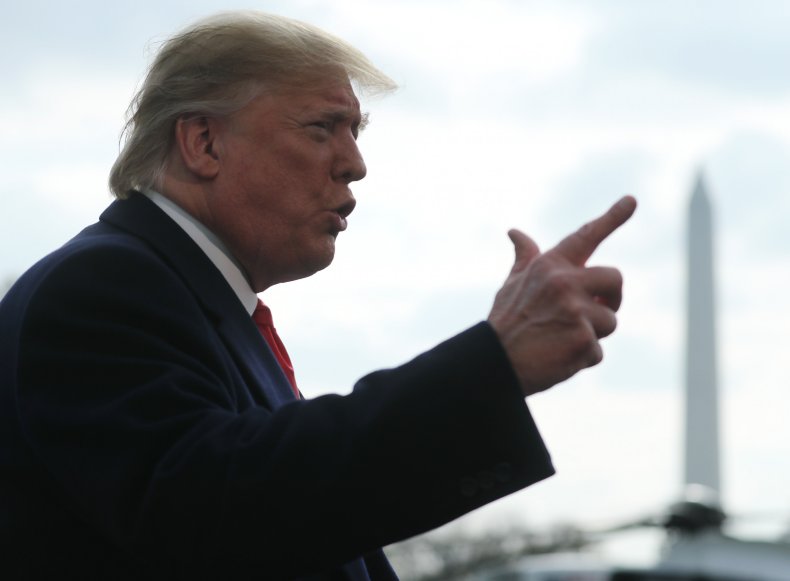 In another example, the president appeared to suggest that he was "hotter" than he used to be, asserting: "I'm hotter than I was then, okay? Because you know you also cool off, right? You do. But I'm much hotter."
Much of the anonymous official's book centered around Trump's rhetoric and hardline policies, with the author asking Americans to question whether the president is fit to lead the country.
Trump Started Calling Places 'Hellholes' Because 'They Don't Let You Say "Shithole" Anymore,' Anonymous Book Says | U.S.