Donald Trump Still Faces Dozens of Ongoing Lawsuits, Investigations After His Impeachment Trial
Although the Senate is all but certain to acquit President Donald Trump in his impeachment trial, he still faces dozens of investigations into his administration, his family and his businesses that could be resolved before the 2020 election.
Democrats have been making their case for days now as to why Trump should be convicted and removed from office, alleging that he abused his power by pressuring the Ukrainian government to investigate former Vice President Joe Biden for personal gain.
"If the truth doesn't matter, we're lost," Representative Adam Schiff, the leading Democrat on impeachment, made in a plea to senators on Thursday. "The framers [of the Constitution] couldn't protect us from ourselves if right and truth don't matter. And you know that what he did was not right."
Meanwhile, lawmakers will hear Trump's defense as the president's legal team will take the podium on Saturday to begin advocating his innocence in his dealings with Ukraine. They're expected to argue that the articles of impeachment are "made up," and that Democrats "rigged" the process.
As the arguments continue to play out, it's all but certain that Trump will be cleared of wrongdoing by the Senate. A two-thirds majority (67 votes) is needed to remove a sitting president. Luckily for Trump, Republicans control the Senate with a 53 to 47 majority.
However, if Trump is acquitted, there are a number of legal disputes that could threaten his hold on the presidency. Earlier this week, amid the impeachment trial, news broke that the attorney general of the District of Columbia was suing Trump's inaugural committee over abusing nonprofit funds.
Here's a look at some of the ongoing investigations and lawsuits Trump faces heading into the 2020 election.
His Administration
Since Democrats took over the House of Representatives in 2019, they've launched several inquiries that could spell trouble for the president. Last year, House Democrats sent letters to 81 Trump-connected individuals and entities seeking records and testimony from the White House, as well as Trump's businesses, charity and family, as part of a broad inquiry into potential obstruction of justice and corruption.
"Over the last several years, President Trump has evaded accountability for his near-daily attacks on our basic legal, ethical, and constitutional rules and norms," Democratic Representative Jerry Nadler said at the time. "Investigating these threats to the rule of law is an obligation of Congress."
There's also the issue of the Trump administration's apparent violation of the emoluments clause, which prohibits federal officials from receiving gifts from foreign or state governments without the consent of Congress. There are several lawsuits circulating in the lower courts that accuse Trump of failing to comply with the clause by profiting from domestic and foreign officials who visit his hotels and restaurants.
Other noteworthy congressional investigations include Trump's communication with Russian President Vladimir Putin, alleged abuses with the White House security clearance system, and the president's tax returns.
His Business Empire
Some of the most controversial lawsuits against Trump have to do with his business empire.
The Trump Organization is currently being investigated for alleged misuse of charitable assets and campaign finance violations. The company has also been accused of inflating financial assets for insurance and tax fraud schemes.
The Supreme Court will also be taking on three cases regarding the president's financial records in 2020. One case involves a Manhattan District Attorney investigation into the Trump Organization's potential violations of New York law, such as improperly recording wealth estimates to avoid paying taxes or insurance. The other two cases involve subpoenas issued by House Democrats who are seeking records from the president, his children and his businesses as part of investigations into possible conflicts of interest and foreign influence.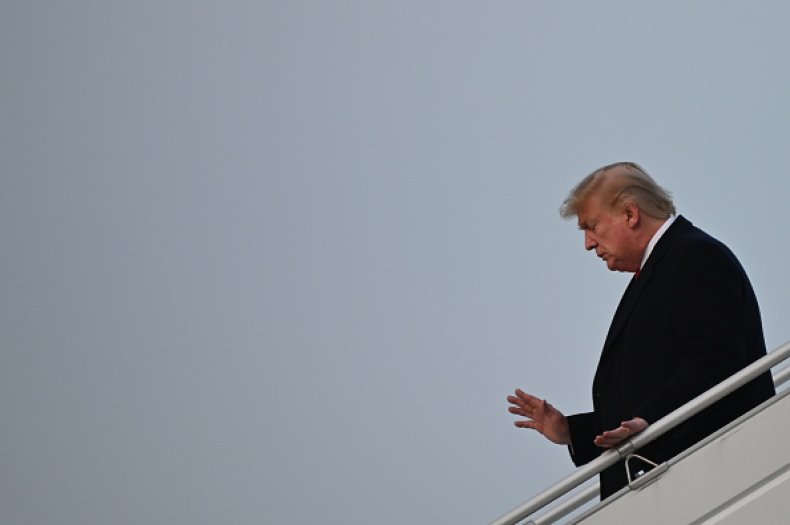 Plus, officials in New York and New Jersey are looking into allegations that undocumented workers were employed at the president's golf clubs. At his Briarcliff Manor, New York club, undocumented employees said they were forced to work extra hours without pay. In Trump's Bedminster, New Jersey resort, undocumented workers say there were given fraudulent green cards and other documents.
His Inaugural Committee
Earlier this week, amid the impeachment trial, news broke that the attorney general of Washington, D.C. was suing Trump's inaugural committee over abusing nonprofit funds.
The lawsuit alleges that the committee coordinated with the Trump family to "grossly overpay" for event space at the Trump International Hotel during the president's 2017 inauguration. According to Attorney General Karl Racine, the committee wasted $1 million of charitable funds in overpayment for the space. He also accused Trump and his daughter Ivanka of being aware of the misuse of funds.
The Trump Organization immediately fired back, issuing a statement claiming the attorney general's accusations are "false, intentionally misleading and riddled with inaccuracies." It also said that "timing of this complaint reeks of politics and is a clear PR stunt."
Federal prosecutors in New York are also looking into potential corruption involving Trump's inauguration team. Investigators issued a wide-ranging subpoena to the committee last year, which showed that they were looking at everything from false statements to mail fraud, wire fraud, conspiracy against the United States, and money laundering.