Trump Still Insists High COVID-19 Cases Down to More Testing. He's Wrong.
With the U.S. continuing to lead the world in COVID-19 diagnoses and deaths, President Donald Trump has claimed that the country has "so many" cases of the disease compared with other countries because its testing process is superior.
However, experts told Newsweek his assertions were false. Firstly, because the number of tests doesn't indicate how fast the disease is spreading. And secondly because people in the U.S. are struggling to get tests and results in a timely manner, months into the pandemic.
Trump tweeted on Thursday: "For the 1/100th time, the reason we show so many Cases, compared to other countries that haven't done nearly as well as we have, is that our TESTING is much bigger and better. We have tested 40,000,000 people. If we did 20,000,000 instead, Cases would be half, etc. NOT REPORTED!"
The president has made similar claims before. Earlier this month, he tweeted: "There is a rise in Coronavirus cases because our testing is so massive and so good, far bigger and better than any other country."
Of the total 12 million COVID-19 cases confirmed worldwide, 3 million are in the U.S., according to Johns Hopkins University.
Dr. Jeffrey Klausner, professor in the Division of Infectious Diseases at UCLA David Geffen School of Medicine, told Newsweek that while it is true that more testing identifies more cases—particularly when some people aren't showing symptoms—the high number of cases in the U.S. is due to the "rapid spread of the virus from person to person, especially among lower-income essential workers and those living in overcrowded households, prisons and nursing homes."
On Thursday, the country hit another record high in reported daily cases at more than 64,000. Western and southern states, including Arizona, California, Florida and Texas, have been hit particularly hard.
The test positivity rate, the percentage of people who test positive for infection of all those tested, is a useful measure of the spread of the virus when it's not possible to test everyone. That's according to David Beier, managing director of Bay City Capital, who previously served as chief domestic policy advisor to then-Vice President Al Gore. He called Trump's tweet on Thursday "misleading at best," and said the percentages in some states and communities are "quite high."
The COVID Tracking Project by The Atlantic showed the test positivity rates on Thursday in the recently hard-hit South and West were 13 and 9.3 percent, respectively. The Associated Press reported on Wednesday that the positivity rate was almost 27 percent in Arizona, 19 percent in Florida and 17 percent in South Carolina.
The goal is to keep this figure below 5 percent to ensure enough testing is being carried out so clusters of infected people aren't missed, Dr. Georges C. Benjamin, Executive Director of the American Public Health Association, told Newsweek.
Obstacles to people getting tested and receiving results add another dimension to this issue.
Dr. Ashish Jha, director of Harvard's Global Health Institute, told the AP: "I am stunned that as a nation, six months into this pandemic, we still can't figure out how to deliver testing to the American people when they need it.
"It is an abject failure of leadership and shows that the federal government has not prioritized testing in a way that will allow us to get through this pandemic."
Jha told Vox two factors are at play: firstly, outbreaks are getting bigger, so the number of tests needed to "get our arms around the outbreak" is going up. Secondly, fundamental supply chain problems haven't been addressed.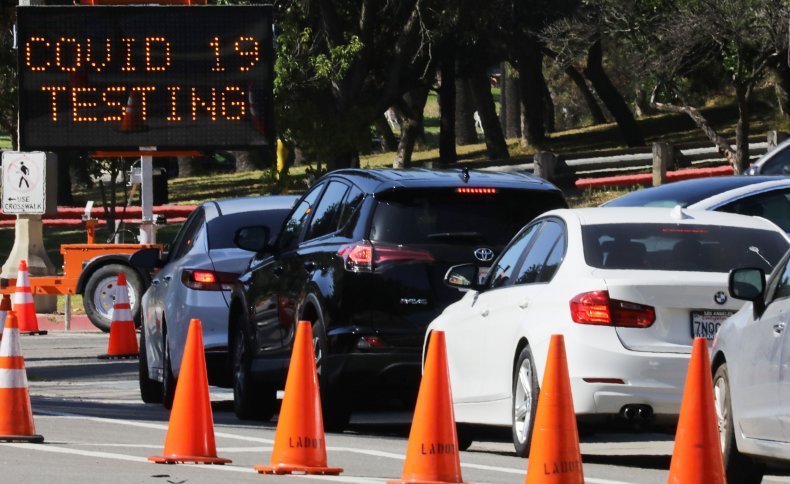 Since experts described the U.S. testing process as "broken" in March, things have improved. The COVID Tracking Project shows that 75 people were tested on March 1, growing to over 637,000 on average per day on Tuesday.
However, Klausner said: "In states where there have been recent increases like Florida, Texas and Arizona there are long lines to get tested and it may be hard to obtain a testing appointment. In other states testing is much less difficult and more readily available.
"Many states in the northeast of the United States where the epidemic has now gone through have much more testing capacity than states where the epidemic is active."
In recent days, lab companies have released statements warning of testing issues.
Quest Diagnostics said on Monday that demand for COVID-19 diagnostic testing "continues to surge, causing further delays in turnaround times." The average turnaround time for a result is one day for priority patients, such as those in hospitals, healthcare workers and those who need surgery, but four to six days for all others.
LabCorp similarly said that "significant increases in testing demand and constraints in the availability of supplies and equipment" meant the average time to deliver results went from one to two days to four to six, but faster for hospitalized patients.
Jon Cohen, the executive chairman of the lab services firm BioReference Laboratories, which tests patients in New York, New Jersey, and Florida, told The Atlantic changes in mid-June, such as widespread employee testing, hospitals testing patients who needed elective procedures, screenings in nursing homes, and the general public having more voluntary tests, overwhelmed his firm's capacity and equipment supplies.
Anecdotal complaints reflect the problems. Atlanta Mayor Keisha Lance Bottoms tweeted on July 8. "We FINALLY received our test results taken 8 days before.
"One person in my house was positive then. By the time we tested again, 1 week later, 3 of us had COVID. If we had known sooner, we would have immediately quarantined."
She told the LA Times: "We've been testing for months now in America.
"The fact that we can't quickly get results back so that other people are not unintentionally exposed is the reason we are continuing in this spiral with COVID-19."
Beier said that test results expire "like products past their sell-by date."
Benjamin said many issues were at play, including inadequate federal leadership on testing early on in the pandemic, and supply line problems that weren't fixed fast enough.
Klausner said the problem goes back even further to the erosion of public health infrastructure since the 1960s that "has left us with an equivalent of a 1970s Ford Pinto when we needed a Tesla."
But he also pins the blame on the leadership at a federal level, starting with President Trump.