Trump Supporter Apologizes for Throwing Racist Signs Into Biden Supporter's Yard 'Out of Spite'
A Trump supporter in Yulee, Florida has apologized for throwing two racist handwritten signs into the yard of two elderly Black female supporters of Democratic Presidential nominee Joe Biden. The man later told police that he "did it out of spite."
After the man apologized to police, he told officers that he wanted to personally apologize to the women involved, but police advised against it considering the seriousness of his actions and the emotional state of the women afterwards.
The official report of the incident, released on Monday by the Nassau County Sheriff's Office, said that a man named Richard John Barry, threw the signs into a yard belonging to a 96-year-old grandmother and her 62-year-old relative. The women had a campaign sign for Biden in their yard.
Barry threw signs written on cardboard with black marker into the women's yard. The signs said: "[N-word] Lives don't f*cking matter. F*ck commie Biden to [sic]," "Black lives matter only when they are dead" and "Black on Black crime is a beautiful thing."
A woman who saw Barry throw the signs and then drive away in a silver Chrysler 300 with disabled tags contacted police, according to First Coast News.
When sheriff's deputies found a car matching the women's description, they approached its owner who had a campaign sign for Trump in his yard.
When questioned by police, the man immediately admitted to doing the act out of "spite" and apologized for what he did. The man said he had tried to retrieve the signs from the women's yard, but they had already been removed by the time he went back.
He then offered to apologize to the women directly, but police advised him against it. However, the police reportedly said that a crime hadn't been committed.
Nevertheless, police encouraged the women to contact the sheriff's office if it happened again. Police then began conducting increased patrols around the women's property to watch for any future harassment.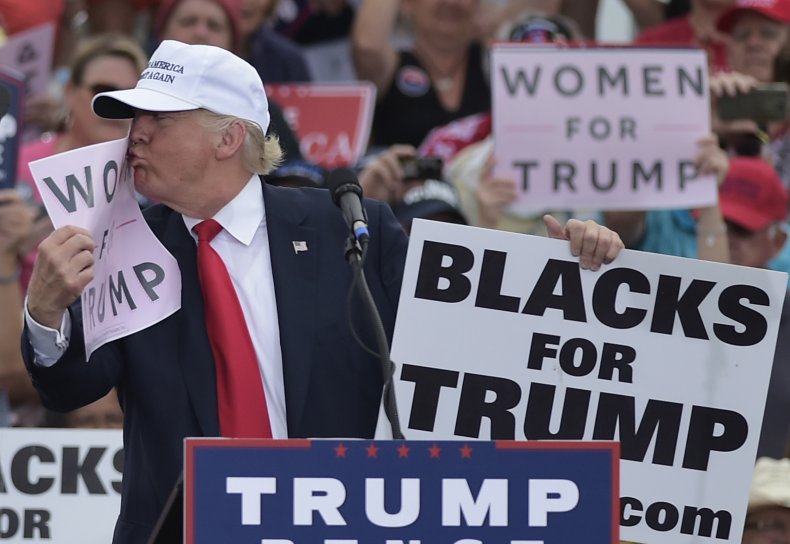 The area of Yulee has nearly 29,000 people in it. The most recent census showed that the town is about 89 percent white and 7 percent Black.
Trump himself has expressed antipathy towards the Black Lives Matter (BLM) movement, largely conflating it with "vandals" and "looters" who have occasionally shown up during the nation's ongoing protests against anti-Black police brutality.
In a campaign "Blacks for Trump" rally last week, Trump made numerous claims against BLM that were unsupported by evidence.
A mid-month poll of American voters found that 72 percent of Black voters preferred Biden and 13 percent of Black voters chose Trump.
Newsweek contacted the Nassau County Sheriff's Office for comment.