Trump Supporter Coughs on Protesters, Says, 'Black Lives Don't Matter'
A Utah resident was recorded shouting at, and repeatedly coughing on, a group of protesters in a viral video that received at least 150,000 views on Twitter as of Wednesday afternoon.
In it, a man, who identified himself as Robert Brissette, told demonstrators, "Black lives don't matter. All lives matter," during a lengthier interaction wrought with offensive statements on his part. The altercation took place outside a gas station in Kanab, Utah, near its border with Arizona.
"Everybody knows who I am. My name is Robert Brissette. Find me on Facebook," Brissette said in the video." I hate all you Democrats. Black lives don't matter. All lives matter!"
"We never said they didn't," one protester responded. Brissette then proceeded to cough forcefully in demonstrators' faces before returning to his truck, which displayed a large pro-Trump flag in its cargo bed. Over the summer, some Utah lawmakers considered criminalizing the act of coughing on others due to concerns about COVID-19 transmission through respiratory particles. In August, a Utah man was reportedly charged with a second-degree felony and misdemeanor after coughing on law enforcement officers and claiming he was previously exposed to the disease.
Warning: Video below contains offensive language.
Most protesters are not clearly visible throughout the video's duration, although one individual could be seen wearing a T-shirt with "BLM" printed across the back. Rallies supporting Black Lives Matter, and denouncing police violence and racism, have surfaced in cities nationwide since George Floyd's death in Minneapolis police custody last May. President Donald Trump's rhetoric with regard to ongoing protests, and continued calls for "law and order," contributed to division between anti-racism advocates and conservative Trump supporters.
Brissette created a GoFundMe campaign in the aftermath of his conduct in Kanab. According to the fundraiser's description, he is facing criminal charges following his altercation with protesters and the social media video's subsequent release.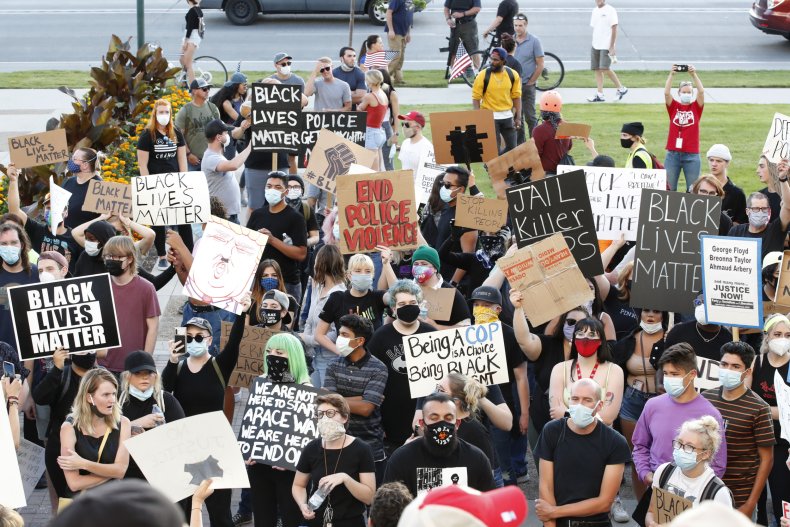 "I'm getting charged with 5 different crimes and my reputation trashed," he wrote in the description, adding that donations will go toward legal costs. The campaign's fundraising goal was set at $10,000 on Wednesday. Newsweek reached out to Kanab police for additional information and comment but did not receive a reply in time for publication.
Brissette said the incident in Kanab began when he "was pumping gas and had [his] Trump flag" displayed noticeably along the back of his truck. He identified those involved in the nearby demonstration as Black Lives Matter protesters, and claimed two individuals "threw rocks at [him]" after another man "rolled coal" in the group's direction.
"Rolling coal" references excessive smoke emission from a vehicle's exhaust pipe, which can be prompted manually by filling an engine with diesel fuel past its capacity. The maneuver, sometimes used as a prank, has been criticized for its damaging health and environmental impacts.