Trump Supporter Who Protested Against Vaccinations Dies of COVID-19
Linda Zuern, a supporter of former President Donald Trump and a protester against COVID-19 vaccines, has died of coronavirus. She lived in Bourne, Massachusetts. She was 70.
Zuern reportedly contracted the virus after visiting her mother in South Dakota, following the death of her father. During their return trip to Bourne, both women contracted the illness, the Cape Cod Times reported.
While her mother survived, a MedFlight had to transport Zuern to a Boston hospital in early June. She fell into a coma and was placed on a ventilator until she died. She hadn't gotten vaccinated against the virus, her friends told the aforementioned publication.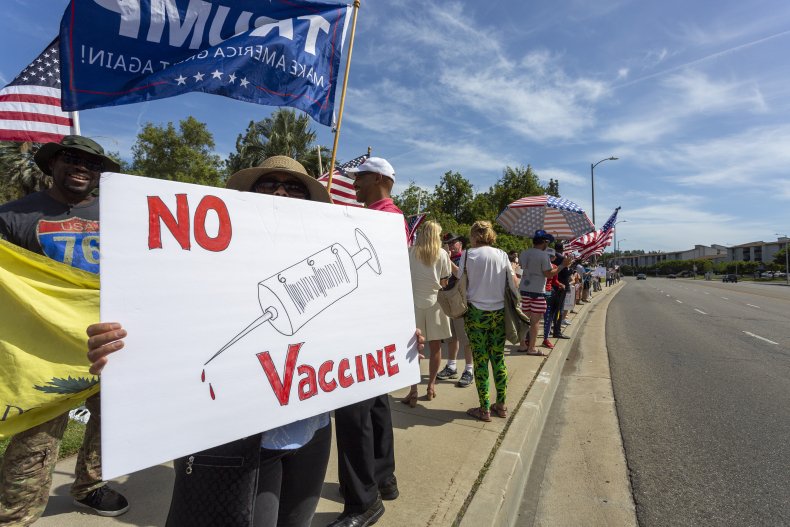 Zuern opposed local vaccinations efforts, both as a member of the county government council, the Barnstable County Assembly of Delegates, and as a volunteer with a local conservative group called United Cape Patriots.
Last December, while serving her third term on the Assembly, she pushed for local doctors to use hydroxychloroquine to treat COVID-19 patients. Trump had also promoted the same anti-malaria medication for that very purpose. But in June 2020, the U.S. Food and Drug Administration said that scientific evidence didn't indicate any significant benefits that outweighed the drug's potential risks.
In the same meeting, Zuern also criticized the Barnstable County Department of Health for not examining methods to prevent people from contracting COVID-19. The department's director, Sean O'Brien, said the department's prevention plan was focused on testing and rolling out the newly-developed vaccines.
Last week, Zuern was one of four people who protested in Provincetown against the state's VaxBus program. The bus is a mobile vaccination unit to help inoculate rural residents who might lack access to nearby health clinics.
On her social media, Zuern shared posts claiming that COVID-19 was a man-made virus used by "globalists" to push the "UN Agenda 2030" for a one-world government. She also shared posts pushing the QAnon conspiracy theory, opposing Critical Race Theory in schools and repeating the claim that voter fraud "stole" the 2020 election from Trump.
"Although we did not agree on much politically, we shared the same views on being fiscally responsible," Patrick Princi, speaker of the Barnstable County Assembly of Delegates, told the Times. "Linda was a great advocate for protecting taxpayers' money and will truly be missed in that aspect."
As of July 20, Massachusetts ranks 15th among the states with the highest overall number of COVID-19 infections. As of that same date, it ranks 12th among the states with the highest overall number of COVID-19-related deaths.
Newsweek contacted the Barnstable County Department of Health for comment.