Florida QAnon Supporter Shoots Dead Legal Theorist Over Alleged Conspiracy Involving Her Child, Police Say
A female QAnon conspiracy theorist from Kentucky has been arrested in connection to the shooting murder of a legal theorist in Florida who was reportedly advising her on a custody battle for her two children.
Police arrested 33-year-old Neely Petrie-Blanchard in Lowndes County, Georgia on Monday after witnesses reported seeing her threaten the life of 50-year-old legal theorist Chris Hallett with a gun while standing in his kitchen on Sunday night, according to police reports cited by The Daily Beast.
Hallett, who has no known legal degree or training, was allegedly advising Petrie-Blanchard about how she might regain legal custody of her twin daughters. Although it's unclear how Petrie-Blanchard initially lost custody of her daughters, she had been arrested in March for kidnapping them from their grandmother.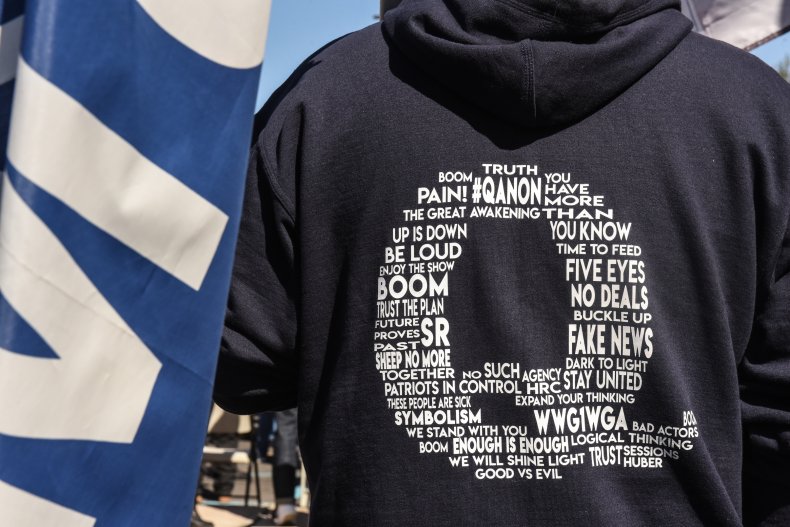 At the time, police traced Petrie-Blanchard's cell phone to a home of a group of "sovereign citizens," anti-government extremists labeled as a terrorist threat by the FBI. The sovereign citizen movement believes that the government has no true authoritative power to control citizen behavior.
Hallett had become well known amongst the QAnon and sovereign citizen movements for running a popular YouTube channel espousing E-Clause, a pseudo-legal theory that claims to circumvent criminal and legal charges by asserting sovereign citizen rights in court.
Witnesses told police that Hallett had been working on Petrie-Blanchard's case, and her social media reveals that she had become an E-Clause believer, even going so far as to have "E-CLAUSE" on her vanity license plate.
"It was speculated that [Hallett] was shot by [Petrie-Blanchard], due to her belief that the victim might have been working against her, or working to assist the government, in keeping her children away from her," the police report stated.
Police say an unnamed woman and her daughter were in Hallett's house on Sunday when they heard a firecracker-like noise. Upon investigating, the woman and her daughter allegedly saw Petrie-Blanchard aiming a gun at him in his kitchen and stating, "You're hurting my children, you bastard."
As the witnesses fled, they claimed to have heard more gunshots. Police from the Marion County Sheriff's Office later found Hallett, dead from gunshot wounds, on his kitchen floor and bullet casings around his house. The police then issued a multi-state warrant for her arrest, and she was arrested in Georgia the following day.
Both QAnon and sovereign citizen believers have increasingly fixated on child custody cases as being allegedly tied to QAnon's belief in a shadowy international child trafficking ring of Satan-worshipping Democrats, Hollywood elites and lizard-humanoids that sexually abuse and torture children in order to extract an allegedly psychedelic, youth-rejuvenating chemical called adrenochrome from their victim's pituitary glands.
The body naturally produces adrenochrome, and it does not cause psychedelic or youth-rejuvenating effects.
The FBI has called QAnon a domestic terrorism threat. The conspiracy theory has been linked to several murders and death threats against politicians, but the movement has not partnered up with international organizations that actually work to prevent child trafficking.
Newsweek contacted the Marion County Sheriff's Department for comment.