Trump Should Have Condemned AntiFa, Say Supporters, After President Finally Calls Out White Supremacists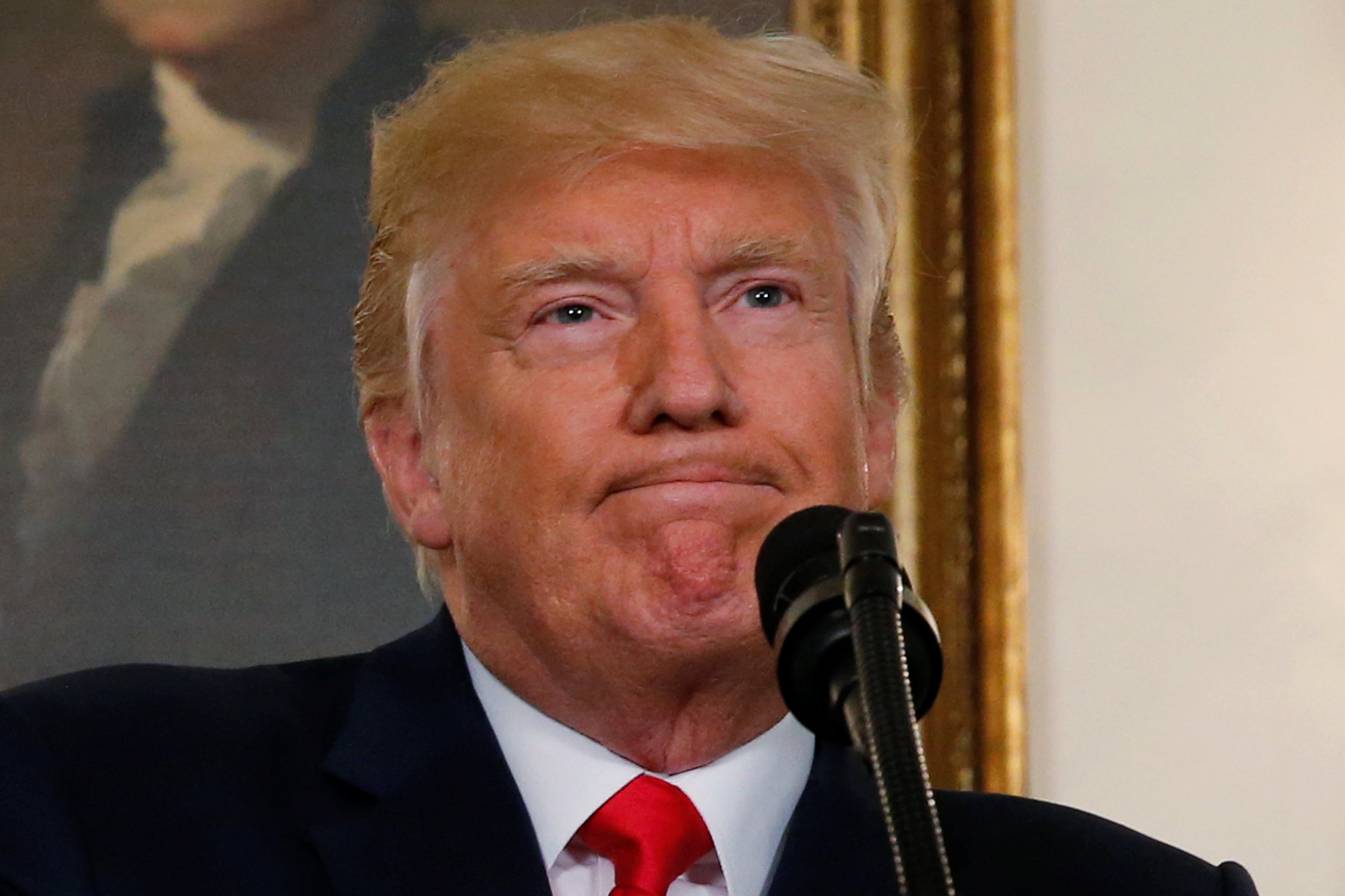 Three days after a rally by white supremacists in Charlottesville, Virginia, resulted in one of the marchers allegedly driving a car into a group of counterprotesters, killing Heather Heyer and injuring 19 others, President Donald Trump on Monday condemned racism, the KKK, neo-Nazis and white supremacists. Many of his supporters, however, wanted to know why he had failed to call out AntiFa.
Related: What Is AntiFa? Anti-Fascism Protesters and White Power Groups Were Battling Long Before Charlottesville
In his initial statement on the violence Saturday, Trump condemned the "egregious display of hatred, bigotry and violence on many sides—on many sides." The repeated use of "many sides" mirrored the claims of many of his supporters as well as the pro-Trump media: that those who showed up to protest the white supremacist rally, specifically AntiFa (anti-fascists), were at least equally responsible for the violence that transpired.
"America is being moved into chaos by people on both sides who think that they're better than anyone else on the other side," former Trump campaign adviser Michael Caputo told CNN Sunday. "The rhetoric gets heightened, you know, turns violent, and eventually you have racist KKK fighting the fascist AntiFa in the streets of Charlottesville. Both sides showed up with helmets and weapons."
Trump was heavily criticized even by leading members of his own Republican Party for his failure to call out the white supremacists—many of whom professed support for the president—by name.
For many, even his statement Monday, that "racism is evil," was too little too late. His supporters, however, had a different complaint.
".@realDonaldTrump about to speak. I hope he FINALLY denounces the violent left-wing Antifa that shut down my Berkeley speech!" tweeted Ann Coulter, referencing a speech at the University of California at Berkeley in April that was canceled amid protests.
On the pro-Trump Reddit page "The Donald," there was a similar reaction.
"Should have named Antifa by name," wrote one user.
"Really disappointed he didn't mention antifa by name," added another. "This was definitely a moment where he bent the knee to the MSM/Dem machine."
Many even claimed, without evidence, that AntiFa were the instigators of the violence, and therefore more deserving of condemnation.
"Antifa and the left 'protesters' started all the violence," another user said. "The neo Nazis were just spouting their usual Nazi crap. I don't see why Trump didn't call out those who actually started all the violence?"
The theme continued throughout the thread discussing Trump's statement from the White House.
"It's bullshit to call out 'white supremacists' and not black lives matter/Antifa who showed up with bats and lead pipes looking for a fight," said one Reddit user.
Others were less critical. Although they wanted Trump to name violence from the left, they saw it as a smart political move to avoid doing so.
"Part of me hoped that President Trump would have included 'Antifa' in his list of hate groups, but that may have triggered more people than it would have calmed. Oh, well," said one poster.