Trump Supporters Chant 'Lock Her Up' at Rally the Same Day Hillary Clinton Received Explosive Device at Her Home
Hours after the Secret Service revealed it had found "potential explosive devices" in a package sent to former presidential candidate Hillary Clinton's home in Chappaqua, New York, supporters of President Donald Trump loudly chanted "lock her up" at a rally in Mosinee, Wisconsin, as they waited for the U.S. leader to arrive.
Video of the rally shows the crowd chanting the phrase, with fists raised, as Republican Senator Leah Vukmir addresssed supporters.
While the "lock her up" phrase has been heard frequently at Trump's rallies, both while he was campaigning and since he was elected, on Wednesday it came hours after a bomb scare that targeted not only the Clinton family but also former President Barack Obama, Democratic Representative Maxine Waters of California, Democratic Representative Debbie Wasserman Schultz of Florida, investor George Soros, former Attorney General Eric Holder and former CIA Director John Brennan, whose package was sent to CNN's New York bureau at the Time Warner Center.
The FBI said in a statement released on Wednesday that the package addressed to Holder had not reached its intended destination but was rerouted to a return address in Florida.
All the recipients of the packages have been frequent–and relatively recent–targets of Trump's ire.
After learning about the suspicious packages, the president called on the country's leaders to "come together" to speak out against threats of political violence.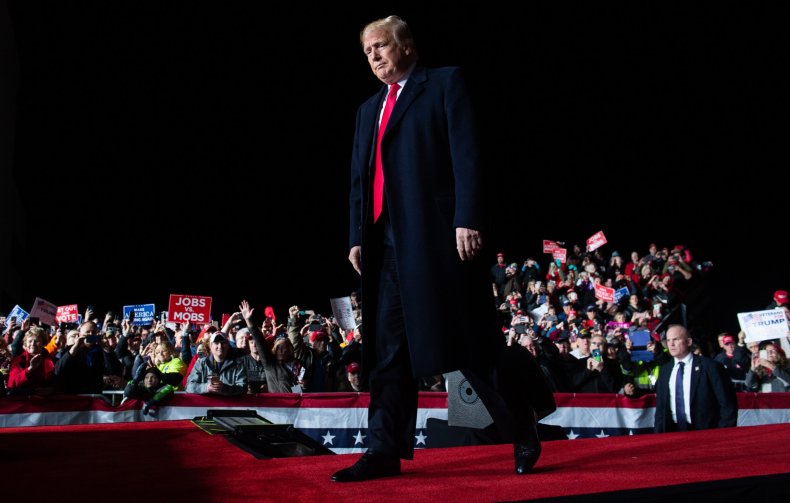 "I just want to tell you that in these times, we have to unify," the U.S. leader said at an opioid bill signing event at the White House.
"We have to come together and send one very clear, strong, unmistakable message that threats or acts of political violence have no place in the United States of America," he said.
Trump said that the "full weight" of his government was being deployed to conduct an investigation into the incident.
"We'll spare no resources or expense in this effort," he said.
"We are extremely angry, upset, unhappy about what we witnessed this morning, and we will get to the bottom of it," he added.
Later, though, at the Mosinee rally, the president took aim at the media, demanding that it "stop the endless hostility and oftentimes false attacks."
The comments would have also come just hours after CNN's Manhattan office was evacuated after one of the suspicious packages was found there.
Read more: Donald Trump Tells Media to Stop 'Negative' and 'False Attacks' Hours After CNN Office Receives Pipe Bomb
"No nation can succeed that tolerates violence or the threat of violence as a method of political intimidation, coercion or control. We all know that," Trump said, addressing supporters at the Wisconsin rally. "We want all sides to come together in peace and harmony."
He then moved on to address the media, saying that "As part of a larger national effort to bridge our divides and bring people together, the media also has a responsibility to set a civil tone and to stop the endless hostility and constant negative and oftentimes false attacks and stories. Have to do it."
After the president's comments, some members of the crowd could be heard chanting: "CNN sucks."
The U.S. leader said that "any acts or threats of political violence are an attack on our democracy itself," before adding: "There is one way to settle our disagreements...peacefully at the ballot box."
The FBI had said it was working with the U.S. Secret Service, United States Postal Inspection Service and Bureau of Alcohol, Tobacco, Firearms and Explosives, as well as state and local law enforcement partners to identify and arrest the person or people responsible for sending the packages.
It added that it was possible that additional packages had been mailed to other locations, warning members of the public to "remain vigilant" and not touch, move or handle any suspicious or unknown packages.