Lara Trump's most recent Instagram photo met with a flood of criticism on Tuesday night, when social media users took to the post's comments section with declarations of distaste for the face masks she, the women in the Trump family, as well as Kimberly Guilfoyle—a former Fox News host and the current partner of Donald Trump Jr.—are pictured wearing.
The photo shows Lara, President Donald Trump's campaign adviser and daughter-in-law, posing alongside Ivanka Trump, Guilfoyle, Tiffany Trump and Melania Trump. The picture seems to have been taken during Tuesday's presidential debate, which was held at Case Western Reserve University's Health Education Campus in Cleveland. Although the first lady was not seen wearing a face covering when she joined her husband on stage after the debate, she is wearing one in Lara's Instagram photo, as are the rest of the women.
"Mask off," wrote Tito Ortiz, a California resident and vocal Trump supporter currently campaigning for a seat on Huntington Beach's city council, in the Instagram post's comments section.
"Please take the masks off!" another Instagram user commented. "You have an immune system!"
"U guys are flawless, but stop with the masks," a third person added, echoing the president's widely criticized language earlier during the pandemic in describing the coronavirus as a "hoax" later in their Instagram comment.
"Hate to see all these masks," a fourth user wrote, while a fifth said: "Would have been such a powerful picture had it not been for the masks! Our new slave muzzles. Guess you have to make it look good for the people for [sic] submit. #unmaskamerica."
The negative responses to face masks appeared alongside others voicing support for Trump's reelection and some denouncing his remarks during the first presidential debate. Many people have taken issue with the president's comments during the event, in which Trump failed to explicitly condemn white supremacists or discourage his supporters from engaging in civil unrest if election results are delayed, or he believes they are "manipulated."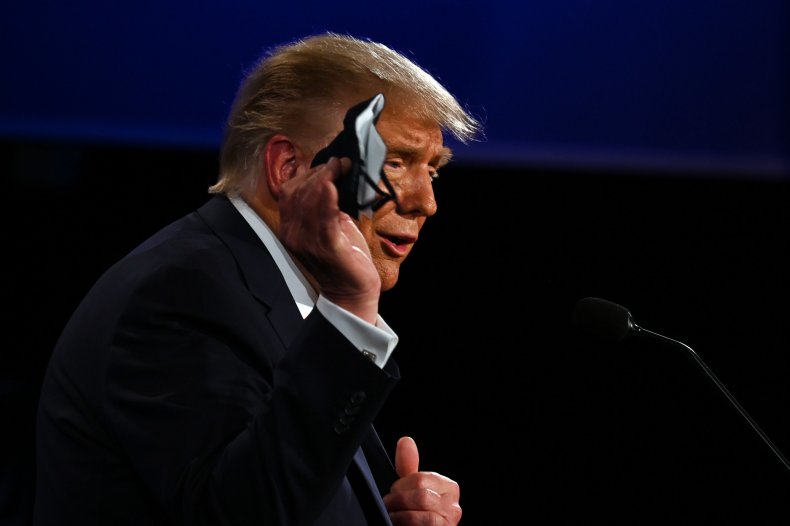 Several of the individuals who responded to the Trump women's use of face masks on Instagram Tuesday show support for the Republican incumbent's return to office in content shared to their personal accounts. Like his family members, Trump is rarely seen wearing face masks in public, despite recommendations from health officials across the globe. Even as government officials nationwide imposed state and local mask mandates months into the U.S. COVID-19 outbreak, the president did not use one himself until a July visit to the Walter Reed National Military Medical Center.
When debate moderator Chris Wallace asked Trump if he questions the effectiveness of masks in reducing risks of COVID-19 transmission on Tuesday, the president said he thinks "masks are OK."
"I have a mask right here," he continued, holding up a face covering. "I put a mask on when I think I need it. Tonight, as an example, everybody's had a test and you've had social distancing and all of the things that you have to. But I wear masks when needed."
Newsweek reached out to the Trump campaign for comments but did not receive a reply in time for publication.