Trump Supporters Form Human Chain at Mexican Border Chanting 'Build a Wall' Before El Paso Rally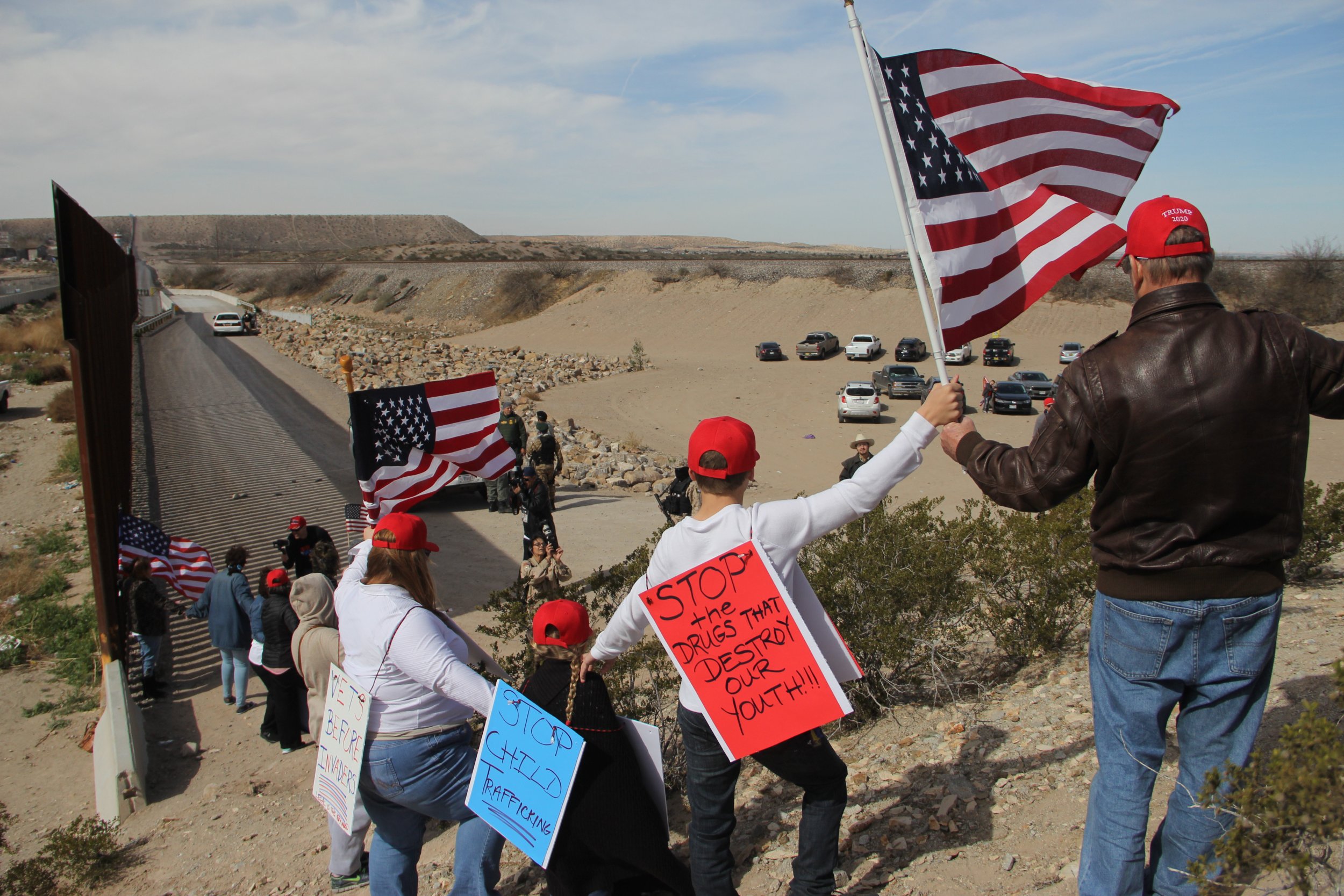 Protests began to rock El Paso, Texas, over the weekend, ahead of a rally Monday by President Donald Trump and counter-march to be attended by former Democratic congressman Beto O'Rourke.
The city has become a focal point in the ongoing debate over Trump's proposed wall along the U.S.-Mexico border, as the possibility of another shutdown looms due to a standoff in Washington, D.C., over immigration. The president mentioned El Paso in his State of the Union address last week as an example to support his demand for a wall.
Supporters of President Donald Trump and his proposed wall gathered at the Texas-Mexico border Saturday, linking hands to form a human barrier of their own. Waving American flags and wearing red "Make America great again" hats, the protesters stood side by side and chanted "Build a wall" at the boundary between Sunland Park and Anapra, Mexico, CBS Austin reported.
The activists appeared to universally support the president and his long-held pledge to build a border wall, and they seemed to be making their own symbolic barrier where the border fence currently finishes. They have said their principal goal is to call for further construction of a border barrier at the frontier with Mexico.
Their demonstration came ahead of the president's rally to be held Monday in the El Paso Coliseum.
Former Democrat congressman Beto O'Rourke is set to join a counter-protest, named the "March for Truth," by demonstrators opposed to Trump's wall. The event will be held a mile away from the El Paso County Coliseum to counter the president's hardline stance on immigration.
"The president is coming to El Paso Monday. He will promise a wall and will repeat his lies about the dangers that immigrants pose," O'Rourke wrote Friday on Medium.
O'Rourke, who has been seen as a possible contender for the 2020 Democratic presidential nomination, avoided calling the president by name as he announced he was joining the march, which a constellation of nonprofit organisations, including Border Network for Human Rights and Women's March El Paso, are supporting.
During his State of the Union address Trump highlighted El Paso as a positive example of what border barriers could achieve. "The border city of El Paso, Texas, used to have extremely high rates of violent crime—one of the highest in the county, and considered one of our nation's most dangerous cities," Trump said. "Now, with a powerful barrier in place, El Paso is one of our safest cities."
The statements have been widely rejected by city officials. "El Paso was never one of the most dangerous cities in the U.S. We've had a fence for 10 years and it has impacted illegal immigration and curbed criminal activity. It is not the sole deterrent. Law enforcement in our community continues to keep us safe," El Paso Mayor Dee Margo tweeted following the State of the Union address.
Veronica Escobar, a Texas Democrat, has asked the president to apologize for his remarks, CNN reported. "These distortions about our vibrant community are harmful to our reputation and degrade our spirit," she wrote. "I urge you to treat this visit as your opportunity not only to correct the record and ensure that the misinformation you stated on the national stage is retracted, but also an opportunity to apologize to El Pasoans for the disparagement of our community," the congresswoman added.