Trump Supporters Sue Dominion, Say Cease and Desist Letters 'Clearly Damaged' Them
Poll challengers from Michigan have filed a class-action lawsuit against Dominion Voting Systems, claiming that they were "damaged" by cease and desist letters that the company sent them after the 2020 presidential election.
Lawyers including Kurt Olsen, who previously aided in unsuccessful legal efforts to overturn former President Donald Trump's defeat to President Joe Biden, filed the lawsuit last week on behalf of eight Michigan residents that they claim were "clearly damaged" by the letters. Famed attorney Alan Dershowitz, who was part of Trump's legal team during his first impeachment trial, is also listed as counsel for the plaintiffs but reportedly describes himself as a consultant on "First Amendment issues" in the case.
The plaintiffs were all sent cease and desist letters by Dominion after alleging in affidavits that they witnessed unspecified "issues" on Election Day. The affidavits did not mention Dominion by name while expressing concerns about supposed "election integrity," according to the suit. Attorneys for the plaintiffs claim that Dominion's role in the election made the company "in effect, the government itself" and that the letters were used as a form of intimidation.
"Through its promiscuous delivery of aggressive threats of litigation and its deliberately broad advertisement of its own threatening activities, Dominion seeks to intimidate anyone who might speak out regarding election integrity and security concerns, whether such speech is related to Dominion or not," the complaint states. "Plaintiffs and the Class have been damaged by Dominion's Lawfare campaign."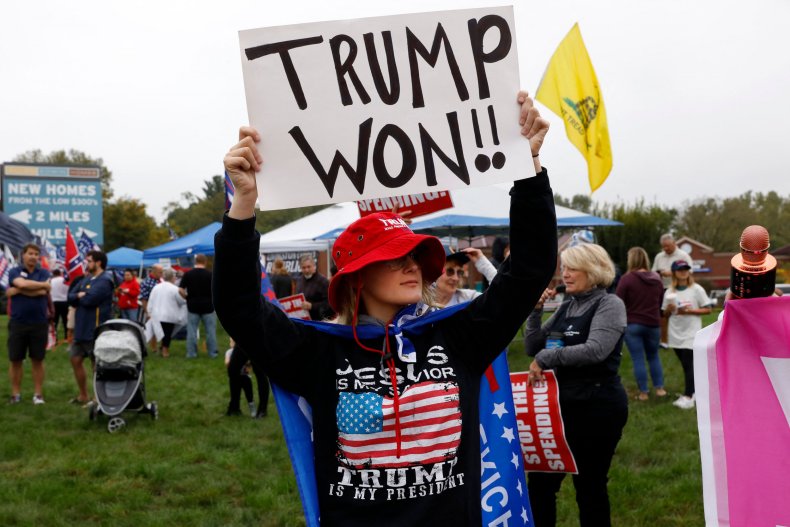 The complaint's assertion that the plaintiffs were "damaged" by the letters is likely to face stiff challenges in court. Cease and desist letters are not typically considered to be a form of damaging legal intimidation because they merely warn of potential legal action without initiating any. The assertion that Dominion is effectively an arm of the federal government is also likely to face challenges.
The suit warns that "anyone could be the next victim of a Dominion billion-dollar lawsuit," citing high-profile defamation suits that the company had already filed against former Trump lawyers Rudy Giuliani and Sidney Powell, Fox News, Newsmax, MyPillow, MyPillow CEO Mike Lindell and others.
The effort is the latest in a series of legal challenges that Olsen has been involved in that support or are related to Trump's false claims that the election was "stolen" from him, having first served as special counsel for GOP Texas Attorney General Ken Paxton's failed attempt to overturn the election in the Supreme Court last year.
In the last days of the Trump presidency, Olsen's name appeared on a set of notes that Lindell was photographed holding after a meeting at the White House. The notes included the phrase "martial law if necessary," although it was not clear that Olsen or Lindell were attempting to lobby Trump for a last-ditch military takeover.
Dershowitz told The Daily Beast on Friday that his involvement in the poll challenger suit was motivated by his opposition to "censorship" and his support for "free speech," while also remarking that he had "no contact with Mr. Olsen at all" and "certainly would never support any kind of coup d'état."
"I consider this a part of the bigger-picture efforts, that includes my consulting on Mike Lindell and MyPillow's cases," Dershowitz told the outlet. "I believe the election was absolutely fair, I believe President Biden is the legitimately elected president. But I think the issue should be debated and should not be censored. I believe Dominion is trying to suppress free speech."
Newsweek reached out to Dominion Voting Systems for comment but did not receive a response before publication.