A group of soybean farmers who support President Donald Trump said Saturday they would be willing to suffer "to the death" economically for his trade war.
"I'm a good American, I believe that we all have to toe the line," one farmer from a panel interviewed for a Saturday segment on CBS Evening News said. "Am I willing to take my lumps for the benefit of the entire country? Yes, I personally am."
When pressed by the interviewer on how long the farmers could continue to deal with the economic impact of Trump's tariffs, another farmer responded: "Well, the Scottish in me says, to the death." Another farmer smiled approvingly in the background.
In total, four farmers were included on the CBS panel. All of them said they voted for Trump and claimed that the trade policies were negatively impacting their bottom lines.
"We have no control over anything," the "to the death" farmer said earlier in the segment. "Everything is based in Washington and China… we have no control on that, but the markets keep going down. If this continues, there are gonna be some people who don't continue to farm, and that would be sad."
Thus far, Washington and Beijing have imposed additional 25 percent tariffs on $34 billion worth of each other's imports. An additional $16 billion of imports is expected to be affected by reciprocal levies soon as well. Trump has warned that he will move to add 10 percent tariffs on another $200 billion of Chinese products, with Beijing vowing to respond in kind.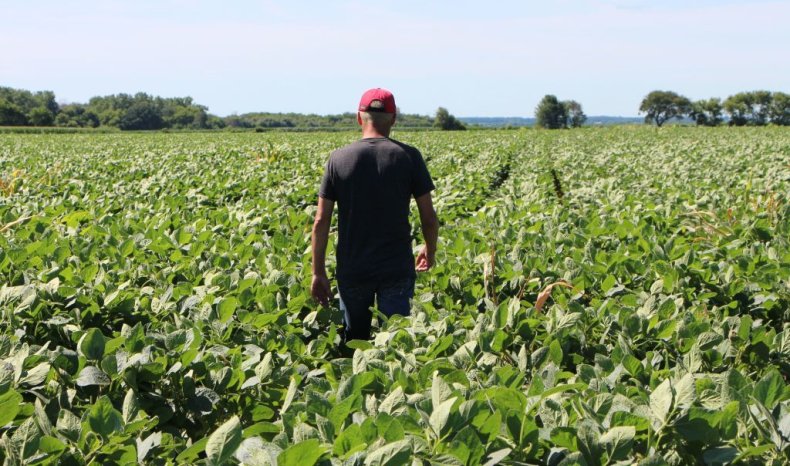 Last Tuesday, Trump announced a $12 billion aid package to farmers impacted by China's retaliatory tariffs. But while the farmers interviewed for the Saturday segment expressed a willingness to suffer for Trump, others have been more skeptical.
Dave Kestel, a soybean farmer from Illinois, told CBS News last week that he expects a record harvest this year, but also a less than normal payout.
"Right now, we're looking at beans used to be 10 bucks, now they're down to 8 bucks," Kestel said. "That's a 20-percent pay cut basically."
When asked about Trump's aid package to farmers, Kestel said he understands that the president is trying to help, but "it's not a long-term fix."
"It's a pacifier, so to speak," he said. "I'd rather not have it."
Many Republican politicians have criticized Trump's new tariffs, and the aid package that he has announced to mitigate the damage.
"They've been taking the legs out from under America's farmers and ranchers," Senator Ben Sasse (R-Nebraska) said. "What the administration is offering them instead is $12 billion in gold-plated crutches. That's not what anybody wants."
GOP House Speaker Paul Ryan said: "I just don't think the tariff route is the smart way to go."
Senator Ron Johnson (R-Wisconsin) told Politico last week that Trump is creating a "Soviet type economy."
"This is becoming more and more like a Soviet type of economy here: Commissars deciding who's going to be granted waivers, commissars in the administration figuring out how they're going to sprinkle around benefits," he said. "I'm very exasperated. This is serious."