Trump, Quick to Blame Obama on Syria, Faces Same Quandary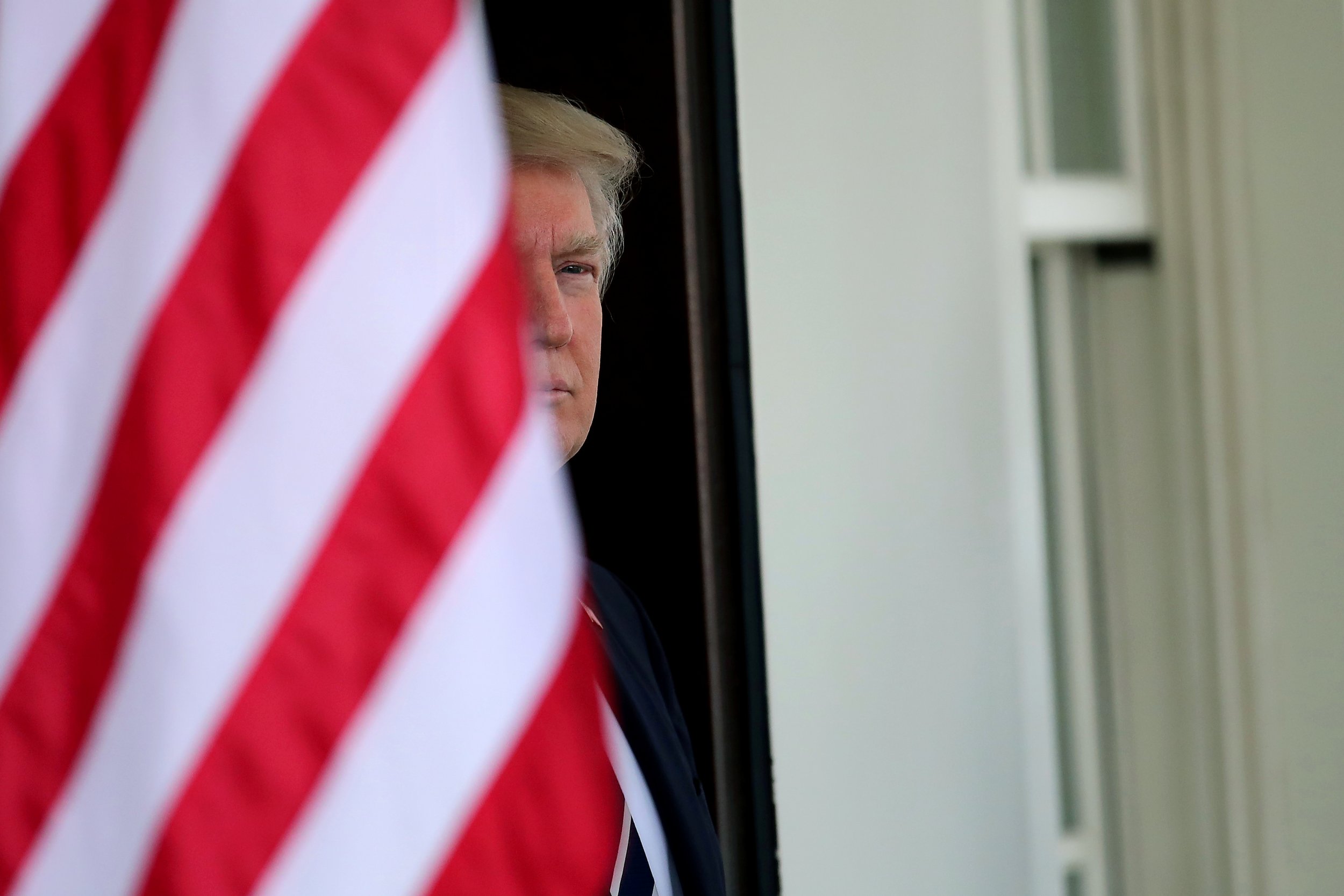 Updated | As the world again absorbed the brutal images of Syrians killed and injured by suspected noxious gases on Tuesday, U.S. President Donald Trump issued a bristling condemnation of the incident.
He called the attack in the northeastern Syrian town of Khan Sheikhoun, which left 72 people dead, including 20 children, "reprehensible" and the result of "heinous" actions that "cannot be ignored by the civilized world." On Wednesday, he reiterated his condemnation, calling it a "horrible," "unspeakable" act. Moscow claimed Damascus had struck a "toxic" weapons depot belonging to Syrian rebels while the U.S. government said it believed Syrian aircraft dropped sarin nerve gas on rebels and civilians. But who is truly responsible in the eyes of the billionaire?
The president apportioned blame, for what rights groups are calling the deadliest chemical attack in Syria since 2013, not only to the regime of his Syrian counterpart Bashar al-Assad, but the Obama administration. He cited his predecessor's "weakness and irresolution," a leader who drew a "red line" on chemical weapons then "did nothing," allowing such atrocities to continue.
In denouncing Obama's inaction, he offered no solution to the crisis. But speaking at an emergency U.N. Security Council meeting on Wednesday, Nikki Haley, U.S. ambassador to the world body, warned that Washington could take unilateral military action if the U.N. did not act.
"When the United Nations consistently fails in its duty to act collectively, there are times in the life of states that we are compelled to take our own action," she said. "For the sake of the victims, I hope the rest of the council is finally willing to do the same."
Like Obama, Syria presents Trump with one of his biggest foreign policy quagmires, and how he acts on the crisis will shape his presidency. Amid reports of chemical attacks, the war in Syria is now his problem, but he did not want it to be, until Wednesday. Trump and his team appeared to be stepping away from the conflict at a time when Assad—who the U.N. has accused of at least three previous chemical weapons attacks—is increasingly emboldened. But Haley offered the most overt threat of U.S. military action in Syria since the beginning of the six-year-long conflict on Wednesday. Lashing out at Russia, Assad's key ally, she asked: "How many more children have to die before Russia cares?"
"Assad is killing ISIS"
As the Syrian and Russian air forces continue to bomb rebel and civilian populations, it remains unclear how Trump's Syria policy will achieve an improvement for Syrian civilians. The Trump administration's early moves, and the president's rhetoric on the campaign trail, pointed to a reining back of Obama's anti-Assad policy and, at least publicly, a shift in Washington.
"I don't like Assad at all, but Assad is killing ISIS. Russia is killing ISIS and Iran is killing ISIS," Trump said in the third and final presidential debate with Hillary Clinton in October. After his election win in November, he said of Washington-backed moderate Syrian rebels: "We have no idea who these people are." He railed against intervention in Syria, favoring the battle against ISIS, and this policy line has continued since his inauguration. Washington is not playing a key role in either Syrian peace track: in Geneva, or in the Turkish-Russian brokered talks in Astana, Kazakhstan.
"I get this sense that the Trump administration is washing its hands of the broader civil war," says Robert Ford, former U.S. ambassador to Syria and Iraq, now senior fellow at the Middle East Institute and professor at Yale University, speaking before Haley's comments. "Instead, [it is] focusing on using the big American military hammer against the Islamic State regardless of the fact that there are a lot of political, economic and social challenges out there that aren't nails a hammer can hit."
Obama's critics regard his foreign policy legacy on Syria ultimately as a failure after years of painstaking diplomacy on the part of his Secretary of State John Kerry and several broken ceasefires. Despite attempting to draw Russia away from its support for Assad, Moscow instead entered deeper into the conflict, bombing rebels into submission in the northern city of Aleppo.
It handed Assad the edge in the protracted war as the focus of the U.S. and its coalition partners partly shifting to the battle against the Islamic State militant group (ISIS) in the country. The Alawite leader remains unscathed in his Damascus palace, and Russia and Iran have resuscitated his regime.
Read more: Donald Trump's Syrian civil war paradox
Trump "hypocrisy"
Haley said last week that Washington's "priority is no longer to sit there and focus on getting Assad out" as the country has to "pick and choose…battles… Our goal is to do what we need to defeat ISIS." The U.S.-led coalition is supporting an Arab and Kurdish coalition in northern Syria as it prepares to launch an offensive on ISIS's de facto capital, Raqqa.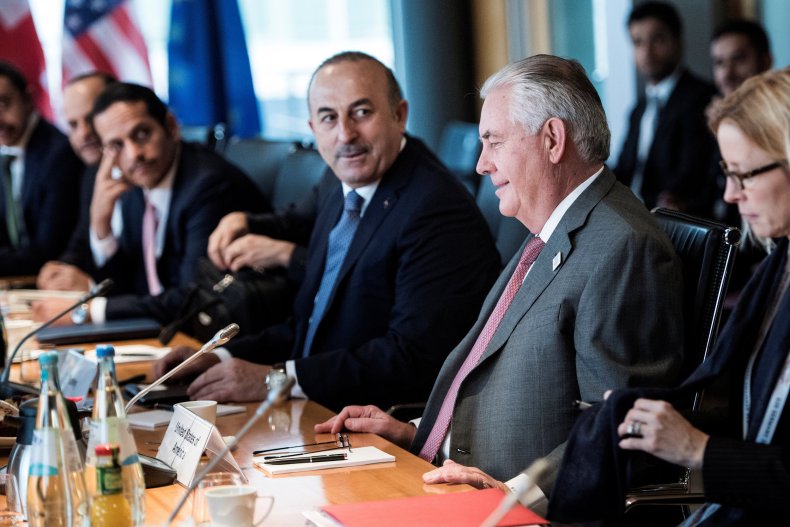 Haley later backtracked after criticism, stating that Assad is "always a priority." It was on Wednesday that she would go further, threatening to drag Washington into another Middle Eastern conflict.
Trump's Secretary of State Rex Tillerson had faced similar censure for comments on Assad that he made in Turkey on March 30. He said the "longer-term status of President Assad will be decided by the Syrian people." Republican Senator John McCain called it "another disgraceful chapter in American history." Ford calls it "pablum…that is demeaning to him, to the American public and to Syrians."
Tillerson, like Haley, changed tone after criticism and following Tuesday's attack said: "It is clear that this is how Bashar al-Assad operates: with brutal, unabashed barbarism." He also said Iran and Russia bear "moral responsibility" for the suspected chemical attack. But there was no call to action, let alone an investigation, until Haley's comments at the U.N. Security Council.
In light of Trump's condemnation of Obama's inaction, the president himself was opposed to intervention in September 2013, telling his predecessor publicly that he should not act. "DO NOT ATTACK SYRIA—IF YOU DO MANY VERY BAD THINGS WILL HAPPEN," he tweeted.
Attacking Obama for not intervening to put an end to chemical attacks, barrel bombs and mass detentions in torture prisons is an example of Trump's "incredible hypocrisy," says Ford. "The President of the United States now is no more credible than the President of the United States then," he says. Haley's comments signal that this could change. Trump, asked on Wednesday as he met with Jordan's King Abdullah II how he would respond to the attack, said, "You'll see," without elaborating. Later, at a joint press conference with the Arab leader, Trump said his attitude to Assad and the Syrian issue had "changed very much."
Assad here to stay?
The initial lack of political will on the part of Team Trump to enact change in Syria—harking back to the fall of Saddam Hussein in Iraq, the fall of Muammar el-Qaddafi in Libya and the ensuing chaos in those countries—means Russia and Iran's man in Damascus had looked likely to remain. And, before Haley's and Trump's comments on Wednesday, U.S. senators said the Trump administration was sending a signal that Assad could continue to commit atrocities such as the one in Khan Sheikhoun that Britain, Turkey and Israel hold him responsible for.
Republican Senator Marco Rubio said Wednesday he does not "think it's a coincidence that a few days" after Tillerson's remarks about Assad's future, "we see this." This being the suspected chemical attack that left civilians lying on muddied ground, foaming at the mouth and unable to breathe, according to videos shared by activists.
Abdelhakim Bashar, deputy head of the Syrian opposition, known as the Syrian National Coalition, said as much to reporters in Istanbul on Wednesday. He said the Trump team's statements "give the regime an opportunity to commit more crimes."
So, for Syrians opposed to Assad's rule, they thought that the U.S. was not only continuing to abandon them, but that a new administration was considering a future of impunity for a man they view as a brutal dictator.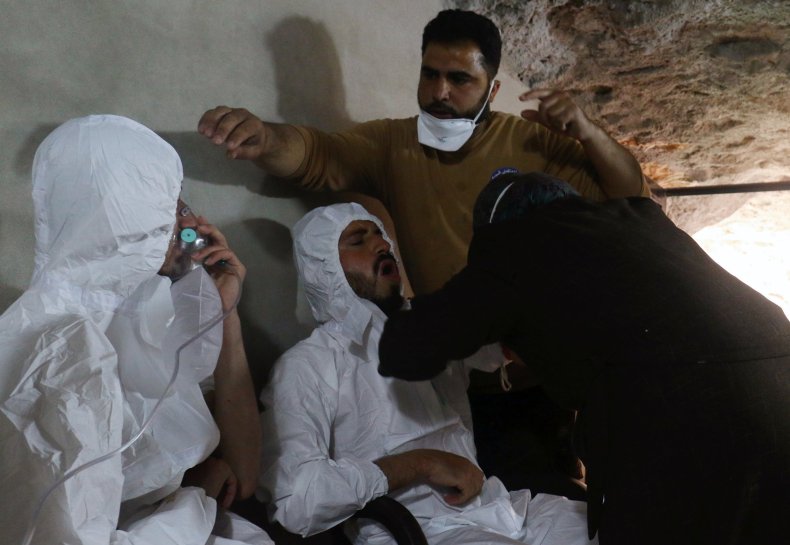 Rami Abdulrahman, head of the Syrian Observatory for Human Rights, a U.K.-based monitoring group, criticized U.S. and European inaction: "We have new massacres in Syria, still the international community is waiting, waiting for what, we do not know," he told Newsweek. "Those who are killing civilian people—it doesn't matter if his name is ISIS, the regime, whoever—is a criminal."
"I think Assad is going to be in power for as far out as the eye can see," says Ford, who was tasked with dealing with Assad's regime at the outbreak of the civil war in March 2011, said just hours before Trump and Haley's remarks. Their reaction to the attack on Wednesday may give the Syrian opposition hope.
If Trump's term continued with anti-interventionist overtones, he would have had to beat off renewed calls to act militarily to prevent further atrocities in the country, or to stand up to Russia—a country that his own U.N. ambassador has said there is "no doubt" meddled in the presidential election—for its backing of Assad. It appears that he has now had a change of heart, wanting to affect change in the conflict just as his predecessor did.
Before Trump's election win, a State Department official, speaking to Newsweek on condition of anonymity, said: "Short of direct military action against the regime and against the Russians, we have done everything can do to this point."
With Russia sitting around the U.N. Security Council table, its jets over Syrian skies, and Iranian boots on the ground, military action remains the only viable solution to ridding Syria of Assad. It is one that Trump and his associates, like Obama ultimately was, had appeared unwilling to take until now.
The Syrian war is presenting Trump with the same quandary as the man who occupied the Oval Office before him, the very man he has condemned.
This article has been updated to reflect U.S. Ambassador to the U.N. Nikki Haley's comments to the U.N. Security Council on April 5.