President Donald Trump reached a 1-point lead over Democratic presidential candidate Joe Biden in mid-September, according to a new Rasmussen Reports weekly survey.
It's the first time the conservative polling company found Trump to be in the lead with 47 percent of likely voters' support since starting its weekly White House Watch surveys in early July, pollsters said.
Though pollsters said in their report that the lead was "statistically insignificant," they pointed out that, "Prior to this week, Biden has bested Trump in every weekly survey since White House Watch began at the beginning of July."
Trump has in the past cited Rasmussen Reports for its approval rating surveys, which tend to be more positive than most other national surveys. He has also publicly thanked Rasmussen pollsters for their work on Twitter.
The polling company is considered to be an outlier amongst many other national polls due in part to the higher approval ratings its pollsters awarded Trump over the last few years. Though a Rasmussen representative told The Hill in 2018 that the company denied its polls tended to be partisan, FiveThirtyEight researchers currently rate Rasmussen Reports polls as leaning Republican by an average of 1.5 percent.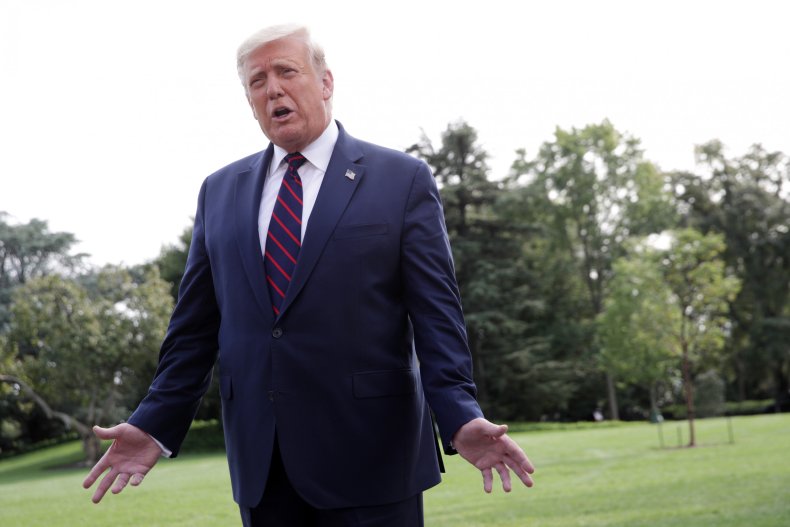 Rasmussen Reports' presidential approval rating tracker said on Wednesday that about 52 percent of likely voters said they believed Trump was performing well in his position. Trump's national approval rating has ranged between 44 percent and 52 percent since early July, according to Rasmussen pollsters.
The polling company's latest survey was conducted by phone and online among 2,500 likely voters between September 9 and 10 and between September 13 and 15. The survey results had a 2 percent margin of error, according to Rasmussen Reports.
Trump's single-point lead came one week after he breached 45 percent of likely voter support last week, another first for the president since Rasmussen Reports' weekly surveys began.
Both Trump and Biden had 80 percent of the support from voters within their own parties, pollsters said. Trump also had a 9-point lead among voters who do not identify as Democrat or Republican, according to the poll.
Aside from the 47 percent of likely voters who said they supported Trump and the 46 percent who said they supported Biden, 4 percent of those surveyed said they were undecided, and 3 percent said they preferred someone else for the position.
Rasmussen Reports' survey last week found that Biden had a 2-point lead over Trump. Between early July and early September, Biden's lead in Rasmussen Reports surveys ranged from 1 to 10 points, with his strongest lead coming during the first week of pollsters' White House Watch as he led Trump 40 to 50 percent.
With fewer than 50 days to go until Election Day, Biden appeared to have a lead over Trump in most recent national polls. According to polling averages compiled by FiveThirtyEight, Biden had a 6.9 percent lead over Trump on Wednesday with about 50.3 percent of voter support. Recent polls conducted in most swing states also appear to show Biden in the lead among likely voters.