What Polls Say About Trump vs. Biden With 50 Days Until the Election
With just 50 days until the election, Democratic nominee Joe Biden continues to maintain a significant lead over Donald Trump in most recent national polls, while also leading the president in polling out of key battleground states.
The current Real Clear Politics average of national polls shows Biden ahead of Trump by about 7.4 percentage points—with the backing of 50.5 percent of voters, compared with 43.1 percent who support the president's re-election. FiveThirtyEight shows a very similar national polling average. Biden is supported by an average of 50.7 percent of voters and Trump is backed by 43.5 percent—a margin of 7.2 percentage points in the Democratic candidate's favor.
No recent national poll shows Trump leading or even tied with Biden. The best recent poll for the president was carried out by the conservative Rasmussen Reports from September 2 to 8. It showed a close race, with Trump trailing his Democratic opponent by just 2 percentage points, backed by 46 percent of voters as opposed to 48 percent supporting Biden. A poll conducted by right-wing Fox News from September 7 to 10 showed Trump behind by 5 percentage points. Biden was supported by 51 percent of voters, with the president backed by 46 percent.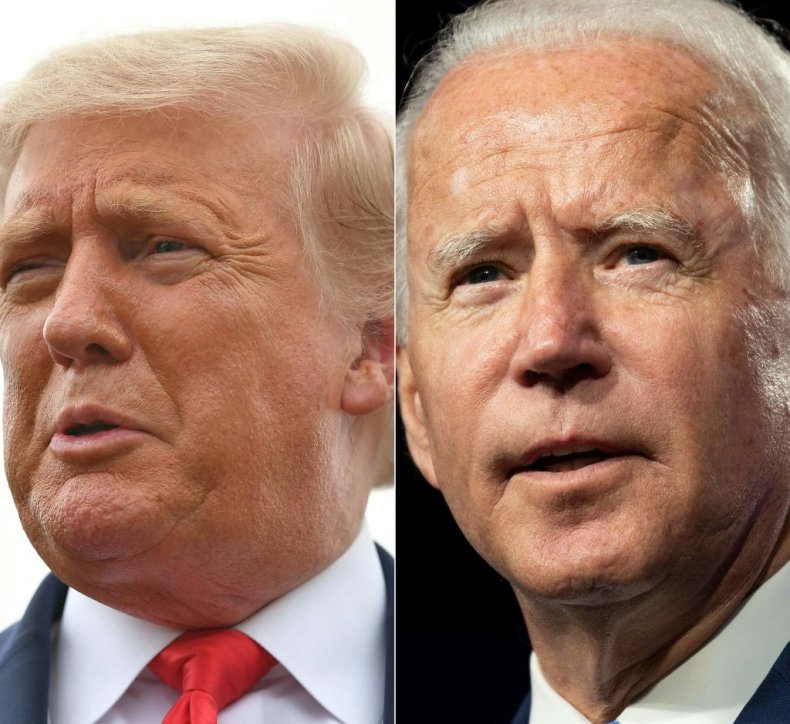 A survey conducted by Reuters/Ipsos from September 3 to 8 showed Biden with a double-digit lead. While Trump was supported by just 40 percent of voters, the former vice president was favored by 52 percent—a difference of 12 percentage points. Polling from The Economist/YouGov, which was carried out from September 6 to 8, had Biden with the support of 52 percent of respondents, as opposed to 43 percent who favored the president—a lead of 9 percentage points.
Trump and his advisers have repeatedly dismissed negative polling numbers, arguing that most polls are biased against the president and Republicans. They have also pointed to former Democratic presidential nominee Hillary Clinton's loss in 2016, which was at odds with what most polls and analysts projected. Although Clinton did win nearly 3 million more individual votes than Trump, the president pulled off a big win in the Electoral College through a series of wins in key swing states.
As a result, Democrats are particularly concerned about regaining the swing states of Florida, Michigan, Pennsylvania and Wisconsin. Former President Barack Obama carried these states in 2008 and 2012 before they shifted red for Trump in 2016. If Biden manages to win just three of these states while maintaining all the other states Clinton carried in the last presidential election, he would come out on top in the Electoral College.
In Michigan, Wisconsin and Pennsylvania, Biden appears to have an advantage over Trump. The current Real Clear Politics averages from the three states show the Democratic nominee leading by about 4.2 points, 4.3 points and 6.3 points, respectively. The race in Florida appears to be closer, with the state's polling average showing Biden with a slim lead of just 1.2 percentage points.
On Sunday, The Washington Post first reported that billionaire and former New York City Mayor Mike Bloomberg plans to spend about $100 million on ads for Biden in Florida over the coming days until the election. Bloomberg, a former Republican, believes he can help push Biden over the edge in the key battleground state to defeat Trump on November 3.
Meanwhile, recent polls suggest that Biden may be able to pick up Arizona, a state that historically has been reliably Republican in presidential elections going all the way back to 1952—with the only exception being in 1996. The current Real Clear Politics average shows Biden ahead in the state by about 5.6 percentage points, backed by about 49.4 percent of the state's voters, compared with 43.8 percent who support Trump.
Much could change before Election Day, but analysts have noted that Biden's polling lead over Trump is remarkably durable and consistent. Based on 2016 polls, Biden appears to be better positioned than Clinton was at this same point in that election. A snapshot of the polls compiled by Real Clear Politics from early September 2016 shows Trump narrowly leading in several, while the two candidates are tied in others. Even the polls where Clinton was in the lead, the margin was generally narrower—with many showing her just 1 to 3 percentage points ahead.