Trump Talks Tough on Drugs, Socialism in Florida, Leaving Venezuela Wary
President Donald Trump promised to bolster his fight against drug trafficking in the Americas and against Venezuela's socialist government during a multi-stop trip to Florida on Friday.
Speaking at the headquarters of U.S. Southern Command (SOUTHCOM) on Friday, Trump recalled his decision in April to "begin a surge of military assets in the Western Hemisphere unlike anything seen in recent history." He touted new, better and additional equipment to fight "the sinister criminal cartels" trying to bring narcotics to the United States.
"No adversary can match the awesome power of the American Army, Navy, Air Force Coast Guard and Marines," the president said.
Trump then shifted focus to Venezuela. The president participated in a "Supporting the Venezuelan People" roundtable, during which he emphasized his "maximum pressure" campaign to force Venezuelan President Nicolás Maduro out of power and instate opposition-controlled National Assembly leader Juan Guaidó, whom the Trump administration recognized as an interim leader about a year and a half ago.
"We are going to be fighting for Venezuelans," Trump said.
Speakers exiled from Venezuela and Cuba praised the president and disparaged socialism, some calling explicitly for regime change in their home countries and warning that the nationwide George Floyd protests could bring the leftist ideology to the United States. The president welcomed the remarks as a vindication of his positions, but across the Caribbean, officials in Caracas made a link between his Trump's political stance toward Latin America and his military buildup there.
"Unfortunately, the U.S. has a history of using issues as drug trafficking in order to justify other interventionist political agendas," Venezuelan Vice-Minister for North America Carlos Ron told Newsweek.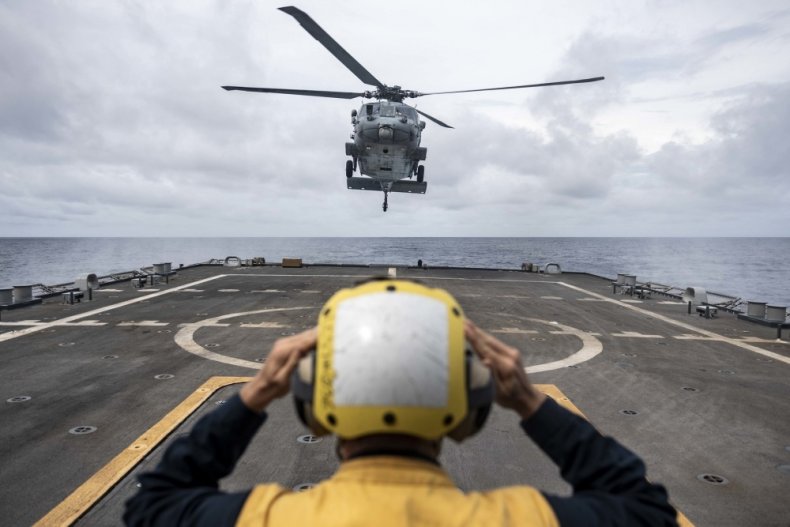 Trump severed ties with Maduro in January of last year over accusations of corruption and electoral fraud. Despite endorsements from the U.S. and dozens of other countries, however, Guaidó has failed to unseat Maduro, who appears to remain firmly in power despite critical resource shortages and an economic crisis made worse by U.S. sanctions.
Part of Maduro's strength comes from international partners, including fellow leftist-led Latin Cuba in Latin America, as well as other prominent critics of U.S. foreign policy like Russia, China and Iran. Tehran in particular has struck up a lucrative agreement with Caracas, providing the gas-strapped nation with gasoline and humanitarian supplies.
But the U.S. has also accused Maduro of profiting off the illicit drug trade through the Americas and conspiring to do so with guerillas of the outlawed Revolutionary Armed Forces of Colombia movement (FARC). The Trump administration charged the Venezuelan leader with narcoterrorism in late March and days later announced the new enhanced counter-narcotics operations involving a fleet of warships tasked with disrupting cartel movement in the Caribbean and Eastern Pacific Ocean.
SOUTHCOM spokesperson Jose Ruiz told Newsweek that the campaign was "productive." He said it seized or disrupted 72 metric tons of cocaine and 18,160 pounds of marijuana, detained 207 suspected drug smugglers, thwarted $1.8 billion in illicit-trafficking profits from being transferred to transnational criminal organizations. Ruiz said 720 lives were saved.
In April, officials from Cuba, Venezuela and the U.S. told Newsweek that Trump's deployment had the underlying goals of pressuring Maduro and distracting from a growing outbreak of the novel coronavirus at home.
Ron saw the U.S. military deployment part of a long line of U.S. intervention in the region, where nearly every nation has at one time or another been subject to coercive policies by Washington. He highlights the fact that most of the narcotics flowing from South to North America do so via the Eastern Pacific, where U.S. ally Colombia is located, not the Caribbean coast of Venezuela.
"Although we welcome that the United States, as the principal source of demands for narcotics in the region, takes a greater interest in combating drug trafficking, we still have serious doubts against the sincerity of this approach, given that the largest military deployment is near to Venezuela, and not near the source of the problem," Ron told Newsweek.
Joe Biden, the presumed Democratic presidential candidate, saw another angle to Trump's Florida trip: an opportunity for the president to appeal to Hispanic-American voters. He accused Trump of trying to "ignore, blame others, and distract" amid the worsening COVID-19 crisis and of falsely representing his stance toward Maduro.
"He will also surely not mention his stated willingness to sit down with dictator Nicolás Maduro. Instead, he will use the trip as a photo-op to and a distraction from his failures," Biden said in the statement.
Maduro has said he would accept an invitation to speak with Trump, though the president has since clarified his remarks, saying he "would only meet with Maduro to discuss one thing: a peaceful exit from power!"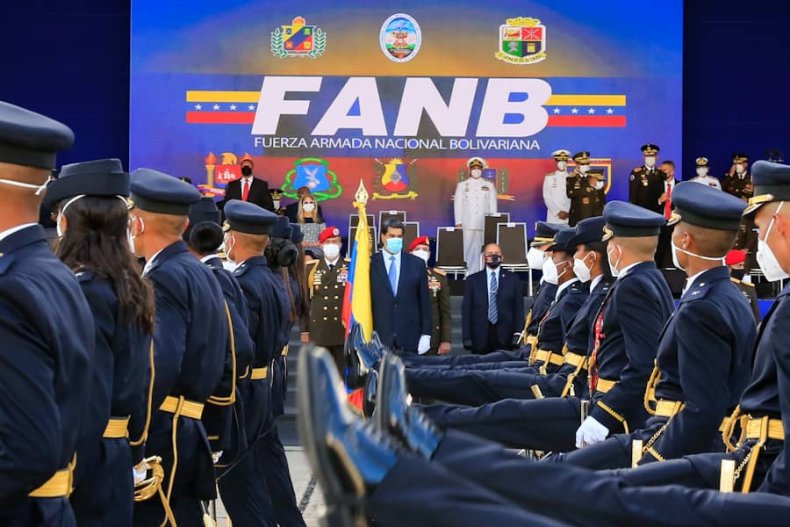 Also on Friday, Acting Assistant Secretary for the Bureau of Western Hemisphere Affairs Michael G. Kozak emphasized efforts to oust Maduro at a virtual event marking the transition of the Summit of the Americas chair to Peru.
"We look forward to continuing to collaborate with the Organization of American States to maintain the collective defense of democracy as a top priority for the hemisphere," Kozak said. "This includes efforts to restore democracy in Venezuela and end the suffering of Venezuelans under the illegitimate Maduro regime." He added that such collaboration includes restoring democracy in Nicaragua and holding the Cuban regime accountable for its abuses.
All three leftist-led countries have rejected the U.S. policies under Trump that were designed to sanction them. With Caracas in the administration's sights, Venezuelan officials also braced for further economic and military pressure.
"As the Florida people agonize over the pandemic, the Pentagon slanders Venezuela to promote Trump's re-election and secure resources for his war machine," Venezuelan Foreign Minister Jorge Arreaza tweeted Friday. "They commit a crime against Venezuela and against their own country."