Donald Trump's Tariffs Have Europe Cozying Up to China
Leaders of the European Union and China have agreed to join together to fight the protectionist tariffs implemented by President Donald Trump's administration.
During trade talks in Beijing on Monday, EU and Chinese leaders agreed to "resolutely oppose unilateralism and trade protectionism."
Jyrki Katainen, vice president of the EU Commission for Jobs, Growth, Investment and Competitiveness, cited the specific categories Trump's recently announced tariffs target. "It is essential that we work together to tackle overcapacity in sectors such as steel and aluminum," Katainen said, according to Reuters.
"Both sides believe that we must resolutely oppose unilateralism and trade protectionism and prevent such behavior from causing volatility and recession in the global economy," China's Vice Premier Liu He, who hosted the talks, said. He explained that his nation and Europe have a common interest in defending the global multilateral trading system.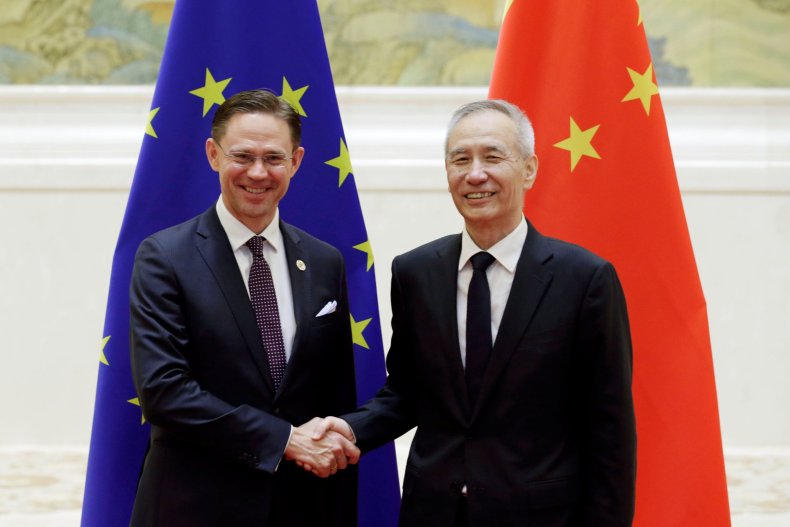 While Katainen made it clear that the EU is not entirely on the same page with Beijing when it comes to international trade, newly instated U.S. tariffs appear to be driving China and Europe closer.
"It makes sense when the U.S. is isolating itself that its major trade partners will look to expand their economic interests elsewhere," Linda Lim, a professor of international business strategy at the Stephen Ross School of Business at the University of Michigan, told Newsweek. Lim explained that Trump's punitive tariffs risk Washington losing the support of Europe in pressuring Beijing to change its "industrial policy and technology transfer practices," which both oppose.
"There is no way Trump's tariffs on the EU and China could benefit the U.S. economically," Lim continued, explaining that they will increase costs for consumers, hurt business and decrease profits. "Note these costs to American consumers, workers and businesses occur whether or not there is foreign retaliation against American exports," she said.
Additionally, Lim pointed out that the tariffs will only "increase China's incentive to push Chinese companies' global expansion to third-party countries" while also accelerating the "development of domestic technologies to reduce their dependence on U.S. exports.
"Tariffs represent a tax increase and an increase in government regulation [or] micromanagement of the economy–the opposite of what the Trump administration was supposed to be about," she said.
China, the EU, Canada and Mexico have all responded with countermeasures to protectionist tariffs announced by Trump. In late May, the U.S. announced new tariffs of up to 25 percent on steel and aluminum imports from allies Mexico, Canada and the EU. Washington also announced 25 percent tariffs on 818 imports from China, worth about $34 billion annually. Trump has also threatened to slap tariffs on an additional $200 billion of Chinese imports.
In response, the EU has slapped additional tariffs on some 340 U.S. products. China has also announced a tit-for-tat scheme of tariffs targeting U.S. imports.
As Lim explained, U.S. businesses will be hurt as a result of the escalating trade war. For example, on Monday, Harley Davidson Inc. announced that it would move production of motorcycles shipped to the EU overseas, estimating that the tariffs would cost the company between $90 and $100 million per year. Lim suggested that Boeing, which is generally the largest U.S. exporter, could make a similar move to that of Harley.
While Harley is only one example, Lim believes the trade war is "likely to increase discrimination against U.S. companies in China." As she pointed out, China is currently "the largest or second-largest source of sales and profits for many U.S. multinationals.
"The U.S. tariffs will achieve the exact opposite of their intention," Lim said, explaining that they will "strengthen China's resolve to build up indigenous technological capacity, and hurt US business." Furthermore, "with the weakening of the WTO [[World Trade Organization] due to U.S. action and inaction, the U.S. will lack a multilateral means to counter any discriminatory Chinese actions," she said.