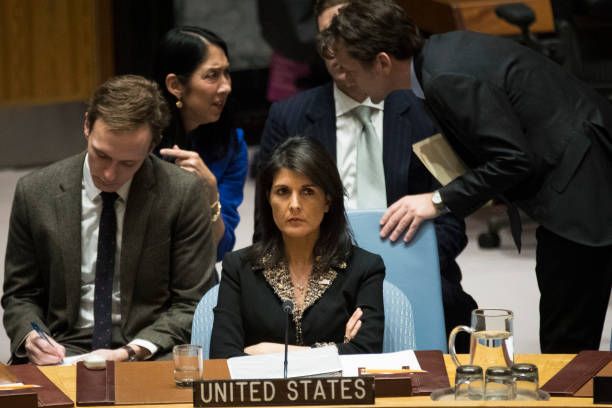 Turkey's President Recep Tayyip Erdogan said Thursday he hopes the United Nations will punish President Donald Trump for threatening countries that have pushed back on Trump's controversial decision to recognize Jerusalem as the capital of Israel.
During an awards ceremony in Turkey's capital, Ankara, Erdogan slammed Trump for threatening to cut off U.S. funding to countries that are opposed to his decision about Jerusalem. Erdogan said he hopes the U.S. "will be taught a lesson."
Related: Muslim leaders unite against Trump, say Jerusalem should be Palestinian capital
Erdogan said Trump is using money to pressure countries to vote in favor of the U.S.
"Mr. Trump, you cannot buy Turkey's democratic will with your dollars. Our decision is clear," said Erdogan, whose country is sponsoring Thursday's motion at the U.N. "I call on the whole world: Don't you dare sell your democratic struggle and your will for petty dollars."
The U.N. General Assembly will hold an emergency session Thursday to vote on whether to adopt a resolution condemning Trump's decision. In response, Trump has said that he will be watching the votes carefully, and has suggested that U.S. aid for countries could be scrapped if they vote in favor of the resolution.
"They take hundreds of millions of dollars and even billions of dollars, and then they vote against us. Well, we're watching those votes. Let them vote against us. We'll save a lot. We don't care," Trump said Wednesday.
U.S. Ambassador to the United Nations Nikki Haley sent letters to members of the U.N. urging them not to vote for the motion. Echoing the sentiment of her boss, Haley said the U.S. "will be taking names."
Thursday's motion is expected to pass easily, but the motion is nonbinding and will not carry any legal ramifications for the Trump administration.
Leaders across the Arab world have condemned Trump's decision, and Erdogan has proven to be one of the harshest critics despite his country's close relationship with the U.S.
Last week, Turkey hosted a meeting of 57 Muslim-majority countries who signed a declaration condemning Trump's Jerusalem announcement. In a communique issued during the meeting in Istanbul, participants said they consider Trump's Jerusalem announcement "an attack on the historical, legal, natural and national rights of the Palestinian people."
Trump announced December 6 that the U.S. recognizes Jerusalem as Israel's capital, and said his administration plans to eventually move the U.S. embassy from Tel Aviv to Jerusalem.
Jerusalem's status is controversial because it is at the center of Israel's conflict with the Palestinians. The eastern half has been envisioned as the future capital of a Palestinian state if a two-state solution is reached between Israel and the Palestinians. Leaders and protesters across the Middle East, including countries Egypt, Qatar, and Jordan, have said Trump's announcement put an end to any chance of a peace agreement by giving Israel what it wanted without asking for anything in return. Trump has insisted he is committed to brokering the peace deal that has escaped his predecessors for decades.
The move has sparked continuous protests in the Middle East, leaving at least eight protesters dead across Israel and Gaza and hundreds more injured.