Fox News Guest Economist: Idea That Trump's Tax Cut for Wealthy Would Benefit Economy 'Pretty Much Disproven'
Economist Austan Goolsbee said Wednesday that the argument that Donald Trump's tax cuts for the wealthiest Americans would somehow trickle down and benefit the economy as a whole has been "pretty much disproven."
Goolsbee, chair of the White House Council of Economic Advisers under Barack Obama, made the remark on Fox News' America's Newsroom. During the interview, he discussed the impact of the cuts, as well as growing concern about an economic recession.
"The tax cut that the president passed has thus far remained the most unpopular tax cut in the history of polling," said Goolsbee, now a professor of economics at the University of Chicago. "I think the reason it hasn't been popular, is the idea that if you cut taxes at the top that'll have a kind of magic bean stock bean growth on the economy has been pretty much disproven."
When defending the tax cut, Trump and his supporters repeatedly claim it would pay for itself with wide-reaching economic benefits for ordinary Americans. But that promise has thus far failed to materialize. Instead, several studies have suggested the cut will actually add about $1 trillion to the ballooning national deficit over the next decade.
Despite indicators that the U.S. economy may be heading toward a recession, the president has publicly insisted everything is fine. Meanwhile, he and his administration have begun exploring options to address economic concerns: This week, it was reported that the administration was considering reducing the payroll tax to benefit workers. After White House officials denied those reports, Trump told journalists it was something he'd been considering.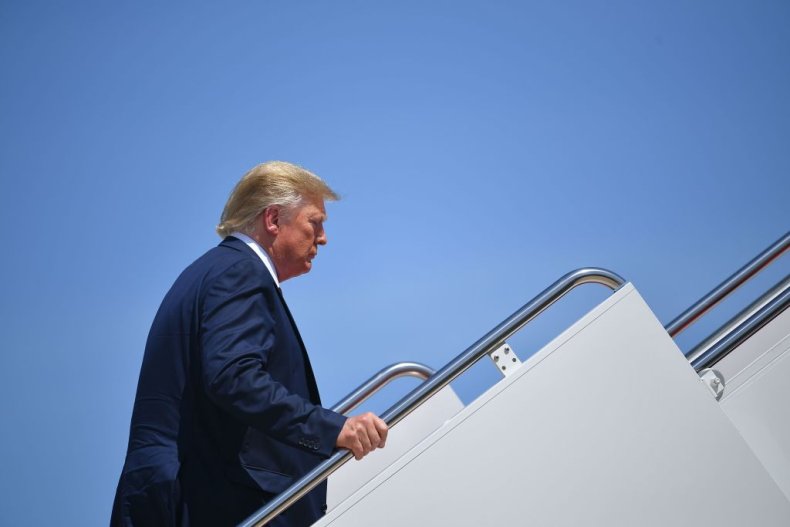 Although Goolsbee argued that Trump's tax cut wasn't adding the economic stimulus that had been promised, he was cautious to predict the impending recession others have. He highlighted continued—if slowed—business investment in the U.S. and relatively strong consumer spending. Goolsbee suggested both were indicators that the economy was still doing fairly well.
Other experts have put forward more dire predictions: in a CNN interview last week, Clinton-era Treasury Secretary Lawrence Summers said the chances of a recession next year were "just below or just above 50-50."
"It's hard for people to have confidence in the resilience of the economy," said Summers, former chief economist at the World Bank. "Hard because interest rates are so low, there's not much room for the [Federal Reserve] to cut them further. Hard because we already fired the fiscal cannon on a misguided tax cut targeted to the highest income people who least need the money. And hard, frankly, because of doubts about the competence of the economic team in place."