Trump Says His Tax Reform Plan Is Good for the Little Guy. It's Not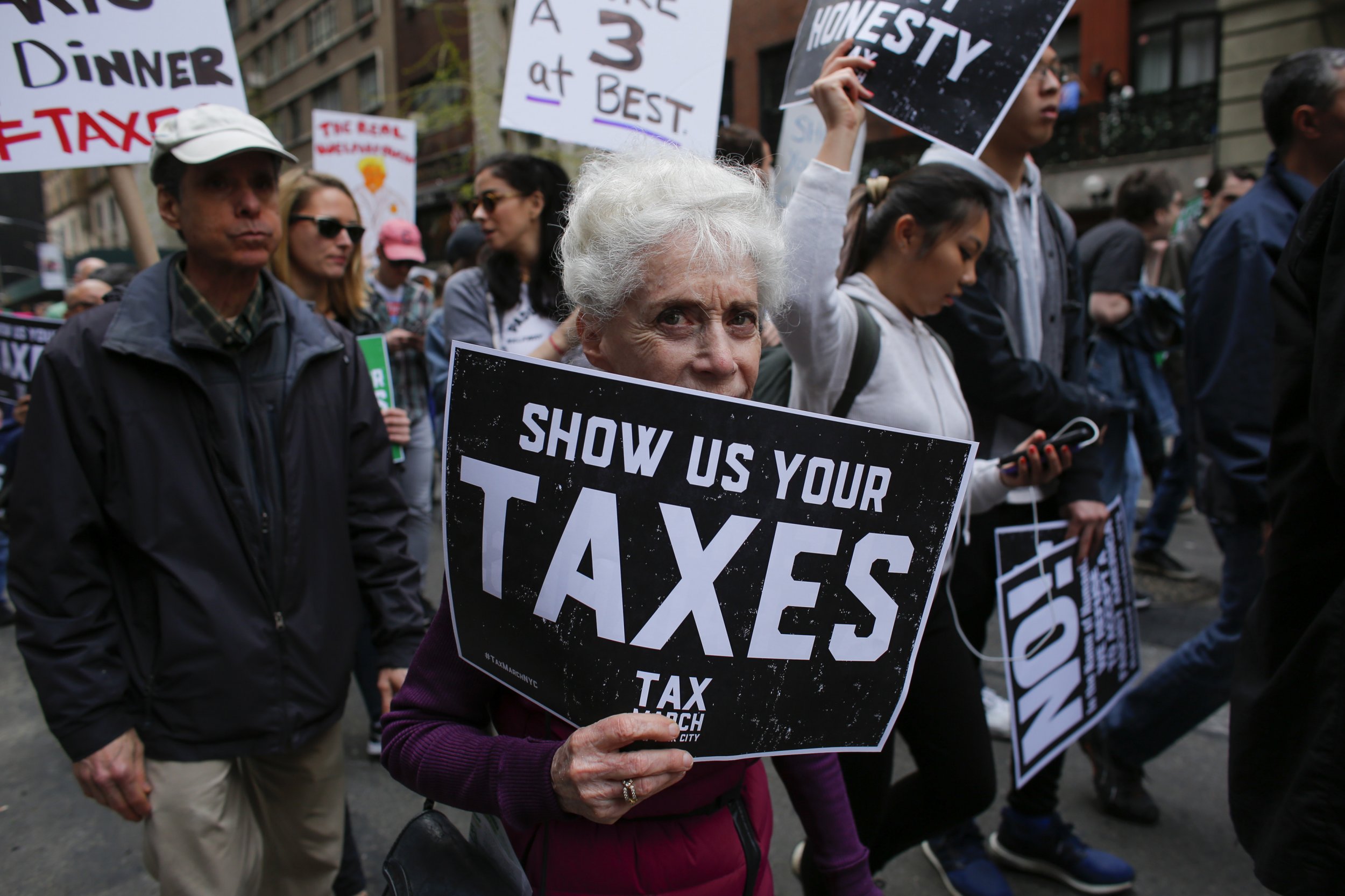 President Donald Trump kicked off his campaign for tax reform on Wednesday, vowing to pass a measure this fall that is "pro-jobs, pro-worker and pro-American," but he has yet to come up with a detailed plan—and what has been put forward would disproportionately benefit the wealthy.
Trump and the Republican leadership in Congress have agreed on a broad set of principles to lower individual and corporate tax rates and eliminate deductions, but they'll face a slew of vested special interests and a sea of Washington lobbyists who will fight for a range of special breaks.
During a speech Wednesday in Springfield, Missouri, the president touted his ideas before a crowd of workers at a factory that makes fans and other kinds of exhaust equipment. A feisty Trump called on Congress to deliver a bill and said that if the state's senior senator, Democrat Claire McCaskill, did not support the plan, she should be "voted out of office."
A wide spectrum of economists believe that simplifying the tax code with lower rates and fewer deductions would be good for economic growth, allowing capital to go where it should rather than being directed according to the vagaries of a tax code designed by lobbyists and legislators. For their part, Americans overwhelmingly believe the tax code is overly complex, a point the president underscored.
"The tax code is now more than 2,600 pages," he told the crowd. "The tax code is so complicated that more than 90 percent of Americans need professional help to do their own taxes." The number comes from the Internal Revenue Service itself.
But Trump, along with Congress's top Republicans—Senate Majority Leader Mitch McConnell and House Speaker Paul Ryan—face myriad obstacles. The first is that Trump is touting tax reform as a populist, good-for-workers measure, or as he put it, "real tax reform for everyday hardworking Americans."
But the big things Trump wants to achieve in his version of tax reform, including lowering top rates for wealthier earners and eliminating the tax on large inherited estates, would disproportionately benefit wealthier Americans. That's why Senate Minority Leader Charles Schumer warned Trump on Wednesday that Democrats would not support any tax reform plan that helps the wealthiest American earners.
"This is going to be one of the biggest fights of the next three, four months, and Democrats are ready for it," Schumer told reporters on a conference call on Wednesday.
Earlier this month, 45 of 48 Senate Democrats signed a letter saying they will not support any bill that gives new breaks to the wealthiest Americans or adds to the deficit. Families making more than $389,000 annually are in the top 1 percent of earners, according to a 2013 Economic Policy Institute report.
The other big problem Trump and the GOP leadership face is that every interest group will line up to protect its special benefits in the tax code. And unless myriad breaks can be repealed, there's no way to lower tax rates—which is at the heart of tax reform. Energy interests will want to protect oil depletion allowances. High-tax states (many of which are blue) will want to protect the deductibility of state and local income taxes. Breaks for contributions to retirement plans such as 401(k)s are one source of revenue that Trump may need to tap to lower overall tax rates.
The other big problem is that because Trump is the first president since Richard Nixon to refuse to release his individual income tax returns, we have no idea how any tax reform might benefit him or his family. Trump has claimed that he can't release his tax returns because he is under audit, but there is no legal prohibition for him to do so if that is the case.
Indeed, Trump has yet to produce an "audit letter" from the IRS that would even confirm whether he is under audit. We do know that some of the ideas that he is discussing, such as eliminating the estate tax, would vastly benefit his family. Right now, a family can shield $10.9 million from estate and gift taxes. Only one in 550 Americans who died in 2013 had an estate big enough to be taxed. Raising this already generous exemption would boost the Trump family as well as that of Jared Kushner, the president's son-in-law and senior adviser, who hails from a wealthy real estate clan.
Trump tried to use his speech to turn tax reform into a call for economic nationalism, noting that America's corporate tax rate is among the highest in the world. That's somewhat misleading: While the U.S. does have high corporate tax rates, it is in the middle of the pack when various deductions are factored in. Nevertheless, Trump claimed on Wednesday, "We have totally surrendered our competitive edge to other countries. We are not surrendering anymore."
It is interesting to note that Trump lavished praise on President Ronald Reagan for signing the last major revamp of the code, the 1986 Tax Reform Act. But at the time, Trump hated the Reagan reform because it eliminated a number of deductions that helped the real estate business. "What caused the savings and loan crisis, other than incompetence and various other things, was the 1986 tax law change. It was a disaster. It took all of the incentives away from investors, etc., etc., and it was a disaster," he told comedian Joan Rivers in 1990.
To be fair, Trump isn't alone in thinking that while the 1986 reforms may have helped the economy overall, they did create some weaknesses in the insurance and construction industries.
In the end, Trump's unlikely to be able to pass a plan on the scale of Reagan's. The time is too short, and the obstacles are too high. But he could get some reforms through, possibly lowering the corporate rate. Compared with his abject failure to repeal and replace Obamacare, that would be a victory.