Trump's Former Accountant Says Tax Returns Show 'He Is Not Who He Pretends To Be'
Donald Trump's former accountant has weighed into the debate over the president's tax returns, claiming he has not made them public because he is "not who he pretends to be and never was."
Mitchell Zachary, who is reported to have worked on Trump's accounts for more than a decade, told CNN host Chris Cuomo: "I don't want to get too political, because I don't want to make enemies. However, right now it appears the president's only concern is getting re-elected. And now we can see why."
Appearing on Cuomo's Monday evening show, he said: "More importantly, we can see why he did not want these returns revealed. Why he fought it so hard, all the way up to the Supreme Court. And then going back up the courts again, because this shows he is not who he pretends to be and never was."
Zachary's comments follow an explosive New York Times investigation which claimed to have found that Trump paid no federal income taxes in 10 of the previous 15 years and just $750 in federal income taxes in the two most recent years of the newspaper's probe—2016 and 2017. The report suggested Trump's golf courses had lost massive amounts of money, which helped lower his tax bill.
The Times' report has not been independently corroborated and the publication did not release the records it obtained in order to protect its sources.
Critics of the president say the allegations undermine his claim to be a shrewd businessman, as well as raising questions about the fairness of a president who, the report alleges, pays less in taxes than most Americans.
Trump and his campaign team quickly dismissed the claims as "fake news" and "riddled with gross inaccuracies."
Newsweek contacted Trump's 2020 campaign team for reaction to Zachary's comments.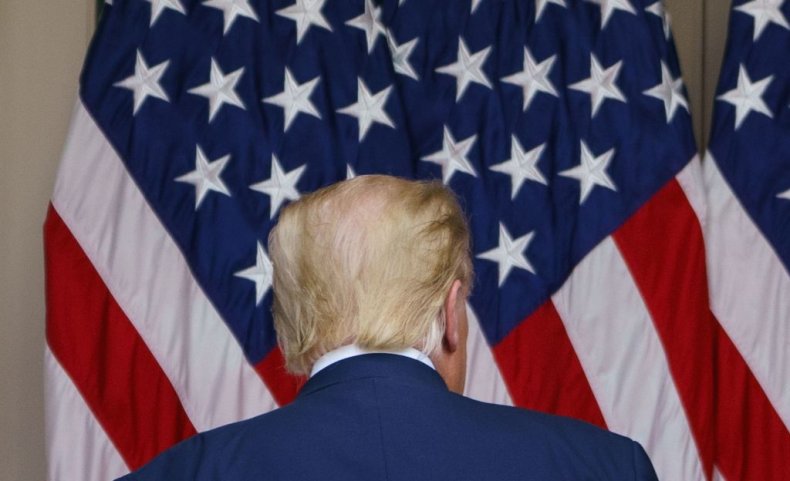 Meanwhile, former Watergate prosecutor Nick Akerman told CNN on Monday that Trump could face jail over his tax affairs if he is not re-elected in November.
In an interview with CNN host Erin Burnett, Akerman said the president and his daughter, Ivanka Trump, could face up to five years in prison for a "whole series of activities that could qualify as tax fraud, not tax avoidance."
He said: "Tax avoidance is simply taking the tax code and getting the most deductions you can get under the code that is perfectly legal. Tax fraud, however, is lying about what your income was, lying about what your deductions are, and there's a couple of items that just stand out in that report from the New York Times that really appear to go beyond tax avoidance."
Responding to those claims, Tim Murtaugh, director of communications for the Trump 2020 campaign, told Newsweek: "Trump Derangement Syndrome is real and Nick Akerman is displaying all the symptoms. Not even the bogus New York Times story alleges the president did anything wrong."
It comes as ethics experts warned that reports Trump was saddled with hundreds of millions of dollars worth of debt left him exposed to manipulation by the organizations or individuals he owes money to.
The Times report suggested Trump had $300 million in loans that would come due in the next four years.
"Americans should be concerned about the president's debt because it's a national security risk for our country," Donald Sherman, deputy director of the government watchdog group Citizens for Responsibility and Ethics in Washington, told AP.
"This is information that the president has aggressively and repeatedly tried to keep away from the public."