Trump Team Accuses Gov. Gretchen Whitmer of Encouraging Assassination of President Weeks Before Election
Donald Trump's reelection campaign accused Michigan Governor Gretchen Whitmer of "encouraging assassination attempts" targeting the president on Sunday afternoon, amid escalating conflict between the two political leaders.
Trump's campaign, which uses the handle "Trump War Room" on Twitter, based its allegations against Whitmer on a token with the numbers "8645" clearly visible. The token appeared behind her during an interview with NBC News host Chuck Todd on Meet the Press Sunday morning.
"Governor Gretchen Whitmer displayed an '86 45' sign during her TV appearance. 86 can be shorthand for killing someone," the Trump campaign tweeted, alongside a screenshot from the governor's interview. "Whitmer is encouraging assassination attempts against President Trump just weeks after someone sent a ricin-laced package to the White House."
The campaign referenced a parcel containing ricin—a poison derived from castor beans that can cause internal injury—which was addressed to the White House and intercepted an an offsite mail processing facility in September. If ricin poisoning is left untreated, its effects can be fatal.
The '8645' symbol seen in the background of Whitmer's Meets the Press interview appeared to show support for a movement opposing Trump's reelection next month—as several Twitter users pointed out Sunday in response to the Trump campaign's accusation.
The collection of numbers, as listed on Urban Dictionary, is "a sneaky way to illustrate one's support of getting rid of Trump, '86ing' the 45th president." Anti-Trump apparel bearing the same symbol uses similar descriptions of its meaning. Merriam-Webster defines eighty-six as a slang term synonymous with the following phrases: "to refuse to serve (a customer)", "to get rid of", or "throw out".
"The silly season is officially here. It's pretty clear nobody in the Trump campaign has ever worked a food service job," a spokesperson for Whitmer told Newsweek on Sunday. "Here's the bottom line: the president is not only a super spreader of COVID-19, he is also a super spreader of hate and fear. His divisive rhetoric needs to stop, and we need a president who will bring Americans together to defeat COVID-19."
The Trump campaign's latest comments about Whitmer echoed the governor's remarks about the president during her Meet the Press appearance. Speaking to Todd, Whitmer addressed reports of Trump supporters' "lock her up!" chants at his Michigan rally on Saturday. The chants, prompted by Trump's criticisms of Michigan's response to COVID-19, were directed at Whitmer. He affirmatively replied "lock them all up," as attendees shouted the rallying cry.
Whitmer called Trump's conduct "incredibly disturbing," especially given the alleged plot to kidnap her that authorities thwarted earlier this month. Fourteen people face charges from the state of Michigan and federal government for their alleged involvement in the scheme.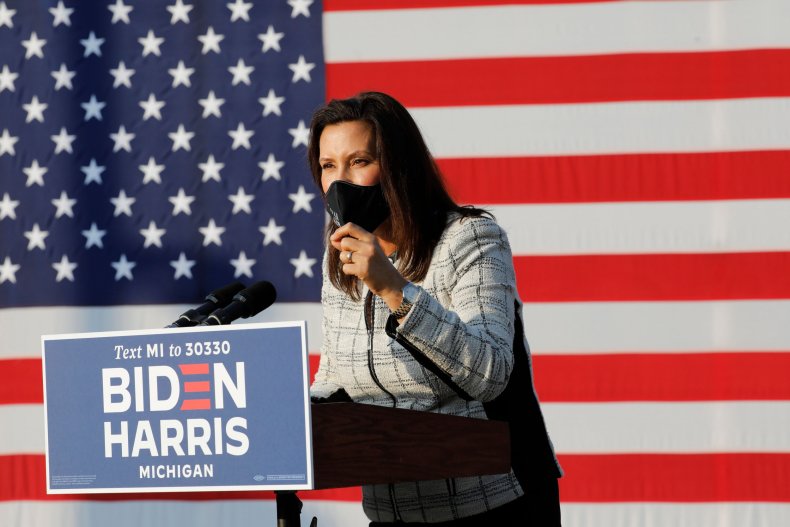 "Ten days after that was uncovered, the president is at it again, and inspiring and incentivizing and inciting this kind of domestic terrorism," Whitmer said in her interview comments. "It is wrong. It's got to end. It is dangerous, not just for me and by family, but for public servants everywhere who are doing their jobs and trying to protect their fellow Americans."
Newsweek reached out to the Trump campaign for comment, but did not receive a reply in time for publication.