Trump Team Argues Impeachment Should Be Dropped, Like Richard Nixon's Trial When He Left Office
Lawyers for Donald Trump on Monday made their case against impeachment by comparing their client to Richard Nixon.
In a 75-page brief, the former president's defense team continued its central argument that the upcoming trial should be dismissed out of hand as unconstitutional since Trump no longer occupies the Oval Office.
"In the past, Congress has acknowledged and exercised its duty to not impeach when an official is no longer in office," the brief reads. "In the case involving the impeachment of President Richard M. Nixon, Congress decided not to impeach because he resigned from office."
The House Judiciary Committee had approved three articles of impeachment against Nixon over the Watergate controversy in 1974—including obstruction of the Watergate investigation, misuse of law enforcement and intelligence agencies for political purposes, and refusal to comply with the Judiciary Committee's subpoenas—but Nixon quit before he could be formally impeached by the House of Representatives.
"The House officially ended the impeachment process against him on August 20, 1974, by accepting the committee's report, but deciding not to further advance impeachment proceedings," Trump's attorneys wrote in their brief.
Trump has been charged with "incitement of insurrection" after a mob of his supporters stormed the U.S. Capitol on January 6 to disrupt the congressional certification of President Joe Biden's victory. The House impeached Trump on January 13, one week before he was due to exit the White House.
There is no clear answer provided in the U.S. Constitution on whether it is appropriate to hold an impeachment trial after Trump has left office—a fact seized on by 45 Republicans who backed a measure introduced by Senator Rand Paul (R-Ky.) that would have declared the proceedings unconstitutional because Trump is no longer in the White House.
But a bipartisan group of 150 lawyers signed a letter last month arguing that Trump can still be convicted in an impeachment trial.
"We differ from one another in our politics, and we also differ from one another on issues of constitutional interpretation," the letter read. "But despite our differences, our carefully considered views of the law lead all of us to agree that the Constitution permits the impeachment, conviction, and disqualification of former officers, including presidents."
Trump's legal defense—led by David Schoen and Bruce Castor Jr.—has also argued that Trump was simply exercising his First Amendment rights when he disputed the 2020 election results. They also suggest that in his 70-minute speech to his supporters on January 6, in which he said they would have to "fight like hell," Trump encouraged his supporters to have a "peaceful" protest and therefore cannot be responsible for the actions of the rioters.
"Words do matter and the words of President Trump's January 6th speech speak for themselves. President Trump did not direct anyone to commit lawless actions, and the claim that he could be responsible if a small group of criminals (who had come to the capital of their own accord armed and ready for a fight) completely misunderstood him, were so enamored with him and inspired by his words that they left his speech early, and then walked a mile and a half away to 'imminently' do the opposite of what he had just asked for, is simply absurd," the brief reads.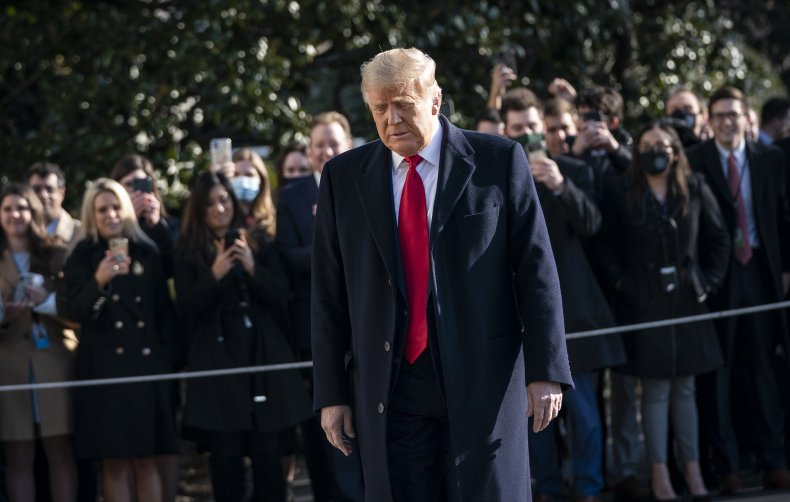 Trump's attorneys also deemed the trial, which will start on Tuesday, "political theater" and said impeachment was a "selfish attempt by Democratic leadership in the House to prey upon the feelings of horror and confusion that fell upon all Americans across the entire political spectrum upon seeing the destruction at the Capitol on Jan. 6 by a few hundred people."
The House impeachment managers, meanwhile, argued in a brief submitted last week that Trump is "singularly responsible" for the January 6 attack and accused him of "a betrayal of historic proportions."
The 10 Democrats also alleged that Trump is guilty of high crimes and misdemeanors, the threshold for conviction laid out in the Constitution, primarily because he used the powers of the presidency to advance his own personal political interests at the country's expense.
"If provoking an insurrectionary riot against a Joint Session of Congress after losing an election is not an impeachable offense," they wrote, "it is hard to imagine what would be."
On Monday, Senate leaders came to an agreement on the rules for the trial. The resolution gives Democratic impeachment managers and Trump's defense team up to 16 hours each to present their case and the option for a debate and vote to call witnesses.
Trump's team released a statement Monday afternoon stating the former president and his lawyers were "pleased that there was bipartisan support on how to structure the impeachment trial. We appreciate that Senate Republican leadership stood strong for due process and secured a structure that is consistent with past precedent. This process will provide us with an opportunity to explain to Senators why it is absurd and unconstitutional to hold an impeachment trial against a private citizen."
Update (2/8/2021, 5 p.m. ET): This story has been updated to include a statement from Trump's legal team.