Trump Team Discussed Using Signal to Encrypt Michael Flynn's Messages: Report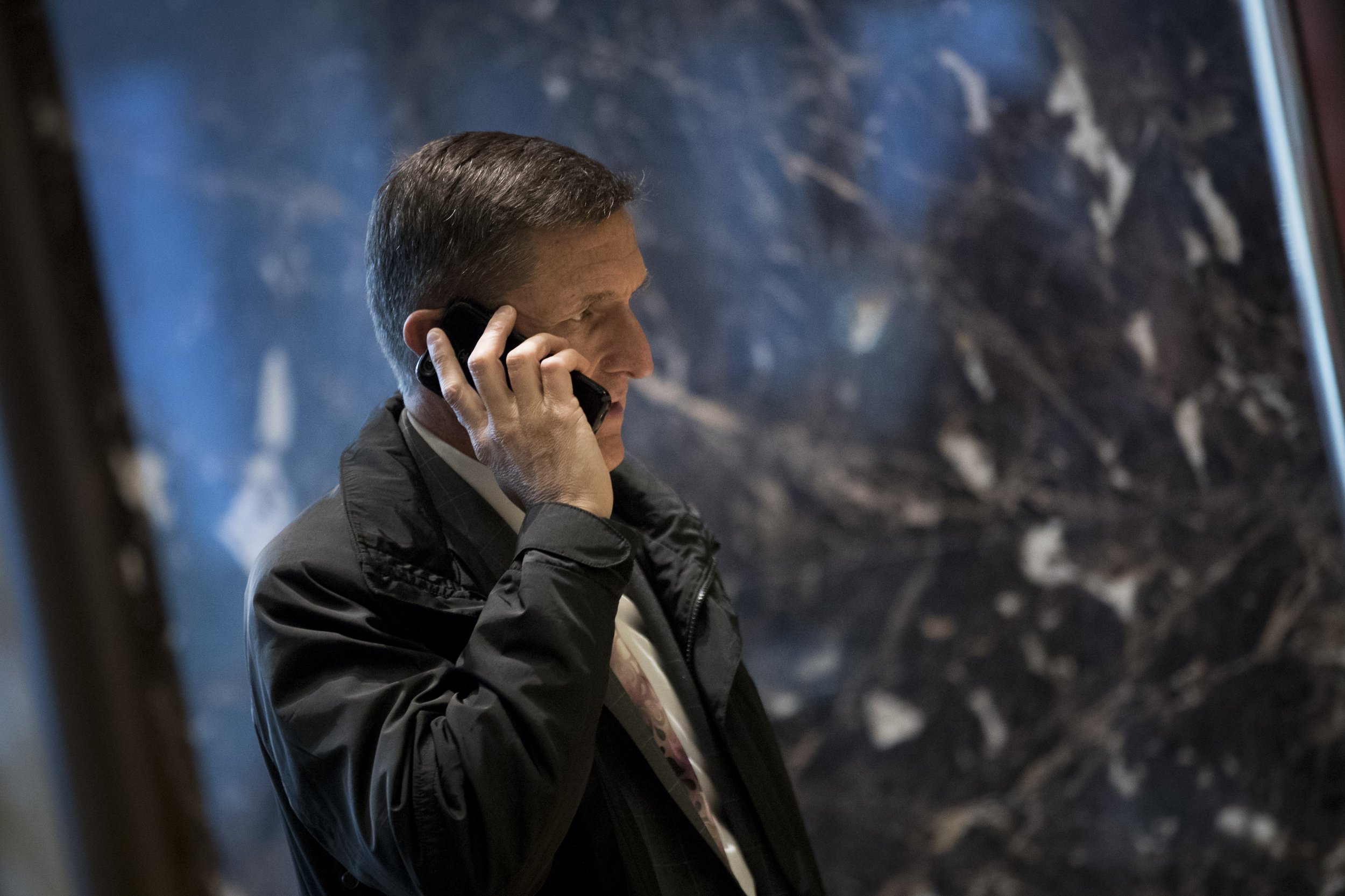 Last year, President Donald Trump's transition team reportedly looked for ways for disgraced former national security adviser Michael Flynn to send encrypted messages during the presidential transition and just prior to his conversations with the former Russian ambassador to the United States, according to emails obtained by Gizmodo.
Related: Trump-Russia probe part of "Deep State" and "Rigged System"
The emails—unearthed through a Freedom of Information Act, or FOIA, request made by watchdog American Oversight to the General Services Administration (GSA)—showed the transition team had been approved by the GSA to use Signal, a smartphone application with end-to-end encryption that can delete messages almost instantly after they are sent.
The GSA hosted the Trump transition team's emails, and the messages were recently obtained by special counsel Robert Mueller's investigative team. Much to the chagrin of a Trump campaign lawyer, Mueller's team obtained the emails as part of its investigation into whether the president's campaign colluded with Russia to win the White House last year.
Earlier this month, Flynn, a former lieutenant general, pleaded guilty to lying to the FBI about his conversations with Russian Ambassador Sergey Kislyak during the transition in December 2016. And the transition team emails indicate Flynn and Jared Kushner, the president's son-in-law who became his top White House adviser, spoke with Kislyak one day after the transition team talked about using Signal.
Flynn had not obtained a phone that could carry "secret" or "top secret" information by the end of November 2016, which prompted discussions about the use of Signal. According to the report, the GSA had asked wireless provider Verizon for a secure phone but was turned down.
Other devices were available but costly, which led one unknown transition team member to state: "Signal sounds great. I don't want to start a process of getting 'more secure' phones for the next 50+ days if we can avoid it and use what we already have."
GSA approved of using Signal, which could mean Flynn's messages—if he did use the application—may never come to light.
"Our IT lead has confirmed that we can install an App on the [Presidential Transition Team] phones called Signal. This will provide secure voice and text," a GSA employee wrote on November 28.
Flynn and Kushner reportedly spoke to Kislyak about setting up a "secret and secure" channel between the transition team and Russia. Kislyak told Russian officials that the proposal was made on December 1 or 2 of last year.
Flynn, who was an early supporter of Trump's campaign and led chants of "lock her up" in reference to Democrat Hillary Clinton, agreed to cooperate with Mueller's investigation after he admitted to lying about his discussions with Kislyak.
Flynn was fired from his post after only 24 days in office for misleading Vice President Mike Pence about the nature of his talks with Kislyak, which included the possible easing of sanctions on Russia put in place by President Barack Obama.